Person

The Best WWE Entrance Songs

34k votes

96k views

103 items

Embed

List Rules Only WWE wrestlers. Other organizations should not be represented here
Ready to get pumped? This is a list of the coolest entrance themes for WWE wrestlers and superstars. A big part of being a successful sports entertainer is whipping the crowd up before a fight, and nothing accomplishes this better than choosing a pounding, fist-pumping, aggressive song with which to enter the arena. A good entrance theme also helps to define a wrestler's persona and personality, and over time will become very tied to that wrestler in the minds of fans. (Consider the popular musical theme that accompanied the Honky Tonk Man, and the familiar dance that became his trademark.)
This list collects the most appropriate, memorable and catchy WWE entrance songs of all time. Vote for the wrestler whose intro song was the best, and if your favorite WWE theme music isn't on the list, go ahead and add your own to the list so you can move it to the top!
What are the best WWE entrance songs? Take a look at this WWE theme songs list and find out.
Collection Photo: Ed Webster
List Photo: user uploaded image
Macho Man!
Randy Mario Poffo, better known by his ring name "Macho Man" Randy Savage, was an American professional wrestler and color commentator best known for his time in the World Wrestling Federation and World Championship Wrestling. He is considered to be one of the greatest pro wrestlers in ...more
Also Ranked
#35 on The Absolute Worst Actors-Turned-Musicians
#54 on Famous Men You'd Want to Have a Beer With
#2 on The Greatest Pro Wrestlers of All Time
#2 on The Best WWE Superstars of the '80s
see more on Randy Savage
Christopher Keith Irvine, better known by the ring name Chris Jericho, is a Canadian professional wrestler, musician, media personality, actor, author, and businessman. He is best known for his time in the World Wrestling Federation/World Wrestling Entertainment, Extreme Championship Wrestling, and ...more
Also Ranked
#25 on The Greatest Pro Wrestlers of All Time
#26 on The Best WCW Wrestlers of All Time
#28 on The Greatest WWE Superstars of All Time
#31 on The Best Pro Wrestling Champions
see more on Chris Jericho
Adam Joseph Copeland is a Canadian actor, professional wrestling personality, and retired professional wrestler. He is best known for his time with the American professional wrestling promotion WWE, where he performed under the ring name Edge. Copeland was trained by professional wrestlers Sweet ...more
Also Ranked
#140 on The Most Overrated Wrestlers of All Time
#29 on The Greatest Pro Wrestlers of All Time
#37 on The Greatest WWE Superstars of All Time
#36 on The Best WWE Superstars of the '90s
see more on Edge
Steve Austin, better known by his ring name "Stone Cold" Steve Austin, is an American actor, producer, and retired professional wrestler who is signed to WWE under a legend's contract. He has been hailed as the biggest star in World Wrestling Federation history. Austin also performed for promotions ...more
Also Ranked
#152 on The Most Overrated Wrestlers of All Time
#1 on The Greatest Pro Wrestlers of All Time
#34 on The Best WCW Wrestlers of All Time
#17 on The Greatest WWE Superstars of All Time
see more on Stone Cold Steve Austin
Triple H is a actor, wrestler and professional wrestling booker. ...more
Also Ranked
#16 on The Most Overrated Wrestlers of All Time
#28 on The Greatest Pro Wrestlers of All Time
#237 on The Biggest Douchebags in Hollywood
#29 on The Greatest WWE Superstars of All Time
see more on Triple H
Glenn Thomas Jacobs is an American professional wrestler, actor, and insurer. He works for WWE, and is best known by his ring name Kane. Jacobs began his professional wrestling career on the independent circuit in 1992. He wrestled in promotions such as Smoky Mountain Wrestling and the United States ...more
Also Ranked
#144 on The Most Overrated Wrestlers of All Time
#38 on The Greatest Pro Wrestlers of All Time
#35 on The Greatest WWE Superstars of All Time
#22 on The Best WWE Superstars of the '90s
see more on Kane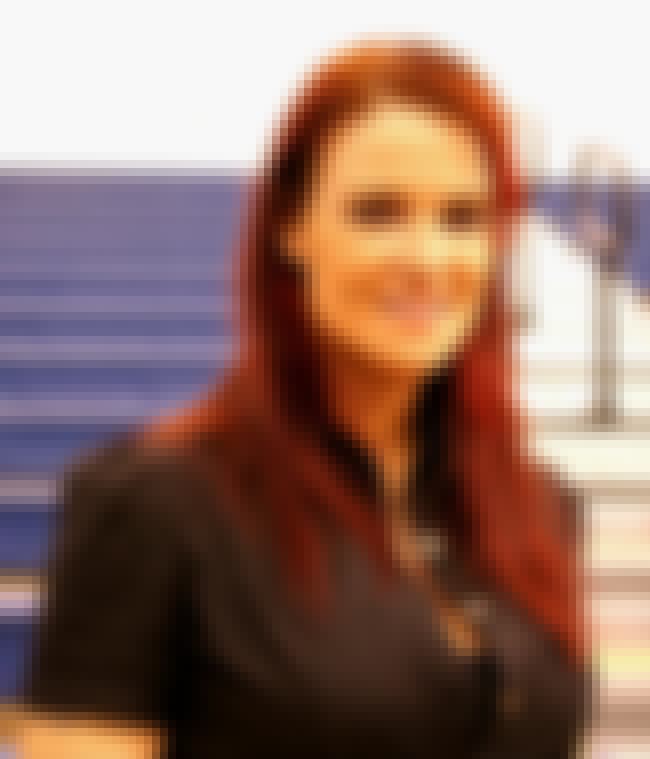 15 people just voted on
Lita
Amy Christine Dumas, better known by the stage name/ring name Lita, is an American former professional wrestler, and singer. She performed with WWE from 2000 to 2006, and has since made part-time appearances with the company. She was inducted into the WWE Hall of Fame on April 5, 2014. After briefly ...more
Also Ranked
#87 on The Greatest Pro Wrestlers of All Time
#63 on The Greatest WWE Superstars of All Time
#1046 on The Most Beautiful Women in the World
#19 on The Best Highflyers In Wrestling History
see more on Amy Dumas