culture

Which of These Incredibly Annoying Pet Peeves Is the Worst? f p @

249k votes
15k voters
851k views
247 items
Follow
Embed
List Rules Vote up the things that drive you crazy, don't vote if they are only slightly annoying and downvote if they don't bug you at all. And rerank!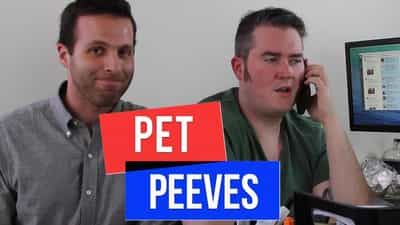 Everyone has stuff they hate... stuff that just gets under your skin more than other stuff. Sure, war and suffering is terrible and all, but don't you really hate it when someone smacks their food when they eat? Vote for the things you hate the MOST and if your pet peeve isn't here, add it to the bottom of the list!
Check out more lists like annoying phrases your mom told you, but were true!, food to avoid on a first date and advice on how to be a better person.
1

People Who Never Shut Up and Talk Over You Constantly

take a breath already
2

People Who Are Always Interrupting
3

Unflushed/Messy Public Toilets
4
5

When People Copy a Really Good Idea of Yours and Get Credit for It
6

People Who Don't Know About Personal Space
7
8

People Who Don't Cover Their Cough/sneeze
9

Parents Letting Their Toddlers Scream and Scream and Scream and Ignoring Them
10

Chewing with your mouth open
11

Someone Who Always Finds Something to Complain About.
12

People Who Won't Respect You Opinion Just Because It Doesn't Match Theirs
13

People Who Think Their Overly Annoying Children Are the Cutest Little Angels
14

Driving too slow in the fast lane
15
16
17

When Someone Tells You They Will Take Care of It and Doesn't Follow Through
18
19

Parking a car across two spaces
20

Stopping in the middle of a crowded hallway
21

People Who Makes a Big Deal Out of Nothing.
22

People Who Are Always "Offended" By Something or Someone.

The always "offended" person is typically passive aggressive and using the word "offended" as a way to lash out on someone because they believe it's justified. They walk around with their social warrior badge ...
23
24

People Throwing Trash Out of the Window While Driving
25

Tv Commercials Being Twice As Loud As the Accual Tv Show.
26
27
28
29
30

People who try to make conversation when you are reading
31

People Who Rush to Pass aEveryone That Have Been Waiting to Exit, and Then Try to Get Over to the Exit in Front of Everyone Else at the Last Minute
32

Self Entitled People. Ex: (shoplifters), (People who park in No Parking Zones), (Welfare Abusers).
33

Not washing hands in the restroom
34

People Who Follow Too Closely in Traffic
35

Loud cellphone conversations in public
36
37

People in Comments Sections Who *Always* Find something to Bitch About
38

People Acting Like There Hurt or Sad Just to Get Attention.
39

When you hold the door open for someone and they don't say "thank you"
40

Drivers Who Don't Stop for Pedestrians in Crosswalks
41
42

People who act like they know, just because they heard someone else say it.
43

People Who Are Missing While Pissing
44
45

Facebook Users that Give Status Updates Every 5 Minutes
46
47

When People Play Their Music with No Headphones In Public
48
49
50

Unaware People Crossing the Street