gross

The Grossest Sounding English Words f p @

97k votes

5.8k voters

201k views

78 items

Follow

Embed

List Rules Feeling queasy? Vote for which English words gross you out the most!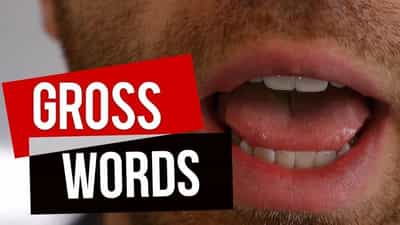 Some words just really gross us out! They make us cringe and turn away. It's that nails-on-a-chalkboard kind of feeling. Maybe because they're the name of something we don't like, as is likely the case with "pus." Gross! Others just don't feel okay to say. Milky? Come on! I'm squirming right now!
Word aversions are similar to phobias. We hear certain words and just have a visceral response to them, an annoyance or nauseous feeling. Luckily this happens in reverse, too! So words like love and beautiful, make us feel happy and all warm inside. But this list isn't about being fuzzy and cuddly - it's about being GROSSED OUT!
Look this list over, but be prepared to feel disgusted, queasy, revolted, and repelled. Like a car accident you slowly drive by on the freeway or a slasher film you can't pull your eyes away from - this list will have you squeamish, abhorred and simply grossed out! Vote up the grossest, most disgusting sounding words below.
1

Pus

A white/yellowish liquid formed on the site of a wound or infection.
2

Moist

Sightly damp, wet, or humid.
3

Seepage

The slow escape of a liquid or gas through small holes or porous material.
4

Phlegm

A liquid secreted by mucous membranes.
5

Smegma

Buildup of skin and other crud found between the foreskin and penis.
6
7
8

Splooge

An abrupt discharge of fluid.
9

Ooze

(of a fluid) slowly trickle or seep out of something.
10

Discharge

A ladies special cottage cheese
11

Fester

Of a wound or sore that becomes septic; suppurate.
12

Loogie

A large wad of spit or phlegm, i.e. lung cookie
13

Mucus

A slippery secretion produced by and covered by mucous membranes.
14

Squits

Yorjshire slang for diarrhea
15

Secrete

To produce a discharge or substance.
16
17
18
19
20

Curd

A dairy product obtained by curdling milk. Can substitute soy.
21

Snot

Liquid nasal secretions or mucous.
22

Twerk

To shake your butt up and down.
23

Putrid

(of organic matter) decaying or rotting and emitting a fetid smell
24

Orifice

An orifice is any opening, mouth, hole, or vent, as of a pipe, plate, or a body.
25

Suckle

To feed (a baby or young animal) from the breast or teat.
26

Vomit

To eject the contents of the stomach through the mouth.
27

Larva

the active immature form of an insect, especially one that differs greatly from the adult and forms the stage between egg and pupa
28

Bulbous

Rounded or swollen looking.
29
30
31

Slurp

To eat or drink (something) with a loud sloppy sucking noise.
32

Congeal

To solidify or coagulate, espiecailly by cooling.
33

Pimples

A small, hard inflamed spot of the skin.
34

Engorge

cause to swell with blood, water, or another fluid
35
36

Nubbin

A small lump or residual part.
37

Menstruate

(of a woman) discharge blood and other material from the lining of the uterus as part of the menstrual cycle
38

Lard

fat from the abdomen of a pig that is rendered and clarified for use in cooking
39

Gristle

cartilage, especially when found as tough, inedible tissue in meat
40

Veiny

Full of veins, having many veins.
41

Fungus

A fungus is any member of a large group of eukaryotic organisms that includes microorganisms such as yeasts and molds, as well as the more familiar mushrooms.
42
43

Smear

To coat or mark something messily with a greasy or sticky substance.
44

Clunge

"Wading through the clunge".
45
46
47

Chunk

A large portion or piece of something.
48

Milky

Milk colored, containing milk.
49
50

Ointment

A smooth oily preparation that is rubbed on the skin for medicinal purposes or as a cosmetic.