quotations

Grown Ups 2 Movie Quotes f p @

87 votes

30 voters

23k views

10 items

Follow

Embed
"Grown Ups 2" movie quotes bring the laughs back in the comedy sequel following a group of childhood friends who are dealing with getting older. Directed by Dennis Dugan, Adam Sandler, Tim Herlihy and Fred Wold wrote the film which stars an ensemble cast led by Sandler. "Grown Ups 2" hit theaters in the United States on July 12, 2013, and in the United Kingdom on August 16, 2016.
In "Grown Ups 2," the Feder family of father Lenny (Adam Sandler), mother Roxie (Salma Hayek) and children Greg, Keithie and Becky (Jake Goldberg, Cameron Boyce and Alexys Nicole Sanchez, respectively) move back to the small town in which Lenny was raised from Los Angeles. Lenny and Roxie feel this move is for the best and will allow them to raise their children without the hustle and bustle that comes with living in Southern California. This idea soon is compromised when they realize that there's a bit of crazy everywhere.
Lenny reunites with his friends Eric Lamonsoff (Kevin James), Kurt McKenzie (Chris Rock), Higgy Higgins (David Spade) and Nick Hilliard (Nick Swardson), among others, and together they visit the places that they enjoyed when they were younger. Through their adventures they realize that they might have grown up more than they want to accept plus learn many new things along the way from their children. The ensemble "Grown Ups 2" cast also includes appearances from Stone Cold Steve Austin, Steve Buscemi, Maria Bello, Maya Rudolph, Andy Samberg, Taylor Lautner, Patrick Schwarzenegger, Paulina Gretzky, Terran Killam, Cheri Oteri, Shaquille O'Neal, Chris Hardwich and many others.
If one "Grown Ups" movie was enough, there are many other movies to see in theaters for July 2013 including
"The Lone Ranger,"
"Despicable Me 2,"
"The Heat,"
"White House Down,"
"World War Z,"
"Man of Steel,"
"This Is the End,"
"The Bling Ring,"
"The Internship,"
"The Purge,"
"After Earth,"
"Fast and Furious 6,"
"The Hangover Part III,"
"The Great Gatsby,"
"The Big Wedding,"
"Oblivion,"
"Scary Movie 5,"
and
"Evil Dead."
Frat Boy Andy: "We're gonna take off… that way… naked!"
Lenny Feder: "You guys are losers!"
[Lenny, Kurt, Higgy and Eric jump off the rocks into the water. Eric lands on Higgy.]
Higgy: "I was inside you!"
Challenged by the frat boys, Lenny, Eric, Higgy and Kurt jump off of the rocks into the water below. All is going well until Eric, the most portly man of the group, lands on Higgy. Higgy does not enjoy this experience.
Sally Lamonsoff: "You're gonna like this."
Bikini Girl Daisy: "You take these guys. We'll take the yellow car."
Eric Lamonsoff: "Oh, what is happening right now?"
Sally Lamonsoff: "Well I might as well enjoy this."
Male Cheerleader: "Your car is filthy!"
Sally thinks she's doing husband Eric a favor by taking their car to a bikini car wash. This however goes miserably wrong, at least for Eric, when the male cheerleaders are tasked with their wash.
Put Your Hands in the Air
Lenny Feder: "How did you become a cop after all that crap we did growing up?"
Officer Fluzoo: "Put your hands in the air!" [singing] "And wave 'em like you just don't care! Say ho!"
Lenny, Eric, Kurt and Higgy: "Ho!"
Officer Fluzoo: "Say ho!"
The crew of friends encounters an old friend, Fluzoo, who is now a police officer in their town. Officer Fluzoo initially raises his gun and tells them to put their hands up but soon shows he's joking by singing and dancing.
Nick: "There's a raft in there?" [Barely touches the raft packaging causing it to inflate and knock down many store displays.] "Who did that?"
While browsing the toy store, Nick is puzzled that a large raft can fit in a tiny box. He barely touches the outside of the box causing the raft to inflate and knock down several feet of store displays.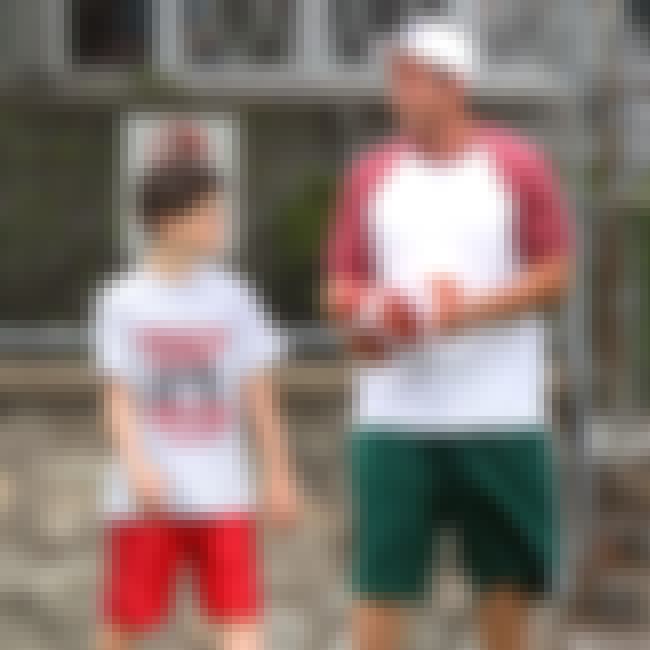 Lenny Feder: "Riding your bike to school in the morning, you couldn't do that in LA."
Keithie Feder: "Yeah, thank god there's no crazy people out here."
Lenny and Leithie talk about the simple pleasures they have living in their small town, like riding a bike to school safely. While they also mention not having crazy people there, that might be simply a wishful thought.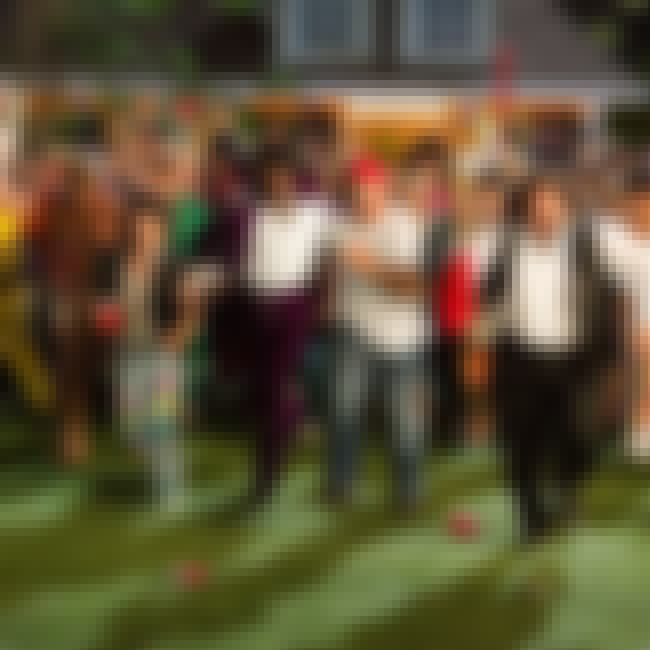 Roxie Feder: "Lenny!"
Lenny Feder: "Oh my god, the secret table… Yes, honey, how are ya? What's going on?"
Lenny falls back into old partying ways at a gathering and is caught by wife Roxie. Luckily for Lenny, he has a secret table that can quickly hide the alcohol and make it appear that he's simply chatting with friends.
Good Place to Raise a Family
Roxie Chase-Feder: "I'm so glad we left the city. This is such a good place to raise a family."
Setting the scene for the plot of the sequel, Roxie reflects on her happiness that her family left Los Angeles to return back to where they grew up. They hope that the reduced speed of the small town where they now reside will be better for raising their children but might be in for a surprise.
Lenny Feder: [To elk] "Excuse me for a second." [To Roxie] "I think your mother's here and she looks angry. Open the window."
Roxie Chase-Feder: "Why don't you open it, you…" [screams]
Lenny Feder: [Screams]
Something they would not experience if they still lived in Los Angeles is the presence of a large wild animal in their bedroom, as Lenny and Roxie Feder learn first hand. Lenny jokes to Roxie that her mother is here but is not laughing when the animal urinates on him in bed.