quotations

Ice Age Continental Drift Movie Quotes f p @

125 votes

72 voters

33k views

12 items

Follow

Embed
'Ice Age: Continental Drift' movie quotes include some of the funniest lines in this 2012 animated 3D prehistoric comedy. This is the fourth movie in the popular 'Ice Age' movie franchise, and it features several familiar characters: Manny the wooly mammoth (
Ray Romano
), Sid the sloth (
John Leguizamo
), Diego the saber-toothed cat (
Denis Leary
) and of course Scrat, the acorn-obsessed saber-toothed squirrel (Chris Wedge). See your favorite 'Ice Age: Continental Drift' quote listed here? Vote it up! And be sure to add any great 'Ice Age 4' quotes you loved to this list, as well.
'Ice Age: Continental Drift' follows the gang as they deal with the break-up of the Pangaea continent. Somehow, Manny, Diego, Sid and his Granny (
Wanda Sykes
), all wind up stranded together on an ice raft when the continent splits up. As they try to make their way back to their families, the gang winds up being captured by pirates. And of course, poor Scrat spends a vast majority of his time either chasing down his beloved acorns -- or fixing the catastrophes that tend to result when he finds them. Nothing is ever easy for Scrat, is it? 'Ice Age: Continental Drift' also features the voices of
Queen Latifah
as Ellie, Manny's mate,
Seann Wiliam Scott
and
Josh Peck
as possum twins Crash and Eddie,
Peter Dinklage
as Captain Gutt, a prehistoric ape who leads the pirates on adventure, and
Jennifer Lopez
as Shira, the saber-toothed cat.
For more great family and animated movie quotes, check out these lists for the best lines from
'Madagascar 3: Europe's Most Wanted,'
'Brave,'
'The Pirates! Band of Misfits'
'The Muppets,'
'Journey 2: The Mysterious Island'
'Hugo,'
'Happy Feet Two,'
'The Smurfs' movie
'Cars 2,'
the original 'Cars,'
and more great
Pixar movies!
Sid: "Holy crab!!"
When Sid, Manny and Diego wind up stranded on an ice raft, they meet up with a not-so-merry band of pirates...along the way, they face all sorts of challenges, including a giant prehistoric crab.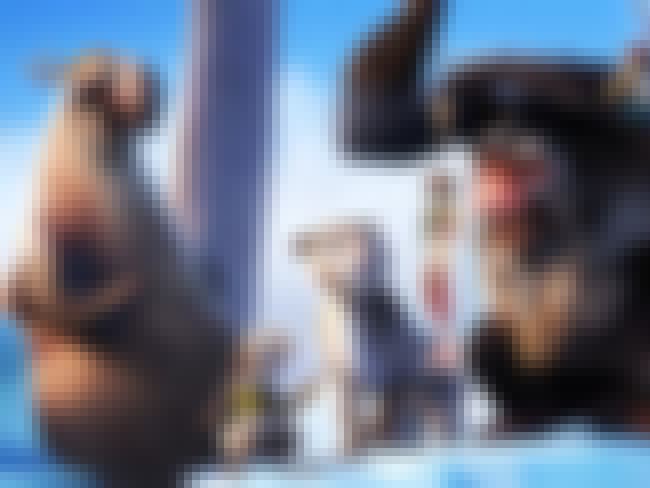 Captain Gutt: "Ahoy down there! Surrender your ship, or face my fury!"
Sid: "Or face your furry what?"
Captain Gutt: "Not furry, FURY!"
Captain Gutt (Peter Dinklage) means business. The gang has finally gotten a ship and is making some headway towards reuniting with their loved ones, and now Gutt and his pirates are taking over, with his
furry
fury...
Diego: "I don't know what's wrong with me. I can't eat, I can't sleep..."
Manny: "Oh, I know what you've got. The L word."
Sid: "Yeah, leprosy."
Manny: "No, its four letters, starts with L -- ends with E..."
Sid: "Oh yeah, lice!"
Manny: "No!"
Oh Sid, Manny is definitely not talking about leprosy or lice...there's another L word that fits what Diego's going through so perfectly. Hint: It's about his feelings for Shira.
Rainbow Around Every Corner
Sid: "My mother once told me that even though things look bad, there's a rainbow around every corner."
Diego: "Is this before she abandoned you?"
Sid: "Yes, it was."
Does this help to explain why Sid always seems to look on the bright side of things? He's a sloth, so he's a little slow (in every aspect), but he's got a heart of gold.
Shira: "You're pretty soft for a saber."
Diego: "Excuse me I happen to be a remorseless assassin."
Sid: "Diego poooooo? Hey, I made you another coral necklace!" (to Shira) "He keeps losing them. He hee hee hee..."
Diego spends a lot of time trying to convince Shira (Jennifer Lopez) that he's a tiger's tiger. He's a manly cat, who is totally ruthless in every possible situation. Except when he's wearing a coral necklace. Hee hee.
Sid: "Hey, this cruise has entertainment!"
Manny: "Seriously? Sid, you're out of your mind."
Sid isn't exactly grasping the gravity of the situation: He's been captured by pirates, along with his Granny, Manny and Diego. The pirate gang is using poor Scrat as the (terrified) entertainment.
Sid: "Hey! There really is a rainbow around every corner!"
Sid (John Leguizamo) never ceases to find the silver lining in every cloud. Or in this case, the large rainbow at the top of a massive tornado...
Peaches: "So tell me when exactly will I be allowed to hang out with boys?"
Manny: "When I'm dead...plus three days, just to make sure I'm dead."
Peaches (Keke Palmer) is the teenage daughter of Manny and Ellie (Queen Latifah), and she's definitely testing her limits. It seems quite unlikely that Manny will ever let Peaches date, even though she's showing great interest in Ethan (Drake).