tv

Monsters, Inc. 3D Movie Quotes

134 votes

50 voters

17k views

10 items
"Monsters, Inc. 3D" movie quotes follow along as the popular Disney Pixar movie "Monsters, Inc." returns to theaters in a 3D adventure. The computer-animated comedy-adventure film was first released in November 2001 to critical acclaim and huge box office earnings. In anticipation of the sequel, "Monsters University," due out in 2013, "Monsters, Inc." began a second theatrical run, this time in 3D, on December 14, 2012.
In "Monsters, Inc. 3d," viewers are introduced to the city of Monstropolis, home to monsters. At the Monsters Inc. factory, monsters work to generate energy by collecting screams of children. Using their closet doors as portals into children's bedrooms, the team of monsters work tirelessly to meet their quotas. In that forms a competition to be the top scarer. While furry monster James P. "Sulley" Sullivan (voiced by John Goodman) is the top scarer, lizard-like monster Randall Boggs (voiced by Steve Buscemi) is hot on his tail.
One day Sulley makes the mistake of leaving a portal door open which in turn allows one young toddler girl, Boo (voiced by Mary Gibbs), to enter the Monsters, Inc. factory. Sulley tries to put Boo back in her world, including getting his trusty assistant Mike Wazowski (voiced by Billy Crystal) to help, but soon grows attached to the little girl, quite the no-no for a monster. Things get complicated when Randall and other monsters (including voices from Jennifer Tilly, Frank Oz, James Coburn, Bob Peterson and John Ratzenberger) learn that a human has entered their world leading everyone on quite the adventure.
"Monsters, Inc." is a proven favorite for kids and adults alike but if you're more into live action, there's plenty else in theaters including
"Killing Them Softly,"
"Hitchcock,"
"Skyfall,"
"Lincoln,"
"Flight,"
"Playing for Keeps,"
"Silver Linings Playbook,"
"Anna Karenina,"
"This Must Be the Place,"
"Cloud Atlas,"
"Wreck-It Ralph,"
"Nobody Walks,"
"The Sessions,"
"Red Dawn,"
"Chasing Mavericks,"
"Rise of the Guardians,"
"Argo,"
and
"Looper."
Mike: "Scary feet, scary feet, scary feet! Oop, the kid's awake! Twist and a bunkbed!"
Sulley: "Ooooh! Arrr!"
Scaring children isn't nearly as easy as one might expect which is why the top monsters practice their scare tactics. That's exactly the scene as Mike is guiding Sulley through an intense scare session.
Sulley: "Hey, may the best monster win."
Randall: "I plan to."
Jerry: "We are on in seven, six, five, four, three, two..."
Mike: "You're the boss, you're the boss, you're the big, hairy boss."
Sulley: "Oh, I'm feelin' good today, Mikey. Yeah!"
Mike: "Whoa, atta boy, atta boy! Another door coming right up!"
Fungus: "You're still behind, Randall. Maybe I should realign the scream intake valve."
Randall: "Just get me another door!"
Fungus: "Ahh! The door, yes, door."
Henry J. Waternoose III: "Well, Jerry, what's the damage so far?"
Jerry: "We may actually make the quota today sir."
Peeking in on the Scare Floor of Monsters, Inc. the battle between Sulley and Randall is starting to heat up as both want to be atop the scare leaderboard.
I Can Still Hear Her Little Voice
Sulley: "Boo! No!"
CDA: "Hey you, hault! He's the one, the one from the commercial, affirmative. Can we get an autograph?"
Sulley: "Oh sure, no problem.
CDA: "And could you make that out to Stephanie, my daughter?"
Sulley: "Yes, let's see. From your scary friend, best wishes..."
Needleman: "So I said, 'If you talk to me like that again, we're through.'" Smitty: "Oh! What did she say?"
Needleman: "You know my mom. She sent me to my room."
Sulley: "See you guys later"
Smitty: "Bottoms up!"
Babysitter: "Well, hello there. What's your name?"
Boo: "Mike Wazowski"
Mike: "Sulley! Great news, pal. I got us a way out of this mess, but we gotta hurry. What it is? Sul, that's a cube of garbage."
Sulley: [weeping] "I can still hear her little voice."
Boo: "Mike Wazowski"
Mike: "Hey, I can hear it too."
Boo: "Mike Wazowski"
Mike: "How many kids you got in there?"
Boo: "Mike Wazowski. Kitty!"
Sulley: "Boo! Boo, oh you're all right. I was so worried! Don't you ever run away from me again young lady! I'm so glad you're safe."
When Sulley loses Boo, he thinks the worst and fears that she's been smushed into a garbage cube. Clutching the cube, Sulley can still hear her voice, something Mike hears as well which leads to their happy discovery.
Sulley: "Hello, hey, anybody scaring in here? Hello? Yo? Hmmm..."
Boo: "Lookit!"
Sulley: "Ahhh!"
When Sulley opens Boo's door he is surprised to not find anyone in the attached room. He quietly exits at which point the surprise, seeing Boo on the Scare Floor, becomes quite alarming.
Put That Thing Back Where It Came
Mike: "Oh, hey. We're rehearsing a - a scene for the upcoming company play called uh, Put That Thing Back Where It Came From Or So Help Me. It's a musical." [singing] "Put that thing back where it came from or so help me. Get that thing away from me, you guys. Put that thing back where it came from or I'll poke myself in the eye." [talking] "It's a work in progress. It's gonna get better."
To cover their butts, Mike and Sully manufacture a whole story behind why they're talking about putting things back where they came from. They picked the most logical choice of course, a musical stage play.
Mike: "Good morning, Roz, my succulent little garden snail. And who will we be scaring today?"
Roz: "Wazowski! You didn't file your paperwork last night."
Mike: "Oh, that darn paperwork! Wouldn't it be easier if it all just blew away?"
Roz: "Don't let it happen again."
Mike: "Yes, well, I'll try to be more careful next time."
Roz: "I'm watching you, Wazowski. Always watching. Always."
Mike: "Ooh, she's nuts."
Mike greets Roz, the key manager for the Scare Floor and quite the stickler about the paperwork. As Mike mentions, this obsession is bordering on insanity.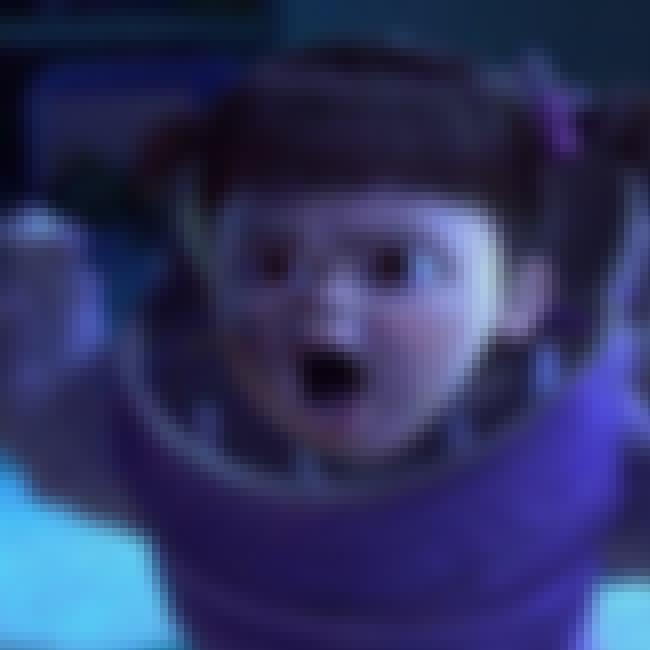 Mike: "That thing is a killing machine!"
Boo: "La la la la la la la la"
Monsters see children very differently than humans. To Mike, Boo is a fierce killing machine but to humans, adults especially, the young Boo is nothing but an innocent toddler.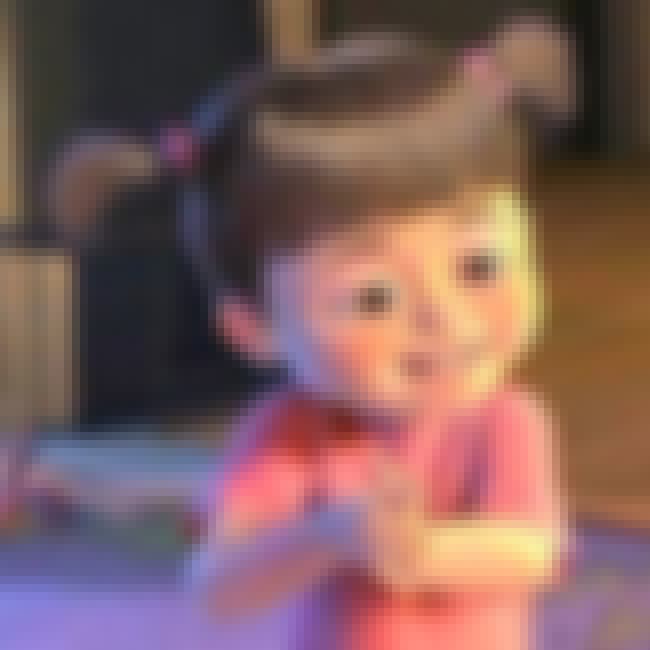 Boo: "Boo!"
Monsters: "Ahhh"
Sushi Chef: "There's a kid here, a human kid!"
When the rest of the Monsters see that a human kid has snuck into their world, all hell breaks loose. See according to Monsters, human children are toxic and touching them leads to almost certain death.