quotations

Puss in Boots Movie Quotes

99 votes

52 voters

42k views

10 items

Embed
'Puss in Boots' movie quotes are hilarious, featuring great one-liners by the film's main character, Puss in Boots (voiced by Antonio Banderas). Some quotes from the 2011 animated movie are pretty simple ("Meow" comes to mind), but others are quite clever. All have one thing in common: They are funny. Dreamworks' 'Puss in Boots' movie promises to deliver some truly enjoyable comedy animation, as viewers get to see what Puss' life was like before he made his appearance in 'Shrek.' Enjoy these 'Puss in Boots' quotes, vote for your favorites and, if you don't see your personal fave quote listed ("Holy Frijoles!"), add it!
The 3D 'Puss in Boots' movie also features the voices of Zach Galifianakis as Humpty Dumpty, Salma Hayek as Kitty Softpaws, Puss' love interest (and professional kitty-thief), Billy Bob Thornton as Jack and Amy Sedaris as Jill. In the movie, Puss joins forces with Humpty and Kitty Softpaws to try and save his town from a band of outlaws looking to destroy it. With the help of his friends, and of course, his boots, Puss can't lose!
For more family and animated movie quotes, check out these lists for the best lines from
'The Smurfs' movie
,
'Cars 2,'
the original 'Cars' movie
and other great
Pixar movies!
Puss in Boots: "Stay furry, my friends. Meowwww."
Words of wisdom from this boot-wearing, sword-wielding, furry little fighting machine!
Puss in Boots: "All that I need are the boots!"
Puss' magical boots protect him from all evil, allowing him to right wrongs in the world with kitty charisma!
see more on The Boots
Puss in Boots: "It is hot in here, or is it me?"
Puss in Boots is nothing, if not humble. Sort of a Pepe Le Pew of felines, don't you think?
Puss in Boots: "I am not looking for trouble. I am but a humble gato in search of his next meal. Perhaps you gentlemen can help me find a simple score."
Bartender: "Well, perhaps if one of us were to tell the law that you were in town, we could split the reward." (Another man tries to sneak up on Puss with a sword, and fails)
Puss in Boots: "You made the cat angry - you no want to make the cat angry!"
Do. Not. Make. Puss in Boots. Mad. He wields that sword, and his claws, with authority.
The Legend is Not Distracted
Puss in Boots: "You may know my name, but you do not know the legend. I protect the innocent. And in my brave and noble quest for justice, nothing will distract me! Ohhhhhhhhh...." (starts chasing a spotlight)
Despite his bravado, Puss in Boots is still a cat. And felines will be felines...
Humpy Dumpty: "You got any idea what they do to eggs in prison? I'll tell you this. It ain't over easy..."
Zach Galifianakis is getting rave reviews for his voicing of the classic character Humpty Dumpty in 'Puss in Boots.'
see more on Over Easy
Puss in Boots: "I will see you again, Kitty Softpaws!"
Kitty Softpaws: "Sooner than you think..." (Holds Puss' boots up)
Puss in Boots: "She is a bad kitty..."
Puss in Boots has definitely met his match in Kitty Softpaws (Salma Hayek). She'll rob him blind and not bad a pretty cat eye in the process.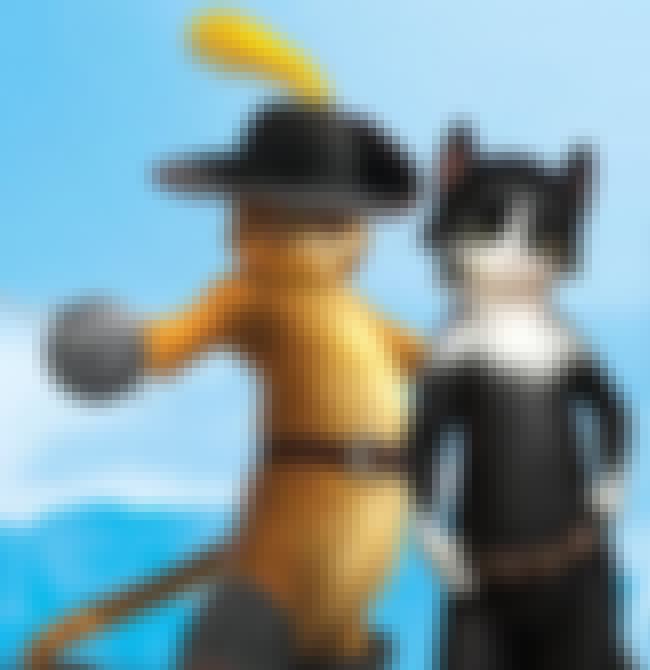 Jack: "I hate cats!"
Puss in Boots: "That's not what your mama said!"
Ohhh Cat: "Ooooooohhhhhh!"
'Puss in Boots' is full of fantastic quips from this sarcastic kitty!