Food

Smokey Bones Recipes

281 votes

83k views

7 items

Embed
Smokey Bones recipes - the easy way to prepare the best dishes from the Smokey Bones Bar & Grill menu. These are copycat recipes, not necessarily made the same way as they are prepared at Smokey Bones Bar & Grill, but closely modeled on the flavors and textures of Smokey Bones popular food, so you can bring these exotic tastes to your own table for a fraction of the cost.

Smokey Bones is a casual dining restaurant with locations throughout the Eastern United States. Menu items include barbeque dishes with fire-grilled grilled and smoke flavors, burgers, chicken, and seafood pastas. Smokey Bones also offers a variety of baked desserts as well as signature drinks like the Smokey Bones Long Island Lighter Fluid.

From Red Lobster Cheddar Bay Biscuits to Buffalo Wild Wings hot sauce, chain and franchise restaurants are popular destinations around the world. Eating out too frequently can be costly, not to mention that it's hard to control portion size, ingredients, or the style of cooking to suit your preferences.

What are the best Smokey Bones recipes to make at home? Making Smokey Bones recipes on your own allows you to save money while enjoying your favorite menu items from the casual dining spot. This list collections the best copycat Smokey Bones recipes from around the Web.

Collection Photo: user uploaded image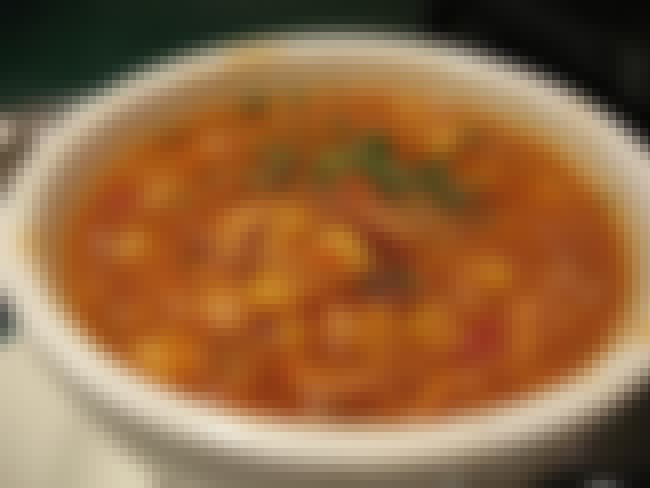 1/2 roasting chicken (about 1-1/2 pounds)
6 cups water
2/3 lb ground beef
1 1/2 lbs onions , diced (about 4 cups)
3/4 lb smoked pork (pulled pork, or 1 pound ground pork, see note)
1 (28 ounce) can crushed tomatoes
2 (14 ounce) cans diced tomatoes with juice
3/4 cup ketchup
1 tablespoon yellow mustard
1/4 cup Worcestershire sauce
3/4 teaspoon hot sauce
1 1/2 teaspoons salt
1 teaspoon ground black pepper
2 tablespoons granulated sugar
1/4 cup barbecue spice
2 (15 ounce) cans cream-style corn
- Cut chicken into pieces; place in a stockpot and cover with water and bring to a boil.
- Reduce heat and cover; simmer for 30 minutes until chicken is tender.
- Remove chicken; pour stock into a bowl or large measuring cup.
- When chicken is cool, discard skin; pull meat from bones and discard bones.
- Tear meat into small pieces.
- In a large skillet, cook beef over medium heat until about half done.
- Add onions and cook until translucent for 8 minutes; add chicken and pulled pork.
- Stir and cook until well mixed and heated through for 5 minutes; remove from heat.
- Transfer meat mixture to stockpot; stir in 4 cups of reserved chicken stock.
- Stir in tomatoes and their juice, ketchup, yellow mustard, Worcestershire sauce, hot sauce, salt, pepper, sugar, barbecue spice and corn; bring to a boil, reduce heat and simmer for an hour.
- Stir occasionally, add stock if needed.
Brown Sugar Glazed Baby Back Ribs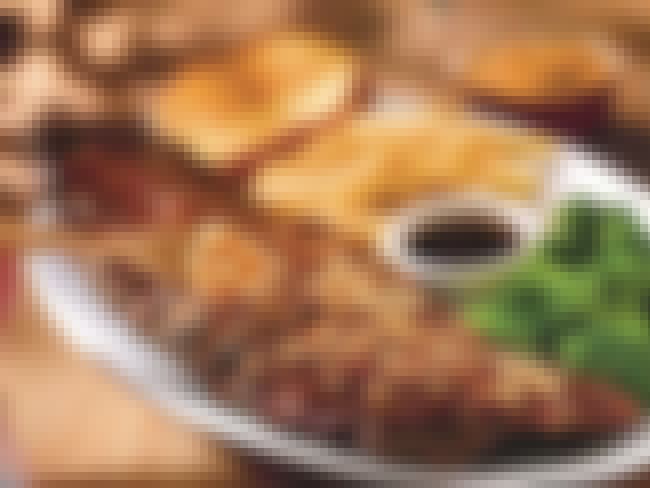 4 (2-pound) slabs loin back ribs, membrane removed (ask butcher or meat department to do this for you)
* Dry rub
1-1/4 Cups sugar
6 Tablespoons chili powder
2 Tablespoons paprika
2-1/2 Tablespoons iodized table salt
1 Tablespoon light brown sugar
1/2 Tablespoon each: black pepper and garlic powder
1/4 Tablespoon cayenne pepper
1 Teaspoon onion powder
* Braising liquid
1-1/4 Cups barbecue sauce (KC Masterpiece or similar)
1-1/4 Cup apple juice
1/4 Cup cider vinegar
1/4 Cup liquid smoke
* Glaze
2-1/2 Cups light brown sugar
1/2 Cup light corn syrup
6 Tablespoons white vinegar
2 Tablespoons barbecue rub
* Topping
1/2 Cup light brown sugar
2 Tablespoons barbecue rub.
- Dry Rub: Mix all ingredients and break up brown sugar chunks; reserve 2 tablespoons for brown-sugar topping.
- Braising Liquid: Combine all braising liquid ingredients.
- Glaze: Bring ingredients to boil on medium heat and remove; keep warm. Combine brown sugar topping ingredients.
- Put ribs cavity side up on sheet pan; season each slab with about 1/4 cup barbecue rub.
- Flip ribs over; season top side with 1/4 cup of rub, and refrigerate ribs for an hour.
- Heat oven to 250 F and cut 4 square sheets heavy-duty foil; put slab of ribs, top side up, on sheet of foil.
- Fold ends to make loose packet around each slab; pour 5 oz braising liquid into each packet.
- Seal top and make sure packet is loose around ribs; put packets on sheet pan and bake for 2 1/2 hours.
- Thirty minutes from being done, heat grill to medium heat; check ribs if meat is easily pulled from the bones.
- Place ribs cavity side down on sheet pan; brush slab tops with warm brown-sugar glaze.
- Put ribs cavity side up on grill; brush again with warm brown-sugar glaze.
- Grill for 2 minutes and flip slabs over; brush tops of slabs with more brown-sugar glaze.
- Grill for 2 minutes longer and remove ribs; sprinkle each slab with brown-sugar topping.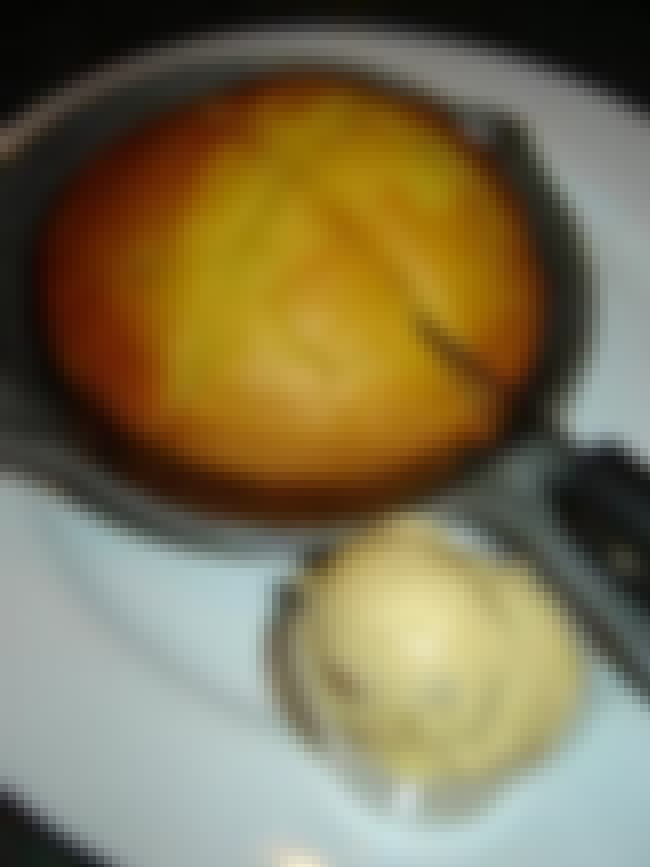 1/2 cup pecans, halved
1 lb unsalted butter, softened
1/4 cup clover honey
- Preheat oven to 350.
- Place pecan halves on a cooking tray and cook until toasted for 5-8 minutes; remove from oven and let cool to room temperature.
- Chop cooled pecans.
- Place pecans and butter in a mixer; blend for 3-5 minutes using spatula.
- Blend on low speed and add honey; continue until all ingredients are well mixed.
- Place in serving dish or bowl; refrigerate until ready for use.
- Serve with warm cornbread.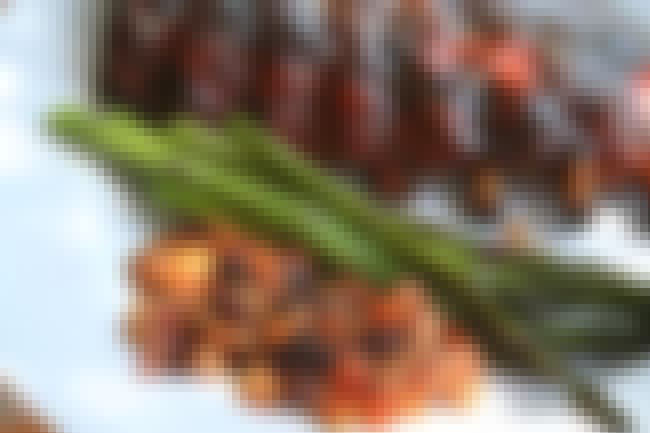 1 1/2 cups prepared yellow mustard (you should use French's)
7 Tbs brown sugar
8 Tbs tomato paste
5 Tbs apple cider vinegar
1 Tbs Worcestershire sauce
1/2 tsp cayenne
1/2 tsp ground black pepper
1/2 tsp granulated garlic
- Whisk all ingredients together in a saucepan over medium heat.
- Simmer until sugar is dissolved; remove from heat and let cool.
- Pour into a sterilized glass jar; refrigerate between uses.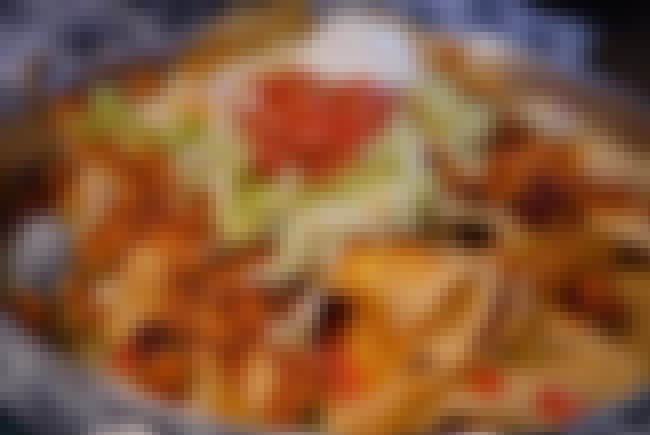 About 4 ounces tortilla chips, or
enough to cover a flat baking sheet
or heatproof platter
2 to 2-1/2 cups diced barbecued chicken (about 12 ounces)
8 ounces grated cheddar, Monterey Jack or
asadero cheese or, preferably, a combination
2 large or 3 average green onions, chopped (include green parts)
1 fresh jalapeño, seeds and stems removed,
minced (or more to taste)
1/4 teaspoon ground cumin
- Heat oven to 400 degrees F.
- Arrange chips on a large baking sheet lined with foil.
- Sprinkle cheese over chips; top with equal portions of chicken, green onion, jalapeño and sprinkle with cumin.
- Bake 7-12 minutes until cheese melts and is bubbly; serve hot, and if desired, with guacamole or sour cream on the side.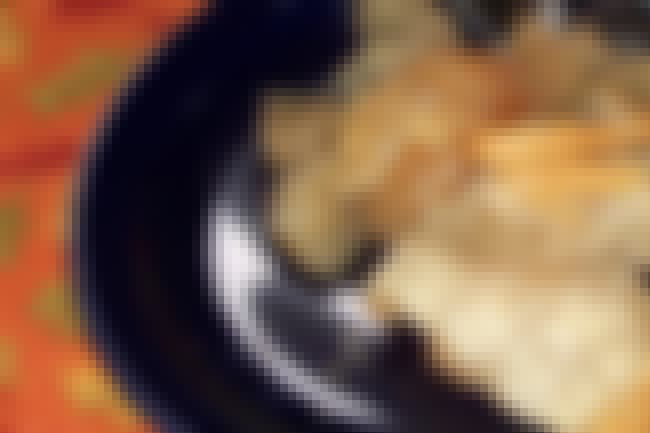 1/2 cup powdered sugar
1/2 cup granulated sugar
2 tablespoons cinnamon
2 1/2 lbs golden delicious apples
1/2 cup melted butter
- Preheat oven to 350 degrees F.
- Mix both sugars and cinnamon together until thoroughly combined; set aside.
- Wash, peel, and core apples; cut into 1/2-inch wedges.
- Toss apple wedges in sugar and cinnamon mixture; coat apples thoroughly and evenly.
- Brush bottom and sides of a medium casserole dish with one tablespoon of the melted butter; place seasoned apples in dish.
- Drizzle remaining melted butter over apples.
- Bake apples for 30 minutes or until slightly soft; serve immediately.
6 ounces romaine lettuce
6 ounces field greens
2 tomatoes , chopped (or one huge one)
1/3 cup sunflower seed
1/2-3/4 cup sesame sticks
1/3 cup toasted pecans
1/2 cup wasabi peas
1/2 cup asiago cheese
1/2 cup monterey jack cheese
1/2 cup cheddar cheese
1 cup sante fe salad dressing
- Toss all ingredients together.
- Top each serving with grilled chicken or a shrimp skewer, if desired; serve.