film

That's My Boy Movie Quotes f p @

71 votes

51 voters

52k views

8 items

Follow

Embed
'That's My Boy' movie quotes are the best, most hilarious lines from this 2012 comedy movie starring
Adam Sandler
and Andy Samberg as father and son, Donny and Todd. Yes, that's right: In 'That's My Boy,' Sandler plays Samberg's dad. 'That's My Boy' also stars Leighton Meester, Vanilla Ice, Will Forte, Nick Swardson and
James Caan
. If that isn't a bizarre lineup, what is? Anyway, be sure to vote for what you think are the best quotes from 'That's My Boy' here, and add any great quotes that you think are missing from the list.
In 'That's My Boy,' Adam Sandler is Donny Berger. When Donny was a teen, he fathered a child with his teacher. The teacher, of course, went to jail, leaving Donny to raise the child (which he named Han Solo Berger) alone. Donny raised Han Solo (Andy Samberg) until he graduated from high school, and then, he kind of dropped out of sight. Han Solo, not surprisingly, changed his name to Todd Peterson. Todd is now living a great life -- he's got a great job and a great fiance. The night before Todd's wedding, Donny makes a surprise visit, and things kind of go downhill from there. Quickly.
If you love these 'That's My Boy' movie quotes, you might also enjoy these other lists of funny movie quotes, including
'Men in Black III,'
'Madagascar 3: Europe's Most Wanted,'
'Jack and Jill,'
'The Dictator,'
'The Sitter,'
'Safety Not Guaranteed,'
'The Three Stooges,'
'Dark Shadows,'
'American Reunion,'
'Goon,'
'Bernie,'
'Rock of Ages,'
'The Muppets,'
and
'Bucky Larson: Born to Be a Star.'
Todd: "Do you know what I remember? Me having to drive you home from the beach that time because you were too drunk."
Donny: "Somebody's hammered, they have another guy drive home!"
Todd: "I was eight!"
Donny: "You f**king drove like a champ, too."
Who let's his eight year old kid drive his drunk a** home? Donny, that's who. At least they made it home safely, but this is further proof that Donny had absolutely no parenting skills whatsoever.
Cake and Lollipops for Breakfast
Todd: "You were basically the worst parent ever!"
Donny: "I was awesome!"
Todd: "You let me eat cake and lollipops for breakfast every day!"
Donny: "That's what you asked for!"
Todd: "You're supposed to say no!"
Todd has a point: Donny was a terrible parent, and not just because he thought breakfast consisted of sweets. He set absolutely no limits for Todd (and the now-grown kid is still dealing with the repercussions).
Champale: "Don't forget, you are going to prison. You have got to get that money..."
Donny: "Actually, I'm just trying to be a dad right now..."
Donny is trying desperately to bond with his son, but things aren't going so well. He initially showed up to ask Todd to help him financially, but he soon realizes that he really needs to try and be a father to him (even if Todd just wants him to go away).
Christina: "Todd, your old man is here?"
Donny: "WASSUP!"
Todd: "Donny, uh what are you doing here?"
Donny: "What type of guy would miss his son's wedding?"
Uptight Christina (Leighton Meester) has the unfortunate experience of meeting Todd's father, Donny, first. Donny sure does know how to light up a room, doesn't he?
Donny (picks up a magazine and sees Todd on the cover): "Whoa, that's my boy! He moved out when he was eighteen, I haven't seen him since..."
Brie: "It says here he's one of the most successful hedge fund managers in the finance industry."
Champale: "Maybe your son can help you..."
Todd bolted as soon as he became old enough to do so, and he never looked back. He hasn't seen Donny since, and he's grateful. When strippers Brie (Ciara) and Champale (Luenell) realize that Todd is loaded, they realize that he could help get Donny out of debt -- and keep him out of prison.
Donny (takes a sip of a drink offered at Todd's bachelor party, spits it out): "Pffffff! What the f**k is this?!"
Spa worker: "It's water infused with cucumber, rose petal and harvest sandalwood."
Donny: "Tastes like f**king d**k infused with balls."
Todd decides to bring Donny along for his bachelor party -- at a spa. Really? Donny takes one sip of the fruity, herbal "shot" and immediately realizes that his kid needs a real bachelor party, pronto.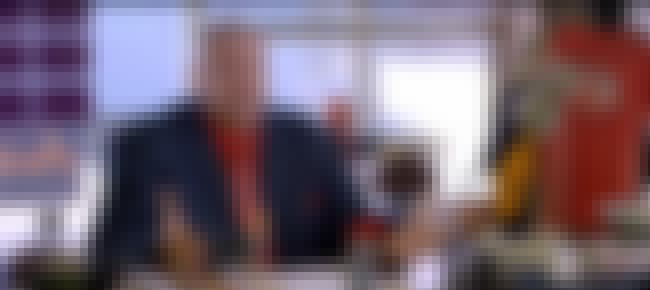 Donny: "So what did the IRS say?"
Jim Nance: "Three years in prison. You haven't paid taxes since '94 Donny!"
Donny: "What are we talking about, fifty, sixty bucks?"
Jim Nance: "$43 thousand."
Donny: "F**k, no!!!"
Donny's in huge trouble now and yes, that is New York Jets head coach Rex Ryan playing Jim Nance and delivering the bad news: The IRS wants money, and a lot of it, from Donny. If he doesn't pay up, he's going to jail.
New Kids on the Block Tattoo
Donny: "You wear a bathing suit in the shower?"
Todd: "I can't even take my shirt off in front of other people."
Donny: "What did I do this time?"
Todd: "Let me jog your memory." (removes his shirt, revealing a huge NKOTB tattoo) "
Donny: "Haaaaaaa New Kids on the Block! Their heads are all warped!"
Todd: "Yeah, that's because I got it in third grade -- my body grew! (Donny keeps laughing) "You suck."
If ever there was a shining example of bad parenting, this is it: When Todd was a child (named Han Solo, no less), Donny thought it would be hilarious to give him a New Kids on the Block tattoo. Todd's right: Donny sucks.