film

The Dictator Movie Quotes

214 votes

157 voters

113k views

9 items

Embed
'The Dictator' movie quotes include some of the best lines in this 2012 comedy film, which stars
Sacha Baron Cohen
as Admiral General Aladeen, dictator of the fictitious, rogue North African country the Republic of Wadiya. Unlike Cohen's previous mockumentary movies, 'Borat' and 'Bruno,' 'The Dictator' includes an all-star cast. Many of the funniest, most memorable lines from 'The Dictator' feature Cohen, not surprisingly. See a favorite quote from 'The Dictator' movie listed? Vote it up! And, if you know of a great 'Dictator' film quote that isn't on this list, definitely add it.
'The Dictator' was co-written by, and stars, Sacha Baron Cohen. The film is directed by Larry Charles, who also directed 'Borat' and 'Bruno.' 'The Dictator' cast includes
Anna Faris,
Ben Kingsley,
John C. Reilly,
Megan Fox,
J.B. Smoove and Bobby Lee, among others. 'The Dictator' is said to be loosely based on a romance novel written by former Iraqi dictator Saddam Hussein ('Zabibah and the King'), and Cohen's Admiral General Aladeen might also be based (loosely, there's that term again) on former Libyan ruler Muammar Gaddafi.
Interested in more great quotes from popular movies? Check out these lists for the best lines from
'The Three Stooges,'
'Dark Shadows,'
'The Avengers,'
'American Reunion,'
'The Cabin in the Woods,'
'Goon,'
'Bernie,'
'The Five-Year Engagement,'
'The Best Exotic Marigold Hotel,'
'30 Minutes or Less,'
'Young Adult,'
and
'Damsels in Distress.'
Admiral General Aladeen: "I love it when women go to school. It's like seeing a monkey on roller skates -- it means nothing to them, but it's so adorable for us..."
When Aladeen tries to get into the United Nations to deliver his speech, he can't. The hotel manager's made sure that no one, including security, will recognize him. After Aladeen gets sprayed by security, Anna Faris' character picks him up and offers him a job. How long will THAT last?
Fireworks Over the Statue of Liberty
Admiral General Aladeen: "I love being an American..." (speaking in foreign language) "I'd love to see the fireworks over the Statue of Liberty."
Admiral General Aladeen manages to terrify his fellow tourists on a helicopter ride over New York City. He's telling his companion (in a language that sounds very much like Arabic) that he'd love to see the fireworks over the Statue of Liberty, but his explosion-type gestures scare the passengers to death.
Hotel Manager (to Admiral General Aladeen): "...I am here for your protection, but I have to say, I hate Arabs."
Admiral General Aladeen: "I'm not an Arab."
Hotel Manager: "You're all Arabs to me: The blacks, the Jews...those blue, tree-hugging queers in Avatar..."
Leave it to Sacha Baron Cohen to slip in an Avatar jab in the form of a highly-offensive racist "joke." This hotel manager is trouble, big time.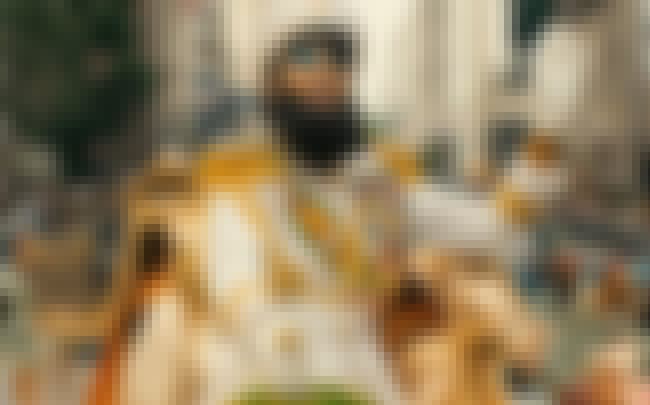 Admiral General Aladeen: "Ah, America, the birthplace of AIDS!"
Yes, Admiral General Aladeen is definitely not the kind of guy you can warm up to. In fact, he's a total and complete a-hole. As such, he's not exactly getting a warm welcome (note the boos in the crowd as he parades by).
Megan Fox: Not a Kardashian
Admiral General Aladeen: "Megan, you were worth every penny." (Megan looks through jewels) "I trust everything is in there as your manager requested?"
Megan Fox: "What's this, a ruby? Is that a joke? What am I, a Kardashian?"
Admiral General Aladeen: "No, of course not. You're much less hairy."
In 'The Dictator,' Megan Fox plays herself, because really, that's the best role for her, right? Nice jab at the Kardashians, by the way...
Admiral General Aladeen (to NYPD officer): "Is there any way you could lend me some money? Maybe 20 million dollars?"
When the Admiral General is set out on the rough streets of New York City alone, he tries his hand at begging. Perhaps it's best NOT to ask the NYPD for money -- particularly 20 million dollars. Don't draw attention to yourself...
News Reporter: "Tonight we ask: 'Who is General Aladeen?' According to Wadiyan propaganda, Haffaz Aladeen was born in 1973. He did not know his mother, who died in childbirth. The only son of the savage dictator Omar Aladeen, he gained power at the age of seven. Often described as ignorant, he changed over 300 Wadiyan words to 'aladeen,' including the words 'positive' and 'negative,' causing mass confusion..."
This segment is part of a U.S. news piece attempting to find out more about the eccentric Admiral General Aladeen, who is apparently a complete and utter moron.
Visit the Empire State Building
Hotel Manager: "Admiral General, welcome to New York City. And while you're here, I highly recommend a visit to the Empire State Building, before you or one of your cousins takes it down."
John C. Reilly plays the hotel manager who welcomes Admiral General Aladeen to NYC. What Aladeen doesn't know, at least not at first, is that the manager totally despises him and is about to change his life in a major way.