electronic music

The Most Influential Electronic Music Pioneers f p @

5.2k votes

802 voters

55k views

60 items

Follow

Embed
Like the settlers who traveled from the east coast to the west coast in search of manifest destiny, these EDM pioneers helped pave the way for electronic musicians of the future. For decades, musicians have been creating electronic music, but only recently have their jams become more mainstream. In each case, the artist or artists directly affected the future of electronic music, offering fans a totally unique perspective on the genre.

Who are some of the most influential electronic music pioneers? There are plenty to choose from, and a bunch got their start in the late 1970s and early 1980s. Groups like Kraftwerk, New Order, Daft Punk, and Depeche Mode are considered some of the greatest electronic music bands of all time. They helped lead the way for other electronica musicians and DJs to create some of the most mind-blowing electronic dance music of all time.

Vote up the best EDM pioneers, and be sure to let us know what you think in the comment section.


Germany's Kraftwerk is arguably among the very best when it comes to influential electronic music. With a signature style that also includes some pretty awesome hooks, Kraftwerk remains a leader in the genre, influencing everyone from David Bowie to Afrika Bambaataa.
see more on Kraftwerk
Depeche Mode deserves a place on any list that includes pioneers of electronic music, particularly electro-pop. This British band, fronted by the brilliant David Gahan, has recorded heavily synthesized tunes that range from the upbeat (early Depeche) to the brooding and dark (later years). Depeche remains hugely popular today. Bands like The Crystal Method cite Depeche Mode as a massive influence.
Also Ranked
#85 on The Greatest Musical Artists of All Time
#98 on Musicians Who Belong in the Rock and Roll Hall of Fame
#47 on The Greatest Musical Artists of the '90s
#19 on Artists Who Have Inspired the Best Covers
see more on Depeche Mode
The British alternative/electronic band New Order burst onto the scene in the 1980s, putting out a series of mainstream hit songs that remain a staple on radio today. New Order became extremely influential - the band's unique blend of electronic dance and new wave music spawned a host of other acts. New Order was also part of the alt dance supergroup Electronic, which featured members (or former members) of the Pet Shop Boys, the Smiths, and - lo and behold - a former member of Kraftwerk.
Also Ranked
#71 on The Greatest Musical Artists of the '80s
#91 on The Best Pop Artists of the 1980s
see more on New Order
The Grammy Award-winning French duo Daft Punk collaborate to create innovative and fascinating electronic music that not only thrills critics, but also fans. Daft Punk is still collaborating with mainstream artists like Kanye West and the duo also composed the movie soundtrack for the 2010 film "Tron: Legacy." If you ever get the opportunity to check out a Daft Punk live show, do it. Move Heaven and Earth to get there - you won't be disappointed!
Also Ranked
#51 on Artists Who Have Inspired the Best Covers
#8 on The Best Musical Duos
#8 on The Best DJs in the World
#24 on Who Should Play the Super Bowl Halftime Show?
see more on Daft Punk
Omitting Jean-Michel Jarre from any list involving the most influential music pioneers would simply be a crime of epic proportions. This French composer and musician has put out decades of incredible, melodic electronic music. He's also given stunning concert performances, particularly in the 1970s (where he achieved mainstream success).
Also Ranked
#11 on The Greatest Keytarists of All Time
see more on Jean Michel Jarre
No list of influential electronic music pioneers would be complete without the great Brian Eno and his brilliant ambient music. Eno's solo work (after Roxy Music) is considered by many to be a positively dazzling example of ambient music. Eno's influences run deep - Aphex Twin comes to mind immediately.
Also Ranked
#71 on The Greatest Organists in Rock and Jazz History
see more on Brian Eno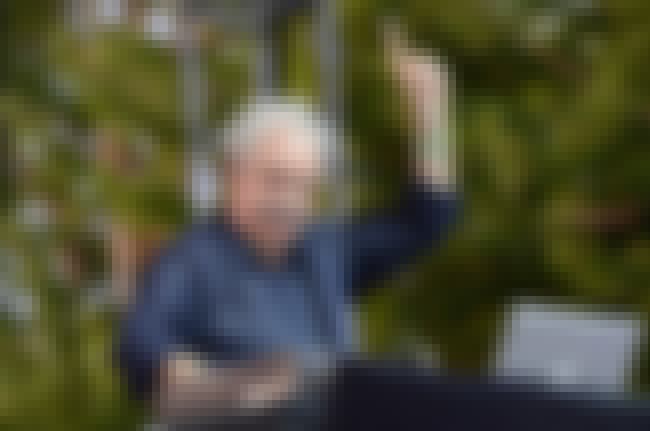 see more on Giorgio Moroder
The electronic musician Aphex Twin (aka Richard David James), is a tremendously successful contemporary electronic musician. Influences from Kraftwerk to Tangerine Dream can easily be heard in the music, which runs the gamut from ambient techno to trance and, of course, electronica.
Also Ranked
#71 on The Best DJs in the World
#59 on The Most Hipster Bands
#58 on The Most Influential DJs of All Time
see more on Aphex Twin