TV

The Best Current TV Shows No One Is Watching f p @

78k votes
10k voters
261k views
94 items
Follow
Embed
List Rules Only shows currently on TV/streaming or expected to return that have not received mainstream press or acclaim - no Emmy award-winning programs or shows with huge followings. Vote up the shows you have seen and liked.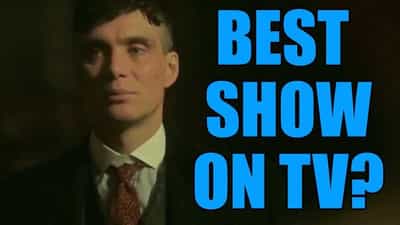 Some of the best shows on TV right now in 2016-2017 are criminally underrated and not watched by nearly enough people. Sure, you've heard of How to Get Away with Murder, Empire, Game of Thrones, and all those other great, über-popular shows. But have you heard of Other Space? 12 Monkeys? Didn't think so. Here to solve this very pressing problem is this list of unknown or underrated TV shows you should be watching right now, if anything just to shake things up a bit. Be sure to also watch the best shows ending in 2017 before it's too late!
Some of the shows on this list are fairly standard genre shows like crime thrillers and supernatural tween rom-coms, but each of the television series listed here are uniquely memorable and entertaining. It's truly amazing and baffling that these shows have managed to fly under the radar, but once you read about these underrated series you should be watching, maybe they'll gain at least one new fan.
Looking for some new TV show suggestions for this coming Saturday night? Maybe check out that Gillian Anderson thriller that everyone's been talking about over in Britain. (Hint: It's not The X-Files.) Or maybe you can keep it light and watch some adorable current underrated shows on the CW, like iZombie or Crazy Ex-Girlfriend. There are so many under the radar TV shows out there that deserve more viewers and more buzz.
Go on and celebrate underrated television by voting up your favorite under-the-radar shows! (But only if you've seen them ... which, again, is part of the problem!!)
1

Sense8

Aml Ameen, Bae Doona, Jamie Clayton

- This genre-bending sci-fi fantasia from the Wachowski siblings never ceases to deliver on stunning visuals and shocking plot points. Telling the story of eight people in different parts of the globe whose lives are inexplicably ...
2

Peaky Blinders

Cillian Murphy, Sam Neill, Helen McCrory

- The Peaky Blinders were a gang of youthful criminals who rose to prominence in Birmingham, England in the early 20th century. This show, on BBC Two, is a perfectly action-packed sendup of the gang's story. (Netflix owns the US ...
3

Vikings

Travis Fimmel, Clive Standen, Gustaf Skarsgård

- Vikings is an Irish-Canadian historical drama television series written and created by Michael Hirst for the television channel History. It premiered on 3 March 2013 in the United States and Canada. ...more
4

Daredevil

Charlie Cox, Vincent D'Onofrio, Deborah Ann Woll

- Marvel's Daredevil, or simply Daredevil, is an American web television series created for Netflix by Drew Goddard, based on the Marvel Comics character of the same name. It is set in the Marvel ...more
5
6

Orphan Black

Tatiana Maslany, Dylan Bruce, Jordan Gavaris

- Check it out on Netflix.
7

Mr. Robot

Rami Malek, Carly Chaikin, Portia Doubleday
8

Fargo

Billy Bob Thornton, Martin Freeman, Allison Tolman

- Fargo is an American black comedy–crime drama television series created and written by Noah Hawley. The show is inspired by the 1996 film of the same name written and directed by the Coen brothers, ...more
9

Broadchurch

David Tennant, Olivia Colman, Jodie Whittaker

- The original British version of this show, boasting David Tennant as the charming lead, is a perfect mix of whodunnit and legal/court drama.Check it out on Netflix (DVD/Blu-ray only).
10

The Americans

Keri Russell, Matthew Rhys, Holly Taylor

- This excellent drama about Soviet spies posing as Americans is consistently and loudly hailed as one of the best shows on television, but there STILL isn't anyone watching it. It hasn't even received any major Emmy nominations - a ...
11

Black Mirror

Daniel Kaluuya, Toby Kebbell, Rory Kinnear

- Filled to the brim with sci-fi horror, this haunting British series features three episodes per season, each with a different cast and a stunningly unique plotline about the impact of technology on our culture.Check it out on Netflix.
12

Preacher

Dominic Cooper, Joseph Gilgun, Ruth Negga

- Based on the DC Comic Book series, Preacher follows Jesse Custer, a small-town preacher who is on a mission to find God.
13

Silicon Valley

Thomas Middleditch, T.J. Miller, Josh Brener

- Silicon Valley is an American television sitcom created by Mike Judge, John Altschuler and Dave Krinsky. The series focuses on six young men who found a startup company in Silicon Valley. The series ...more
14

The 100

Eliza Taylor, Eli Goree, Thomas McDonell

- The 100 is an American post-apocalyptic drama television series that premiered on The CW during the 2013–14 American television season. The series is based on a book of the same name, the first in a ...more
15

The Leftovers

Justin Theroux, Amy Brenneman, Christopher Eccleston

- Check it out on HBO GO.
16

Westworld

Ben Barnes, Ingrid Bolsø Berdal, Clifton Collins Jr.
17

Drunk History

Derek Waters, Bennie Arthur, Craig Cackowski

- Drunk History is an American television comedy series produced by Comedy Central, based on the Funny or Die web series created by Derek Waters and Jeremy Konner in 2007. In each episode, an inebriated ...more
18

Timeless

Abigail Spencer, Matt Lanter, Starring Abigail Spencer Matt Lanter Malcolm Barrett

- Timeless (NBC, 2016) tollows the adventures of an unusual trio—a history professor (Abigail Spencer), a scientist (Malcolm Barrett), and a soldier (Matt Lanter)—as they attempt to stop Garcia Flynn ...more
19

Gotham

Ben McKenzie, Jada Pinkett Smith, Donal Logue
20

Luke Cage

Mahershala Ali, Mike Colter, Frankie Faison
21

iZombie

Rose McIver, Malcolm Goodwin, Rahul Kohli

- This frothy, quick-witted show cleverly employs zombie-ism as a metaphor for the main character's quarter-life crisis. The dialogue is sharp, the mysteries are fun, and the brain-eating is only a little gross.Check it out on Hulu.
22

12 Monkeys

Aaron Stanford, Amanda Schull, Kirk Acevedo

- If you're looking for a bonkers sci-fi spectacle, then look no further than this small screen adaptation of Terry Gilliam's 1995 cult classic. There's no Bruce Willis this time, but there is that guy who played Pyro in X2 and X-Men: ...
23

Lucifer

Tom Ellis, Lauren German, Kevin Alejandro
24

Supernatural

Jared Padalecki, Jensen Ackles, Jim Beave

- Supernatural is an American fantasy horror television series created by Eric Kripke. It was first broadcast on September 13, 2005, on The WB and subsequently became part of successor The CW's lineup. ...more
25

Suits

Gabriel Macht, Patrick J. Adams, Meghan Markle

- Suits is a USA Network legal drama created by Aaron Korsh that stars Patrick J. Adams as Michael "Mike" Ross and Gabriel Macht as Harvey Specter. The first episode debuted on June 23, 2011, ...more
26

Agents of S.H.I.E.L.D.

Clark Gregg, Ming-Na Wen, Brett Dalton

- Marvel's Agents of S.H.I.E.L.D., or simply Agents of S.H.I.E.L.D., is an American television series created for ABC by Joss Whedon, Jed Whedon, and Maurissa Tancharoen, based on the Marvel Comics ...more
27
28

Taboo

Tom Hardy, Leo Bill, Oona Chaplin

- Taboo is a British drama television serial that is set to first broadcast on BBC One. The eight-part series, written by Steven Knight, is about an adventurer who returns to Britain from Africa along ...more
29

Brooklyn Nine-Nine

Andy Samberg, Stephanie Beatriz, Terry Crews

- Brooklyn Nine-Nine is an American action comedy television series that airs on Fox. Set in the fictional 99th Precinct of the New York City Police Department in Brooklyn, the single-camera series ...more
30

Black Sails

Jessica Parker Kennedy, Toby Stephens, Hannah New

- Black Sails is an American dramatic adventure television series set on New Providence Island and a prequel to Robert Louis Stevenson's novel Treasure Island. The series was created by Jonathan E. ...more
31
32

The Magicians

Barry Jones

- The Magicians was a British family entertainment television show, first broadcast throughout January 2011 on BBC One. The show features magicians performing a number of magic tricks with guest ...more
33

The Strain

Corey Stoll, David Bradley, Kevin Durand

- The Strain is an American horror drama television series that premiered on FX on July 13, 2014. It was created by Guillermo del Toro and Chuck Hogan, based on their novel trilogy of the same name. ...more
34

Dark Matter

Marc Bendavid, Melissa O'Neil, Anthony Lemke
35

Elementary

Jonny Lee Miller, Lucy Liu, Aidan Quinn

- Elementary is an American crime drama series that presents a contemporary update of Sir Arthur Conan Doyle's character Sherlock Holmes. The series was created by Robert Doherty and stars Jonny Lee ...more
36

Poldark

Judy Geeson, Ralph Bates, Angharad Rees

- Poldark is the original version of the BBC television series adaptation of the novels of the same title written by Winston Graham. The adaption was first transmitted in the UK between 1975 and 1977.
37

Supergirl

Melissa Benoist, Mehcad Brooks, Chyler Leigh

- Supergirl is an American superhero action-adventure drama television series developed by Ali Adler, Greg Berlanti and Andrew Kreisberg (the latter two having previously created Arrow and The Flash) ...more
38

The Returned

Forget A&E's remake and go straight to the original French version of this show, which follows a bunch of people who return from the dead and insist on picking up their lives where they left off before they died. It's creepy as ...
39

Firefly

Nathan Fillion, Gina Torres, Alan Tudyk

- Firefly is an American space western science fiction drama television series created by writer and director Joss Whedon, under his Mutant Enemy Productions label. Whedon served as an executive ...more
40

Bloodline

Kyle Chandler, Ben Mendelsohn, Linda Cardellini

- This crackerjack thriller featuring Kyle Chandler (Friday Night Lights) and a whole lot of family drama has attracted the attention of critics, but has yet to find its audience.Check it out on Netflix.
41

American Crime

Felicity Huffman, Timothy Hutton, Elvis Nolasco

- American Crime is an American anthology crime drama television series that premiered on ABC on March 5, 2015, airing Thursdays at 10:00 pm. The series was created by John Ridley, and stars Felicity ...more
42
43

Outlander

Caitriona Balfe, Sam Heughan, Tobias Menzies

- Outlander is a British-American television drama series based on the historical time travel Outlander series of novels by Diana Gabaldon. Created by Ronald D. Moore and produced by Left Bank Pictures ...more
44

Scorpion

Elyes Gabel, Katharine McPhee, Eddie Kaye Thomas

- Scorpion is an American drama television series loosely based on the life of self-proclaimed genius and computer expert Walter O'Brien. In the series, O'Brien and his genius friends help each other to ...more
45

Wentworth

Danielle Cormack, Nicole da Silva, Kate Atkinson

- Wentworth is an Australian television drama series. It was first broadcast on SoHo on 1 May 2013. The series serves as a contemporary reimagining of Prisoner, which ran on Network Ten from 1979 to ...more
46

It's Always Sunny in Philadelphia

Charlie Day, Glenn Howerton, Rob McElhenney

- It's Always Sunny in Philadelphia is an American television sitcom that premiered on FX on August 4, 2005, and moved to FXX beginning with the ninth season. It's Always Sunny in Philadelphia was ...more
47

Versailles

George Blagden, Stuart Bowman, Evan Williams
48

Atlanta

Donald Glover

- The series follows Earn (Donald Glover) during his daily life in Atlanta, Georgia, as he tries to redeem himself in the eyes of his girlfriend (the mother of his daughter), his parents, and his ...more
49

The Shannara Chronicles

Daniel MacPherson, Austin Butler, Poppy Drayton

- The Shannara Chronicles (MTV, 2016) is an American fantasy drama television series adapted from the fantasy novels by Terry Brooks, primarily The Elfstones of Shannara. As the series opens, demons ...more
50

Last Man on Earth

Will Forte, January Jones, Cleopatra Coleman

- The Last Man on Earth is an American post-apocalyptic comedy television series created by and starring Will Forte. The series premiered on the American broadcast network Fox on March 1, 2015. The ...more