Best Movies

List of Black Movies, Ranked Best to Worst

559.6k votes
46.6k voters
5.6M views
766 items
List Rules Movies must feature African-American and African culture and/or mostly above the line black casts.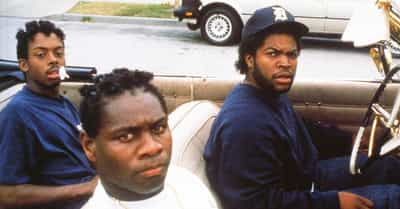 The best black movies are favorites that explore African-American culture and themes. This list is ranked by film fans, many of whom grew up waiting for and watching goods, realistic representations of what life was like for black people in America. The top African American movies often dominate the box office when released and this is a list of the best black films. What are the best black people movies of all time? Some of these films appear on other lists that you may find interesting, such as: best comedies of all time, best drama movies, and best actions movies on Netflix. You can sort by actor and director, or press "rerank" below to make your own list of the greatest African American themed movies.
This list of top black films features classic African American comedies like Friday and Coming to America, sports films like Love & Basketball, and biographical movies about black celebrities and leaders, from Ray and Ali to Malcolm X. This list also includes great movies about slavery (both Roots and Django Unchained, for example) and films about black life in the American South throughout history, from Glory and A Time to Kill to The Help. These and other highly acclaimed black movies in cinema focus on African-Americans, and most have surpassed the test of time among black audiences.
This includes everything to watch from '90s black comedy movies - comedies with a mostly black cast and perspective - to black crime movies, famous gang films, and action flicks. For other interesting movie lists check out Ranker's lists of well-made movies about slavery and films about racism. Also check out these lists of the best black sitcoms and the best cities for African Americans.
1

Boyz n the Hood

Ice Cube, Angela Bassett, Cuba Gooding Jr.

Boyz n the Hood is a 1991 American hood drama written and directed by John Singleton in his directorial debut, and starring Ice Cube, Cuba Gooding Jr., Morris Chestnut, Laurence Fishburne, Nia ...more
2

Coming to America

Eddie Murphy, Samuel L. Jackson, James Earl Jones

Coming to America is a 1988 American comedy film directed by John Landis, and based on a story originally created by Eddie Murphy, who also starred in the lead role. The film also co-stars ...more
3

Friday

Ice Cube, Meagan Good, Nia Long

Friday is a 1995 American stoner buddy comedy film directed by F. Gary Gray in his directorial debut, and starring Ice Cube, Chris Tucker, Nia Long, Bernie Mac, Tiny 'Zeus' Lister Jr, and John ...more
4

Malcolm X

Denzel Washington, Al Sharpton, Nelson Mandela

Malcolm X is a 1992 American biographical drama film about the African-American activist Malcolm X. Directed and co-written by Spike Lee. The film dramatizes key events in Malcolm X's life: his ...more
5

The Color Purple

Oprah Winfrey, Whoopi Goldberg, Laurence Fishburne

See The Best

The Color Purple

Movie Quotes
The Color Purple is a 1985 American period drama film directed by Steven Spielberg, based on the Pulitzer Prize-winning novel of the same name by Alice Walker. It was Spielberg's eighth film as ...more
6

Training Day

Eva Mendes, Snoop Dogg, Denzel Washington

Training Day is a 2001 American thriller film directed by Antoine Fuqua, written by David Ayer, and starring Denzel Washington and Ethan Hawke. The story follows two LAPD narcotics officers over ...more
7

Ray

Kerry Washington, Jamie Foxx, Terrence Howard

Ray is a biographical film focusing on 30 years in the life of rhythm and blues musician Ray Charles. The independently produced film was written, produced and directed by Taylor Hackford, and ...more
8

Django Unchained

Leonardo DiCaprio, Kerry Washington, Samuel L. Jackson

Django Unchained is a 2012 American revisionist Western film directed by Quentin Tarantino. With the help of a German bounty hunter (Christoph Waltz), a freed slave (Jamie Foxx) sets out to ...more
9

Set It Off

Queen Latifah, Dr. Dre, Jada Pinkett Smith

Set It Off is a 1996 American action film directed by F. Gary Gray, and written by Kate Lanier and Takashi Bufford. The film stars Jada Pinkett Smith, Queen Latifah, Vivica A. Fox and Kimberly ...more
10

Do the Right Thing

Samuel L. Jackson, Martin Lawrence, Spike Lee

Do the Right Thing is a 1989 American comedy-drama hood film produced, written, and directed by Spike Lee, who also played the part of Mookie in the film. Other members of the cast include Danny ...more
11

Lean on Me

Morgan Freeman, Tony Todd, Regina Taylor

Lean on Me is a 1989 dramatized biographical film written by Michael Schiffer, directed by John G. Avildsen and starring Morgan Freeman. Lean on Me is loosely based on the story of Joe Louis ...more
12

Remember the Titans

Hayden Panettiere, Ryan Gosling, Denzel Washington

Remember the Titans is a 2000 American sports drama film produced by Jerry Bruckheimer and directed by Boaz Yakin. The screenplay, written by Gregory Allen Howard, is based on the true story of ...more
13

The Pursuit of Happyness

Will Smith, Thandie Newton, Jaden Smith

The Pursuit of Happyness is a 2006 American biographical drama film based on Chris Gardner's nearly one-year struggle with homelessness. Directed by Gabriele Muccino, the film features Will ...more
14

Bad Boys

Will Smith, Téa Leoni, Martin Lawrence

Bad Boys is a 1995 American action comedy film produced by Don Simpson and Jerry Bruckheimer, producers of Top Gun and Beverly Hills Cop, and directed by Michael Bay in his directorial debut. It ...more
15

Love & Basketball

Tyra Banks, Gabrielle Union, Sanaa Lathan

Love & Basketball is a 2000 American romantic drama film starring Omar Epps and Sanaa Lathan. The film tells the story of Quincy McCall and Monica Wright, two next-door neighbors in Los ...more
16

Glory

Morgan Freeman, Denzel Washington, Matthew Broderick

Glory is a 1989 American drama film directed by Edward Zwick and starring Matthew Broderick, Denzel Washington, Cary Elwes and Morgan Freeman. The screenplay was written by Kevin Jarre, based on ...more
17

New Jack City

Chris Rock, Ice-T, Judd Nelson

New Jack City is a 1991 American thriller action film film directed by Mario Van Peebles in his directorial debut, who also co-stars in the film. The film stars Wesley Snipes, Ice-T, Allen ...more
18

Menace II Society

Samuel L. Jackson, Jada Pinkett Smith, Charles S. Dutton

Menace II Society is a 1993 drama/hood film and the directorial debut of twin brothers Allen and Albert Hughes. Set in South Central Los Angeles, the film follows the life of a hoodlum named ...more
19

Hotel Rwanda

Nick Nolte, Joaquin Phoenix, Don Cheadle

Hotel Rwanda is a 2004 American historical drama film directed by Terry George. It was adapted from a screenplay written by both George and Keir Pearson. It stars Don Cheadle and Sophie Okonedo ...more
20

Barbershop

Ice Cube, Eve, Janina Gavankar

Barbershop is a 2002 American comedy film directed by Tim Story, produced by State Street Pictures and released by Metro-Goldwyn-Mayer on September 13, 2002. Starring Ice Cube, Cedric the ...more
21

Roots

Louis Gossett, Jr., LeVar Burton

This award-winning six-part historical epic was one of the first examples of the miniseries format and one of the highest-rated television programs in broadcasting history. Based on the ...more
22

The Best Man

Nia Long, Terrence Howard, Sanaa Lathan

The Best Man is a 1999 American romantic comedy-drama film, written and directed by Malcolm D. Lee. It was produced by 40 Acres and a Mule Filmworks, with Lee's cousin, Spike Lee, serving as ...more
23

Bad Boys II

Megan Fox, Will Smith, Dan Marino

Bad Boys II is a 2003 American action-comedy film directed by Michael Bay, produced by Jerry Bruckheimer and starring Martin Lawrence and Will Smith. The film is a sequel to the 1995 film Bad ...more
24

Juice

Tupac Shakur, Samuel L. Jackson, Queen Latifah

Juice is a 1992 American drama thriller directed by Ernest R. Dickerson, written by Ernest R. Dickerson and Gerard Brown. It stars rapper Tupac Shakur and Omar Epps. Additional cast members ...more
25

The Five Heartbeats

Diahann Carroll, Harry Lennix, Robert Townsend

The Five Heartbeats is a 1991 musical drama film directed by Robert Townsend, who co-wrote the script with Keenan Ivory Wayans. Distributed by 20th Century Fox, the film's main cast includes ...more
26

Boomerang

Halle Berry, Eddie Murphy, Chris Rock

Boomerang is a 1992 American romantic comedy film directed by Reginald Hudlin. The film stars Eddie Murphy as Marcus Graham, a hotshot advertising executive who also happens to be an insatiable ...more
27

Poetic Justice

Janet Jackson, Keanu Reeves, Tupac Shakur

Poetic Justice is a 1993 drama/romance film starring Janet Jackson and Tupac Shakur with Regina King and Joe Torry. It was written and directed by John Singleton. The main character, Justice, ...more
28

The Nutty Professor

Eddie Murphy, Jada Pinkett Smith, Dave Chappelle

The Nutty Professor is a 1996 American science fiction comedy film starring Eddie Murphy. It is a remake of the 1963 film of the same name, which starred Jerry Lewis, and was itself based on ...more
29

Ali

Will Smith, Jamie Foxx, Jada Pinkett Smith

Ali is a 2001 American biographical film directed by Michael Mann. The film tells the story of the boxer Muhammad Ali, played by Will Smith, from 1964-74 featuring his capture of the heavyweight ...more
30

Antwone Fisher

Denzel Washington, Viola Davis, Salli Richardson

Antwone Fisher is a 2002 American biographical drama film directed by Denzel Washington, marking his directorial debut. He also stars in the film as the psychiatrist Jerome Davenport, alongside ...more
31

A Time to Kill

Sandra Bullock, Matthew McConaughey, Kevin Spacey

This film is a 1996 drama film adaptation of John Grisham's 1989 novel of the same name, directed by Joel Schumacher. Matthew McConaughey, Sandra Bullock, Samuel L. Jackson, and Kevin Spacey ...more
32

House Party

Martin Lawrence, George Clinton, Paul O'Grady

House Party is a 1990 American comedy film released by New Line Cinema. It stars Kid and Play of the popular hip hop duo Kid 'n Play, and also stars Paul Anthony, Bow-Legged Lou, and B-Fine from ...more
33

Soul Food

Vivica A. Fox, Nia Long, Vanessa L. Williams

Soul Food is a 1997 American comedy-drama film, produced by Kenneth "Babyface" Edmonds, Tracey Edmonds, and Robert Teitel, and released by Fox 2000 Pictures. Featuring an ensemble ...more
34

Life

Eddie Murphy, Poppy Montgomery, Martin Lawrence

Life is a 1999 American comedy-drama film written by Robert Ramsey & Matthew Stone and directed by Ted Demme. The film stars Eddie Murphy and Martin Lawrence. The supporting cast includes ...more
35

Waiting to Exhale

Whitney Houston, Angela Bassett, Kelly Preston

Waiting to Exhale is a 1995 American romantic drama film directed by Forest Whitaker and starring Whitney Houston and Angela Bassett. The film was adapted from the 1992 novel of the same name by ...more
36

What's Love Got to Do with It

Angela Bassett, Laurence Fishburne, Khandi Alexander

What's Love Got to Do with It is a 1993 American biographical film directed by Brian Gibson, loosely based on the life of Tina Turner. It stars Angela Bassett as Tina Turner and Laurence ...more
37

The Wood

Christina Milian, Sanaa Lathan, Taye Diggs

The Wood is a 1999 romantic comedy, written by Rick Famuyiwa and Todd Boyd. Famuyiwa also directed the film, which stars Omar Epps, Richard T. Jones, and Taye Diggs.
38

Brown Sugar

Queen Latifah, Mos Def, Method Man

Brown Sugar is a 2002 American romantic comedy film written by Michael Elliott and Rick Famuyiwa, directed by Famuyiwa, and starring Taye Diggs and Sanaa Lathan. The film is a story of a ...more
39

School Daze

Samuel L. Jackson, Laurence Fishburne, Spike Lee

School Daze is a 1988 American musical-drama film, written and directed by Spike Lee, and starring Larry Fishburne, Giancarlo Esposito, and Tisha Campbell-Martin. Based in part on Spike Lee's ...more
40

Dead Presidents

Martin Sheen, Terrence Howard, Chris Tucker

This film is a 1995 American film written by Michael Henry Brown, also written, produced and directed by the Hughes brothers, starring Larenz Tate, Keith David, Chris Tucker, Freddy Rodriguez, ...more
41

Coach Carter

Channing Tatum, Samuel L. Jackson, Ashanti

Coach Carter is a 2005 American biographical sports drama film directed by Thomas Carter. It is based on a true story of Richmond High School basketball coach Ken Carter portrayed by Samuel L. ...more
42

The Players Club

Jamie Foxx, Ice Cube, Terrence Howard

The Players Club is a 1998 American comedy/drama film written and directed by Ice Cube, who made his directorial debut and also has a small role in the film. The film stars Bernie Mac, Jamie ...more
43

Dreamgirls

Beyoncé Knowles, Eddie Murphy, Jamie Foxx

Dreamgirls is a 2006 American musical drama film, directed by Bill Condon and jointly produced and released by DreamWorks Pictures and Paramount Pictures. The film debuted in three special road ...more
44

How Stella Got Her Groove Back

Whoopi Goldberg, Angela Bassett, Danny Glover

How Stella Got Her Groove Back is a 1998 romantic comedy film directed by Kevin Rodney Sullivan, adapted from Terry McMillan's bestselling novel of the same title. The film stars Angela Bassett, ...more
45

Rosewood

Jon Voight, Don Cheadle, Ving Rhames

Rosewood is a 1997 film directed by John Singleton. While based on historic events of the 1923 in Florida, when a white mob takes out blacks and destroyed their town, the film introduces ...more
46

Enemy of the State

Will Smith, Jack Black, Gene Hackman

Enemy of the State is a 1998 American spy-thriller about a group of rogue U.S. National Security Agency agents conspiring to take out a U.S. Congressman and try to cover up. It was written by ...more
47

Big Momma's House

Paul Giamatti, Martin Lawrence, Nia Long

Big Momma's House is a 2000 American comedy film directed by Raja Gosnell, written by Darryl Quarles and Don Rhymer, and starring Martin Lawrence as FBI agent Malcolm Turner. The majority of the ...more
48

The Original Kings of Comedy

Steve Harvey, Cedric the Entertainer, D. L. Hughley

The Original Kings of Comedy is a 2000 stand-up comedy film, directed by Spike Lee, and featuring the comedy routines of Steve Harvey, D.L. Hughley, Cedric the Entertainer, and Bernie Mac. ...more
49

Baby Boy

Snoop Dogg, Taraji P. Henson, Tyrese Gibson

Baby Boy Production NotesIn 1991, 23-year-old director John Singleton guided viewers through South Central Los Angeles, taking for the first time an unflinching look at the devastating impact on ...more
50

Love Jones

Nia Long, Isaiah Washington, Lisa Nicole Carson

Love Jones is a 1997 American romantic drama film written and directed by Theodore Witcher, in his feature film debut. It stars Larenz Tate, Nia Long, Isaiah Washington, Bill Bellamy, and Lisa ...more