Anime Underground The Best Anime Series of All Time

3.4M votes
375.6k voters
6.8M views
968 items
Follow
List Rules Japanese animated TV series only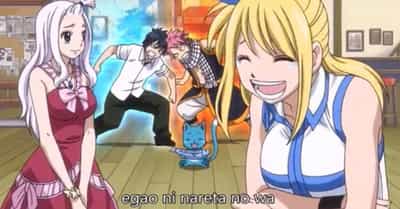 You love anime but what tops this list of the best anime series ever made? Top anime series include shows like Death Note, Attack on Titan, and so much more. Plus, with so much new anime debuting each year, the list of best anime will only grow. The blanket term "anime" in the US can refer to any animation originating in Japan, and specifically differentiates a few aspects of Japanese animation from more Western styles. For example, the top comedy animes can be be much more explicit in their humor. This includes the Japanese propensity to feature adult themes and stories in animation, as opposed to Western "cartoons" aimed primarily at children, as well as the exaggerated, fantasy-oriented and colorful style of Japanese animated visuals.
Anime can refer either to animated films or TV series, furthering the confusion. (Anime is often incorrectly used to refer to Japanese comic books as well. These are actually known as "manga," though many anime series are based on or inspired by popular manga.) Check out the best anime of 2014 for newer recommendations!
Anime TV series first found popularity outside of Japan in the 1980s and have continued to find larger and larger audiences in the West. A number of anime shows originating in Japan - such as Cowboy Bebop or Dragon Ball Z - have found enthusiastic audiences for dubbed versions in English speaking countries. (Pokemon, a series inspired by Nintendo's blockbuster series of video games, has been an ongoing hit franchise in both Japan and the US.) The anime style has grown so popular in the US, it has stared to significantly influence the style and aesthetics of American animation. Shows such as Avatar: The Last Airbender, Afro Samurai and Samurai Jack have borrowed heavily from anime in terms of pacing, subject matter, and design.
This list collects the best Japanese anime TV series of all time. American series that have been influenced by anime, such as Avatar: The Last Airbender, are not included. Forget a top 10 anime list- ours has over 200 entries!
back to page 1
51
52
53

Toradora!

Toradora! is a 2008 anime television series directed by Tatsuyuki Nagai.
54

Yu-Gi-Oh! u-Gi-Oh!, known in Japan as Yu-Gi-Oh! Duel Monsters, is a 2000 Japanese anime series animated by Studio Gallop, based on the Yu-Gi-Oh! manga series written by Kazuki Takahashi. After solving an ...more
55

Avatar: Legend of Korra Book One: Air is the first season of the U.S. animated TV series The Legend of Korra created by Michael Dante DiMartino and Bryan Konietzko. Consisting of twelve episodes, it was initially ...more
56

Kuroko's Basketball Kuroko's Basketball, known in Japan as Kuroko no Basuke, is a Japanese sports manga series written and illustrated by Tadatoshi Fujimaki. The English rendering The Basketball Which Kuroko Plays ...more
57

Deadman Wonderland Deadman Wonderland is a manga series written by Jinsei Kataoka and illustrated by Kazuma Kondou, who also wrote and illustrated the Eureka Seven manga, and published in Shōnen Ace since 2008 ...more
58
59

RezaurRahman added

Another 26 years ago, in a third-year classroom of a middle school, there was a student named Misaki. As an honors student who was also good at sports, the charming girl was popular with her classmates. ...more
60

One Piece One Piece is a 1999 anime series based on the Japanese manga series by Eiichiro Oda. Monkey D. Luffy and his friends go on adventures, while trying to find the greatest treasure ever left by the ...more
61

My Hero Academia My Hero Academia is a 2016 anime series based on the superhero manga series Boku no Hīrō Akademia, written by Kōhei Horikoshi. Izuku Midoriya is a regular middle school student in a world where ...more
63
64

Darker Than Black Darker than Black, known in Japan as Darker than Black: The Black Contractor, is an anime television series created, directed and written by Tensai Okamura and animated by Bones. It premiered ...more
65

Haikyuu! The Shadow of Kuroko No Basket, but the feel of freedom in it is unparalleled
66
67

Fairy Tail Zero Fairy Tail Zero (TV Tokyo, 2016) is a Japanese anime series directed by Shinji Ishihara. Based on the Fairy Tail spinoff, the adaptation serves a prequel to the main series, depicting the ...more
68

MaggieHyjek added

Durarara!! Durarara!!, often shortened to DRRR!!, is a Japanese light novel series written by Ryohgo Narita, with illustrations by Suzuhito Yasuda, that has also been adapted into a Japanese anime series. ...more
69

Ghost in the Shell: Stand Alone Complex In the future when technological enhancements and robotics are a way of life, Major Motoko Kusanagi and Section 9 take care of the jobs that are too difficult for the police. Section 9 employs ...more
70
71
73
74

Claymore Claymore is a dark fantasy manga series written and illustrated by Norihiro Yagi. The series initially premiered in the now defunct Monthly Shōnen Jump in the May 2001 issue. When the magazine ...more
75

Sailor Moon Sailor Moon is a media franchise created by Naoko Takeuchi. The series began as a manga published in 1991 and the anime adaptation began airing in March 1992. Since then, the series have been ...more
76
77

Samurai Jack Samurai Jack is an American animated television series created by Genndy Tartakovsky for Cartoon Network. The series follows Jack, a time-displaced samurai warrior prince, in his singular quest ...more
78
79

Yamato19742014 added

Black Lagoon Black Lagoon is a Japanese manga series written and illustrated by Rei Hiroe. It has been published in Shogakukan's Monthly Sunday Gene-X since 2002, and ten collected volumes have been released ...more
80

D Gray Man D.Gray-man is a Japanese manga series written and illustrated by Katsura Hoshino. The series tells the story of a boy named Allen Walker, a member of an organization of Exorcists who make use of ...more
81
82

Guilty Crown Guilty Crown is a 2011 Japanese anime television series produced by Production I.G which aired on Fuji TV's noitamina program block from October 2011. The story revolves around Shu Ouma, a high ...more
83

Fruits Basket Fruits Basket, sometimes abbreviated Furuba, or Fruba, is a Japanese shōjo manga series written and illustrated by Natsuki Takaya. It was serialized in the semi-monthly Japanese magazine Hana to ...more
84

MoriMori added

Gin Tama Gin Tama, also known as Gintama, is a Japanese manga written and illustrated by Hideaki Sorachi and serialized, beginning on December 8, 2003, in Shueisha's Weekly Shōnen Jump. Set in Edo which ...more
85

Rosario + Vampire Rosario + Vampire is a Japanese manga series written and illustrated by Akihisa Ikeda. The story revolves around Tsukune Aono, a boy who inadvertently enrolls in a boarding school for monsters. ...more
86

One-punch Man

One-Punch Man (TV Tokyo, 2015) is a Japanese anime series based on the webcomic by ONE. The story of Saitama, a hero that does it just for fun & can defeat his enemies with a single punch.
87
88

Star Takeda added

K K is a 2012 anime series animated by the studio GoHands and directed by Shingo Suzuki, who also serves as character designer for the series. It began airing on MBS on October 5, 2012. The anime ...more
89
90

Digimon: Digital Monsters Digimon, short for "Digital Monsters", is a Japanese media franchise encompassing virtual pet toys, anime, manga, video games, films and a trading card game. The franchise focuses on ...more
91
92

Yu-Gi-Oh! Yu-Gi-Oh! is a Japanese anime television series produced by Toei Animation based on chapters 1–59 of the manga of the same name written by Kazuki Takahashi. The series aired on TV Asahi between ...more
93

Blood Lad Blood Lad is a manga series created by Yuuki Kodama and serialized in Young Ace. The manga series has been licensed for distribution in English by Yen Press. Blood Lad follows Staz Charlie ...more
94

That1Dude added

Puella Magi Madoka Magica Puella Magi Madoka Magica is a Japanese anime television series produced by Shaft and Aniplex. It was directed by Akiyuki Shinbo and written by Gen Urobuchi, with original character designs by ...more
95

misingray added

Case Closed Case Closed, known originally as Meitantei Conan, is a Japanese detective manga series written and illustrated by Gosho Aoyama. The series is serialized in Shogakukan's Weekly Shōnen Sunday ...more
96
97

marvisonmon12 added

Free Free!, also known as Free! - Iwatobi Swim Club in English, is a Japanese anime television series directed by Hiroko Utsumi and produced by Kyoto Animation and Animation Do. The anime is based on ...more
98

BowAndArrow added

Akatsuki No Yona Best casual anime ever with best storyline Yona of the Dawn (Akatsuki no Yona) is a Japanese manga series by Mizuho Kusanagi and 2014 anime series. The story follows the redemption of Yona, the sole princess to the kingdom of Kouka, ...more
99
100