Anime Underground The Best Anime Series of All Time

4.6M votes
514k voters
8.4M views
1,027 items
List Rules Japanese animated TV series only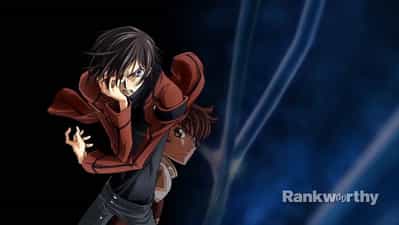 You love anime but what tops this list of the best anime series ever made? Top anime series include shows like Death Note, Attack on Titan, and so much more. Plus, with so much new anime debuting each year, the list of best anime will only grow. The blanket term "anime" in the US can refer to any animation originating in Japan, and specifically differentiates a few aspects of Japanese animation from more Western styles. For example, the top comedy animes can be be much more explicit in their humor. This includes the Japanese propensity to feature adult themes and stories in animation, as opposed to Western "cartoons" aimed primarily at children, as well as the exaggerated, fantasy-oriented and colorful style of Japanese animated visuals.
Anime can refer either to animated films or TV series, furthering the confusion. (Anime is often incorrectly used to refer to Japanese comic books as well. These are actually known as "manga," though many anime series are based on or inspired by popular manga.) Check out the best anime of 2014 for newer recommendations!
Anime TV series first found popularity outside of Japan in the 1980s and have continued to find larger and larger audiences in the West. A number of popular anime shows originating in Japan - such as Cowboy Bebop or Dragon Ball Z - have found enthusiastic audiences for dubbed versions in English speaking countries. (Pokemon, a series inspired by Nintendo's blockbuster series of video games, has been an ongoing hit franchise in both Japan and the US.) The anime style has grown so popular in the US, it has stared to significantly influence the style and aesthetics of American animation. Shows such as Avatar: The Last Airbender, Afro Samurai and Samurai Jack have borrowed heavily from anime in terms of pacing, subject matter, and design.
This list collects the best Japanese anime TV series of all time. American series that have been influenced by anime, such as Avatar: The Last Airbender, are not included. Forget a top 10 anime list- ours has over 200 entries!
Ranker may collect a commission from links on this page. Prices & inventory are accurate as of publish date.
1

Death Note

Death Note is a Japanese manga series written by Tsugumi Ohba and illustrated by Takeshi Obata. The story follows Light Yagami, a high school student who stumbles across a mysterious ...more
2

Star Takeda added

Attack on Titan

Several hundred years ago, humans were nearly exterminated by giants. Giants are typically several stories tall, seem to have no intelligence, devour human beings and, worst of all, seem to do ...more
3

Fullmetal Alchemist: Brotherhood

Fullmetal Alchemist: Brotherhood is an anime adaptation of the Fullmetal Alchemist manga by Hiromu Arakawa. Developed by Bones, the series is directed by Yasuhiro Irie and written by Hiroshi ...more
4

Star Takeda added

Naruto Shippuden

Naruto Shippuuden is the continuation of the original animated TV series Naruto.The story revolves around an older and slightly more matured Uzumaki Naruto and his quest to save his friend ...more
5

Naruto

Naruto is a Japanese manga series written and illustrated by Masashi Kishimoto. It tells the story of Naruto Uzumaki, an adolescent ninja who searches for recognition from his peers and the ...more
6

Dragon Ball Z

Dragon Ball Z is a Japanese anime television series produced by Toei Animation. Dragon Ball Z is the sequel to the Dragon Ball anime and adapts the last 325 chapters of the original 519-chapter ...more
7

Lepticidio added

Sword Art Online

Sword Art Online (2012) is a Japanese anime series based on the light novel series written by Reki Kawahara and illustrated by abec. The story takes place in the near-future and focuses on ...more
8
9

Star Takeda added

Fairy Tail

Fairy Tail is a Japanese manga series written and illustrated by Hiro Mashima. It has been published in Weekly Shōnen Magazine since August 2, 2006, and has been published by Kodansha in 48 ...more
10

Star Takeda added

Bleach

Bleach is a Japanese manga series written and illustrated by Tite Kubo. Bleach follows the adventures of the hotheaded teenager Ichigo Kurosaki after he obtains the powers of a Soul Reaper from ...more
11

Code Geass

Code Geass: Lelouch of the Rebellion, often referred to as simply Code Geass, is a Japanese anime series created by Sunrise, directed by Gorō Taniguchi, and written by Ichirō Ōkouchi, with ...more
12

Star Takeda added

Hunter x Hunter

Hunter × Hunter is a 1999 television series and is part of the Hunter × Hunter media franchise. The story focuses on a young boy named Gon Freecss, who one day discovers that the ...more
13

Tokyo Ghoul

Tokyo Ghoul is a Japanese dark fantasy manga series written and illustrated by Sui Ishida. The story follows Ken Kaneki, a college student who barely survives an encounter with Rize Kamishiro, ...more
14

Cowboy Bebop

Cowboy Bebop is a 1998 Japanese anime series developed by Sunrise featuring a production team led by director Shinichirō Watanabe, screenwriter Keiko Nobumoto, character designer Toshihiro ...more
15

Fullmetal Alchemist

Fullmetal Alchemist is a Japanese manga series written and illustrated by Hiromu Arakawa. It was serialized in Square Enix's Monthly Shōnen Gangan magazine between August 2001 and June 2010; the ...more
16

The Seven Deadly Sins

Among the ten short classics with a damn dose of action

The Seven Deadly Sins (Netflix, 2014) is a Japanese animated series based on the manga by Nakaba Suzuki. A once-active group of knights called the Seven Deadly Sins must band together to defeat ...more
17

ValedPuud added

Steins;Gate

Steins;Gate is a 2011 anime series created by the animation studio White Fox, based on 5pb. and Nitroplus's video game of the same name. It is set in 2010, and follows Rintaro Okabe, who ...more
18

Blue Exorcist

Blue Exorcist is a manga written and illustrated by Kazue Katō. The series was adapted into an anime television series during 2011. The story revolves around Rin Okumura, a teenager who ...more
19

Soul Eater

Soul Eater is a manga series written and illustrated by Atsushi Ōkubo. The series revolves around three teams, each consisting of a weapon meister and weapon that can transform into a humanoid.
20

AdamJones added

Akame Ga Kill

Akame ga Kill! is a Japanese shōnen manga series written by Takahiro and illustrated by Tetsuya Tashiro. An anime television series adaptation of the main series premiered in Japan in July 2014. ...more
21

No Game No Life

No Game No Life is a light novel series by Yū Kamiya. Sora and Shiro are two hikikomori step-siblings who are known in the online gaming world as Blank, an undefeated group of gamers. One day, ...more
22
23

Parasyte

Parasyte is a science fiction horror manga series written and illustrated by Hitoshi Iwaaki, and published in Kodansha's Afternoon magazine from 1988 to 1995. Parasyte centers on a male ...more
24

Dragon Ball

Dragon Ball is a Japanese anime television series produced by Toei Animation. It is an adaptation of the first 194 chapters of the manga of the same name created by Akira Toriyama, which were ...more
25

InuYasha

Inuyasha, also known as Inuyasha: A Feudal Fairy Tale, is a Japanese manga series written and illustrated by Rumiko Takahashi. It premiered in Weekly Shōnen Sunday on November 13, 1996 and ...more