Comedy

The Absolute Funniest Movies Of All Time

842.7k votes
45k voters
2.2M views
1,232 items
List Rules Movies only. And not only comedies are funny... if you laughed a lot, it qualifies.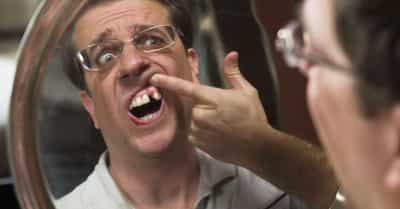 The funniest movies of all time, ranked by fans. What are the funniest movies ever made? From Airplane! to The Jerk to The 40 Year-Old Virgin, humor can be very subjective, and many great comedy films are loved and hated in equal measure. This list attempts to answer the question "What are the most funny movies of all time?" by incorporating the views and opinions of all members of the Ranker Community. What is the funniest movie ever? Nominate your picks for funniest film ever by making a list of your own. Then come back to the Master List and vote up your favorites!
Some of the leaders for the best funny movies already include The Naked Gun, Caddyshack, the South Park musical film, This Is Spinal Tap, and The Jerk.
back to page 1
51

Uncle Buck

Macaulay Culkin, John Candy, Patricia Arquette

Uncle Buck is a 1989 American comedy film directed by John Hughes and starring John Candy and Amy Madigan, with Jean Louisa Kelly, Gaby Hoffmann, Macaulay Culkin, Jay Underwood, and Laurie ...more
52

Raising Arizona

Nicolas Cage, John Goodman, Holly Hunter

Raising Arizona is a 1987 American comedy film directed, written, and produced by the Coen brothers, and starring Nicolas Cage, Holly Hunter, William Forsythe, John Goodman, Frances McDormand, ...more
53

Liar Liar

Jim Carrey, Jennifer Tilly, Krista Allen

Liar Liar is a 1997 American comedy film written by Paul Guay and Stephen Mazur, directed by Tom Shadyac and starring Jim Carrey who was nominated for a Golden Globe Award for Best Performance ...more
54

DodgeBall: A True Underdog Story

Ben Stiller, Chuck Norris, Vince Vaughn

DodgeBall: A True Underdog Story, commonly referred to as DodgeBall, is a 2004 American sports comedy film produced by 20th Century Fox and Red Hour Productions, written and directed by Rawson ...more
55

Mrs. Doubtfire

Robin Williams, Pierce Brosnan, Sally Field

Mrs. Doubtfire is a 1993 American comedy film, starring Robin Williams and Sally Field and based on the novel Alias Madame Doubtfire by Anne Fine. It was directed by Chris Columbus and ...more
56

Big

Tom Hanks, Jon Lovitz, Elizabeth Perkins

Big is a 1988 American fantasy comedy film directed by Penny Marshall, and stars Tom Hanks as Josh Baskin, a young boy who makes a wish "to be big" and is then aged to adulthood ...more
57

A Fish Called Wanda

Jamie Lee Curtis, Kevin Kline, Stephen Fry

A Fish Called Wanda is a 1988 film written by John Cleese and Charles Crichton. It was directed by Crichton and stars Cleese, Jamie Lee Curtis, Kevin Kline, and Michael Palin. Kline won the ...more
58

AlexDeLarge added

Men in Black

Moe Howard, Larry Fine, Curly Howard

Men in Black is a 1997 American science fiction action comedy film directed by Barry Sonnenfeld, produced by Walter F. Parkes and Laurie MacDonald and starring Tommy Lee Jones and Will Smith. ...more
59

Talladega Nights: The Ballad of Ricky Bobby

Amy Adams, Will Ferrell, Sacha Baron Cohen

Ricky Bobby (WILL FERRELL) has always dreamed of driving fast -- real fast -- like his father, Reese Bobby (GARY COLE), who left the family to pursue his racing dreams. Early on, Ricky's mother, ...more
60

Shrek

Cameron Diaz, Eddie Murphy, Mike Myers

Shrek is a 2001 American computer-animated fantasy-comedy film produced by PDI/DreamWorks, released by DreamWorks Pictures, directed by Andrew Adamson and Vicky Jenson, featuring the voices of ...more
61

DennisPatton added

Tropic Thunder

Tom Cruise, Jennifer Love Hewitt, Robert Downey Jr.

Tropic Thunder is a 2008 American action satire comedy film written, produced and directed by Ben Stiller.
62

Police Academy

Kim Cattrall, Steve Guttenberg, Bubba Smith

Police Academy is a 1984 comedy film directed by Hugh Wilson, and starring Steve Guttenberg, Kim Cattrall, and G.W. Bailey. It grossed approximately $146 million worldwide and spawned six more ...more
63

The Waterboy

Adam Sandler, Kathy Bates, Rob Schneider

The Waterboy is a 1998 American sports/comedy film directed by Frank Coraci, starring Adam Sandler, Kathy Bates, Fairuza Balk, Henry Winkler, Jerry Reed, Larry Gilliard, Jr., Blake Clark, Peter ...more
64

Cheech & Chong's Up in Smoke

Ellen Barkin, Cheech Marin, Tommy Chong

Up in Smoke, directed by Lou Adler, is Cheech & Chong's first feature-length film, released in 1978 by Paramount Pictures. It stars Cheech Marin, Tommy Chong, Edie Adams, Strother Martin, ...more
65

Galaxy Quest

Sigourney Weaver, Alan Rickman, Tim Allen

Galaxy Quest is a 1999 American science fiction action comedy film directed by Dean Parisot and written by David Howard and Robert Gordon. The film follows the adventures of a troupe of actors ...more
66

Zombieland

Emma Stone, Amber Heard, Bill Murray

Zombieland is a 2009 American zombie comedy film directed by Ruben Fleischer from a screenplay written by Rhett Reese and Paul Wernick. The film stars Jesse Eisenberg, Woody Harrelson, Emma ...more
67

This Is Spinal Tap

Billy Crystal, Fran Drescher, Anjelica Huston

This Is Spinal Tap is an American 1984 rock music mockumentary written, scored by, and starring Rob Reiner, Christopher Guest, Michael McKean and Harry Shearer. The film portrays the fictional ...more
68

Harold & Kumar Go to White Castle

John Cho, Kal Penn, Fred Willard

Harold & Kumar Go to White Castle is a 2004 American stoner comedy film directed by Danny Leiner. Best friends Harold Lee (John Cho) and Kumar Patel (Kal Penn) decide to go to the fast food ...more
69

Major League

Charlie Sheen, Tom Berenger, Rene Russo

Major League is a 1989 American sports comedy film written and directed by David S. Ward, starring Tom Berenger, Charlie Sheen, Dennis Haysbert, Wesley Snipes, James Gammon, Bob Uecker and ...more
70

Monty Python's The Meaning of Life

John Cleese, Terry Gilliam, Eric Idle

Monty Python's The Meaning of Life, also known as The Meaning of Life, is a 1983 British musical sketch comedy film written and performed by the Monty Python troupe, and directed by one of its ...more
71

History of the World, Part I

Mel Brooks, Orson Welles, Hugh Hefner

History of the World, Part I is a 1981 comedy film written, produced, and directed by Mel Brooks. Brooks also stars in the film, playing five roles: Moses, Comicus the stand-up philosopher, ...more
72

Clerks

Kevin Smith, Jason Mewes, Scott Mosier

Clerks is a 1994 American black-and-white comedy film written and directed by Kevin Smith, who also appears in the film as Silent Bob. Starring Brian O'Halloran as Dante Hicks and Jeff Anderson ...more
73

Super Troopers

Lynda Carter, Brian Cox, Jim Gaffigan

Super Troopers is a 2001 comedy film directed by Jay Chandrasekhar, written by and starring the Broken Lizard comedy group. Marisa Coughlan, Daniel von Bargen and Brian Cox co-star while Lynda ...more
74

The Wedding Singer

Drew Barrymore, Adam Sandler, Steve Buscemi

The Wedding Singer is a 1998 romantic comedy film written by Tim Herlihy and directed by Frank Coraci. It stars Adam Sandler as a wedding singer in the 1980s and Drew Barrymore as a waitress ...more
75

Forrest Gump

Tom Hanks, Kurt Russell, Sally Field

Forrest Gump is a 1994 American epic romantic-comedy-drama film based on the 1986 novel of the same name by Winston Groom. The film was directed by Robert Zemeckis and stars Tom Hanks, Robin ...more
76
77

ylander added

Robin Hood: Men in Tights

Patrick Stewart, Mel Brooks, Dave Chappelle

Robin Hood: Men in Tights is a 1993 French-American musical adventure comedy film and a parody of the Robin Hood story. Produced and directed by Mel Brooks, the film stars Cary Elwes, Richard ...more
78

South Park: Bigger, Longer & Uncut

George Clooney, Minnie Driver, Isaac Hayes

South Park: Bigger, Longer & Uncut is a 1999 American adult animated satirical musical comedy film based on the animated television series South Park, and produced, co-written by and ...more
79

Toy Story

Tom Hanks, Tim Allen, Don Rickles

Toy Story is a 1995 American computer-animated buddy-comedy adventure film produced by Pixar Animation Studios and released by Walt Disney Pictures. Directed by John Lasseter, Toy Story was the ...more
80

Billy Madison

Adam Sandler, Steve Buscemi, Chris Farley

Billy Madison is a 1995 American family comedy film directed by Tamra Davis. It stars Adam Sandler in the title role, along with Bradley Whitford, Bridgette Wilson, Norm Macdonald, and Darren ...more
81

Friday

Ice Cube, Meagan Good, Nia Long

Friday is a 1995 American stoner buddy comedy film directed by F. Gary Gray in his directorial debut, and starring Ice Cube, Chris Tucker, Nia Long, Bernie Mac, Tiny 'Zeus' Lister Jr, and John ...more
82

O Brother, Where Art Thou?

George Clooney, John Goodman, Holly Hunter

O Brother, Where Art Thou? is a 2000 adventure comedy film written, produced, edited, and directed by Joel and Ethan Coen, and starring George Clooney, John Turturro, and Tim Blake Nelson, with ...more
83

Revenge of the Nerds

John Goodman, James Cromwell, Anthony Edwards

Revenge of the Nerds is a 1984 American comedy film about social life on a college campus. The film stars Robert Carradine and Anthony Edwards, with Curtis Armstrong, Ted McGinley, Julia ...more
84

Zoolander

Natalie Portman, Paris Hilton, Heidi Klum

Zoolander is a 2001 American comedy film directed by Ben Stiller and, starring Stiller and Owen Wilson. The film contains elements from a pair of short films directed by Russell Bates and ...more
85

What About Bob?

Bill Murray, Richard Dreyfuss, Charlie Korsmo

What About Bob? is a 1991 comedy film directed by Frank Oz, and starring Bill Murray and Richard Dreyfuss. Murray plays Bob Wiley, a psychiatric patient who follows his egotistical psychiatrist ...more
86

Despicable Me

Steve Carell, Jason Segel, Russell Brand

Despicable Me is a 2010 American 3D computer-animated comedy film directed by Pierre Coffin and Chris Renaud. When a mastermind (Steve Carell) uses a trio of orphan girls as pawns for a grand ...more
87

DaniFenn-Wells added

21 Jump Street

Johnny Depp, Channing Tatum, Ice Cube

21 Jump Street is a 2012 American action comedy film directed by Phil Lord and Christopher Miller, executive produced by and starring Jonah Hill and Channing Tatum, and scripted by Michael ...more
88

Austin Powers: The Spy Who Shagged Me

Elizabeth Hurley, Heather Graham, Will Ferrell

Austin Powers: The Spy Who Shagged Me is a 1999 action comedy film and the second film in the Austin Powers series. It is preceded by the original film, Austin Powers: International Man of ...more
89

rushfordmatthew added

Ted

Mila Kunis, Mark Wahlberg, Ryan Reynolds

Ted is a 2012 American comedy film directed by Seth MacFarlane. The screenplay by MacFarlane, Alec Sulkin and Wellesley Wild is from MacFarlane's story. The film stars Mark Wahlberg, Mila Kunis, ...more
90

Grumpy Old Men

Ann-Margret, Daryl Hannah, Jack Lemmon

Grumpy Old Men is a 1993 American romantic comedy film starring Jack Lemmon, Walter Matthau and Ann-Margret, with Burgess Meredith, Daryl Hannah, Kevin Pollak, Ossie Davis and Buck Henry. ...more
91

Hot Fuzz

Cate Blanchett, Martin Freeman, Simon Pegg

Hot Fuzz is a 2007 British action comedy parody film directed by Edgar Wright, written by Wright and Simon Pegg, and starring Pegg and Nick Frost. The film follows two police officers attempting ...more
92

Some Like It Hot

Marilyn Monroe, Jack Lemmon, Tony Curtis

Some Like It Hot is a 1959 American comedy film set in 1929, directed by Billy Wilder, starring Marilyn Monroe, Tony Curtis and Jack Lemmon. The film is about two musicians who dress in drag in ...more
93

Kingpin

Bill Murray, Woody Harrelson, Randy Quaid

Kingpin is a 1996 American sport comedy film directed by the Farrelly brothers and starring Woody Harrelson, Randy Quaid, Vanessa Angel, and Bill Murray. It was filmed in and around Pittsburgh, ...more
94

The Breakfast Club

Judd Nelson, Molly Ringwald, Anthony Michael Hall

The Breakfast Club is a 1985 American coming-of-age comedy-drama film written, produced, and directed by John Hughes and starring Emilio Estevez, Paul Gleason, Anthony Michael Hall, John ...more
95

Fletch

Chevy Chase, Kareem Abdul-Jabbar, Geena Davis

Fletch is a 1985 comedy film about an investigative newspaper reporter, Irwin M. Fletcher. The film was directed by Michael Ritchie and written by Andrew Bergman, loosely based on the popular ...more
96

School of Rock

Sarah Silverman, Jack Black, Miranda Cosgrove

School of Rock is a 2003 American comedy film directed by Richard Linklater, written by Mike White, and starring Jack Black. The main plot follows struggling rock singer and guitarist, Dewey ...more
97

The Birdcage

Robin Williams, Gene Hackman, Hank Azaria

The Birdcage is a 1996 American comedy film, directed by Mike Nichols and stars Robin Williams, Gene Hackman, Nathan Lane, and Dianne Wiest. Dan Futterman, Calista Flockhart, Hank Azaria, and ...more
98

MASH

Robert Duvall, Donald Sutherland, Elliott Gould

MASH is a 1970 American satirical black comedy film directed by Robert Altman and written by Ring Lardner, Jr., based on Richard Hooker's novel MASH: A Novel About Three Army Doctors. The ...more
99

Rush Hour

Jackie Chan, Roselyn Sánchez, Chris Tucker

Rush Hour is a 1998 American buddy action comedy film and the first installment in the Rush Hour series, directed by Brett Ratner and starring Jackie Chan and Chris Tucker. It was followed by ...more
100

Monsters, Inc.

Billy Crystal, John Goodman, Steve Buscemi

Monsters, Inc. is a 2001 American computer-animated comedy film directed by Pete Docter, produced by Pixar Animation Studios, and released by Walt Disney Pictures. John Lasseter and Andrew ...more