Best Movies

The Absolute Funniest Movies Of All Time

897.4k votes
48.7k voters
2.4M views
1,254 items
List Rules Movies only. And not only comedies are funny... if you laughed a lot, it qualifies.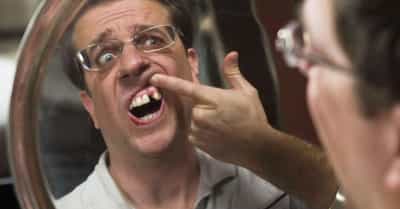 The funniest movies of all time, ranked by fans. What are the funniest movies ever made? From Airplane! to The Jerk to The 40 Year-Old Virgin, humor can be very subjective, and many great comedy films are loved and hated in equal measure. This list attempts to answer the question "What are the most funny movies of all time?" by incorporating the views and opinions of all members of the Ranker Community. What is the funniest movie ever? Nominate your picks for funniest film ever by making a list of your own. Then come back to the Master List and vote up your favorites!
Some of the leaders for the best funny movies already include The Naked Gun, Caddyshack, the South Park musical film, This Is Spinal Tap, and The Jerk.
1

Monty Python and the Holy Grail

John Cleese, Terry Gilliam, Eric Idle

Monty Python and the Holy Grail is a 1975 British comedy film written and performed by the comedy group of Monty Python, and directed by Gilliam and Jones. It was conceived during the hiatus ...more
2

Airplane!

Kareem Abdul-Jabbar, Leslie Nielsen, Ethel Merman

Airplane! is a 1980 American satirical disaster comedy film directed and written by David Zucker, Jim Abrahams, and Jerry Zucker and released by Paramount Pictures. It stars Robert Hays and ...more
3

The Hangover

Mike Tyson, Bradley Cooper, Heather Graham

The Hangover is a 2009 American comedy film, co-produced and directed by Todd Phillips and written by Jon Lucas and Scott Moore. It is the first film of The Hangover trilogy. The film stars ...more
4

Blazing Saddles

Mel Brooks, Gene Wilder, Anne Bancroft

Blazing Saddles is a 1974 satirical Western comedy film directed by Mel Brooks. Starring Cleavon Little and Gene Wilder, the film was written by Brooks, Andrew Bergman, Richard Pryor, Norman ...more
5

Caddyshack

Bill Murray, Chevy Chase, Rodney Dangerfield

Caddyshack is a 1980 American sports comedy film directed by Harold Ramis and written by Brian Doyle-Murray, Ramis and Douglas Kenney. It stars Michael O'Keefe, Chevy Chase, Rodney Dangerfield, ...more
6

Groundhog Day

Bill Murray, Andie MacDowell, Michael Shannon

Groundhog Day is a 1993 American fantasy comedy film directed by Harold Ramis, starring Bill Murray, Andie MacDowell, and Chris Elliott. It was written by Ramis and Danny Rubin, based on a story ...more
7

Anchorman: The Legend of Ron Burgundy

Christina Applegate, Will Ferrell, Ben Stiller

Anchorman: The Legend of Ron Burgundy, or simply Anchorman, is a 2004 comedy film directed by Adam McKay, produced by Judd Apatow, starring Will Ferrell, and written by McKay and Ferrell. The ...more
8

Dumb and Dumber

Jim Carrey, Jeff Daniels, Teri Garr

Dumb and Dumber is a 1994 American road buddy comedy film starring Jim Carrey and Jeff Daniels. It was written by the Farrelly brothers and Bennett Yellin, and is the Farrelly Brothers ...more
9

Office Space

Jennifer Aniston, John C. McGinley, Mike Judge

Office Space is a 1999 American comedy film written and directed by Mike Judge. The film satirizes the everyday work life of a typical mid-to-late-1990s software company, it focuses on a handful ...more
10

National Lampoon's Animal House

Kevin Bacon, John Belushi, Donald Sutherland

National Lampoon's Animal House is a 1978 American comedy film directed by John Landis. The film was a direct spinoff from National Lampoon magazine. It is about a misfit group of fraternity ...more
11

Ferris Bueller's Day Off

Charlie Sheen, Matthew Broderick, Jeffrey Jones

Ferris Bueller's Day Off is a 1986 American comedy film written, produced and directed by John Hughes. The film follows high school senior Ferris Bueller, who skips school and spends the day in ...more
12

Superbad

Emma Stone, Seth Rogen, Jonah Hill

Superbad is a 2007 American teen comedy film directed by Greg Mottola and starring Jonah Hill and Michael Cera. The film was written by Seth Rogen and Evan Goldberg, who began working on the ...more
13

Young Frankenstein

Gene Hackman, Mel Brooks, Gene Wilder

Young Frankenstein is a 1974 American comedy film directed by Mel Brooks and starring Gene Wilder as the title character, a descendant of the infamous Dr. Victor Frankenstein. The supporting ...more
14

There's Something About Mary

Cameron Diaz, Sarah Silverman, Ben Stiller

There's Something About Mary is a 1998 comedy film, directed by the Farrelly brothers, Bobby and Peter. It stars Cameron Diaz, Matt Dillon and Ben Stiller, and it is a combination of romantic ...more
15

Ghostbusters

Bill Murray, Sigourney Weaver, Dan Aykroyd

Ghostbusters is a 1984 American sci-fi-fantasy comedy film, directed and produced by Ivan Reitman and written by Dan Aykroyd and Harold Ramis. The film stars Bill Murray, Aykroyd, and Ramis as ...more
16

The Big Lebowski

Julianne Moore, Jeff Bridges, Tara Reid

The Big Lebowski is a 1998 stoner comedy film written, produced, and directed by Joel and Ethan Coen. It stars Jeff Bridges as Jeffrey "The Dude" Lebowski, an unemployed Los Angeles ...more
17

Happy Gilmore

Adam Sandler, Ben Stiller, Julie Bowen

Happy Gilmore is a 1996 sports comedy film directed by Dennis Dugan and produced by Robert Simonds. It stars Adam Sandler as the title character, an unsuccessful ice hockey player who discovers ...more
18

The 40-Year-Old Virgin

Elizabeth Banks, Kat Dennings, Steve Carell

The 40-Year-Old Virgin is a 2005 American romantic comedy film written, produced and directed by Judd Apatow, about a middle-aged man's journey to finally lose their virginity. It was co-written ...more
19

The Blues Brothers

Carrie Fisher, Aretha Franklin, Steven Spielberg

The Blues Brothers is a 1980 American musical comedy film directed by John Landis and starring John Belushi and Dan Aykroyd as "Joliet" Jake and Elwood Blues, characters developed from ...more
20

National Lampoon's Christmas Vacation

Julia Louis-Dreyfus, Chevy Chase, Juliette Lewis

National Lampoon's Christmas Vacation is a 1989 Christmas comedy film directed by Jeremiah S. Chechik. It is the third installment in National Lampoon's Vacation film series, and was written by ...more
21

Austin Powers: International Man of Mystery

Elizabeth Hurley, Will Ferrell, Carrie Fisher

Austin Powers: International Man of Mystery is a 1997 American action comedy film and the first installment of the Austin Powers series. It was directed by Jay Roach and written by Mike Myers, ...more
22

Shaun of the Dead

Martin Freeman, Simon Pegg, Bill Nighy

Shaun of the Dead is a 2004 British horror comedy film directed by Edgar Wright and written by Wright and Simon Pegg, and starring Pegg and Nick Frost. Pegg plays Shaun, a man attempting to get ...more
23

American Pie

Alyson Hannigan, Tara Reid, Shannon Elizabeth

American Pie is a 1999 teen comedy film written by Adam Herz and directed by brothers Paul and Chris Weitz, in their directorial film debut. It is the first film in the American Pie theatrical ...more
24

The Naked Gun: From the Files of Police Squad!

O. J. Simpson, "Weird Al" Yankovic, Reggie Jackson

The Naked Gun: From the Files of Police Squad! is a 1988 American comedy film. It is the first in The Naked Gun series of films starring Leslie Nielsen, Priscilla Presley, George Kennedy, and O. ...more
25

The Jerk

Steve Martin, Bernadette Peters, Rob Reiner

The Jerk is a 1979 American comedy film directed by Carl Reiner and written by Steve Martin, Carl Gottlieb, and Michael Elias. This was Martin's first starring role in a feature film. The film ...more