Natural Disasters
10 Amazing & Rare Natural Phenomena

Updated June 26, 2020
167.1k views
10 items
This natural phenomena list chronicles some of the most stunning, and rare, occurrences in nature (with photos). The natural world is packed to the brim with amazing life forms and spectacular accomplishments, but there are some things that just stand out. Mostly because they are so rare and unusual.
What are some natural phenomenons that occur in nature? Some of the examples on this list have yet to be fully understood, and others have been well documented throughout history... but one thing is for certain, if you witness even one of these amazing and rare occurrences in your lifetime, consider yourself lucky.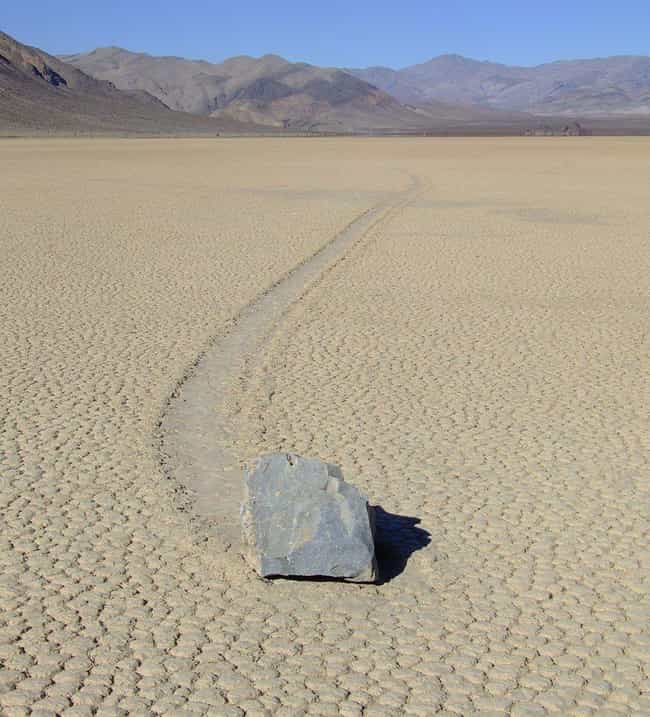 The method by which these stones travel is still an unsolved mystery. At a place called The Racetrack Playa in Death Valley, there's a dry lake bed that is surprisingly flat, with only a 4cm height differential between the north and south ends. The high mountains surrounding the Racetrack are made mostly of dark dolomite and tower over the lake bed. When the heavy desert rains come, water pours down these mountains and onto the lake bed, forming a very shallow lake. Due to the hot temperatures of the region (because, you know, Death Valley), the water evaporates, leaving behind a layer of soft, very slick mud. There is a theory that high winds move the rocks at this time, the thin layer of mud acting as a lubricated surface. However, the fact that some stones move and others do not, or that some will simply change direction... makes the wind theory slightly suspect.
These rocks seem to only move every 2 or 3 years, and some tracks develop over 4 years. There have been research teams on the Playa since the 70s, but no one has yet to witness the stones actually moving.
Update: In 2014, a team of scientists and engineers were finally able to capture on video
how it happens
.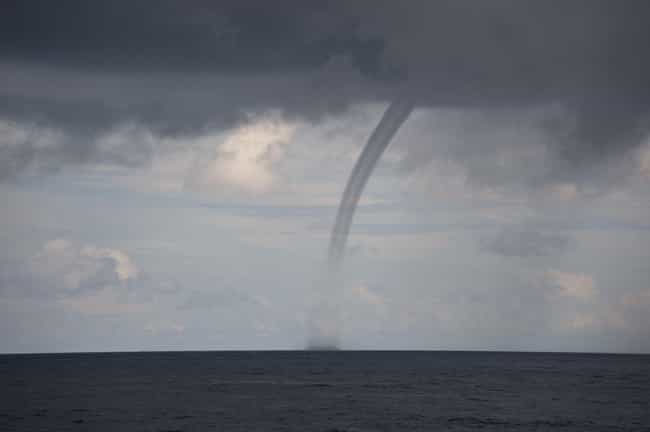 A water spout is technically a non-supercell tornado over water... and while it's usually weaker than its land-brother the tornado, stronger ones are possible.
Usually found in the tropics, they've been known to form over lakes as well. There are generally three types: non-tornadic, tornadic and snowspout. The first, non-tornadic (or fair weather waterspouts) are the most common and tend to live only about 20 minutes. A tornadic spout is much stronger, and basically an actual tornado over water. These, like tornados, are connected with severe thunderstorms. Finally, the snowspout (also known as a snow devil) is the rarest of the three types.
Only six known pictures exist (four from Ontario, CA), and they require extremely cold temps over a body of warm water with a difference of a specific 34 degrees to form at all.
Ball lightning is an unexplained atmospheric electrical phenomenon that refers to a luminous, usually spherical object (and it's not a piece o' the car) which can vary from pea-sized to several meters in diameter. It is usually associated with thunderstorms, but lasts considerably longer than the split-second flash of a lightning bolt.
Laboratory experiments have produced effects that are visually similar to reports of ball lightning, but it is presently unknown whether these are actually related to any naturally occurring phenomenon. Scientific data on natural ball lightning are scarce owing to its infrequency and unpredictability. The presumption of its existence is based on reported public sightings, and has therefore produced somewhat inconsistent findings. Because there is a real lack of data on the phenomenon, the true nature of ball lightning is still unknown.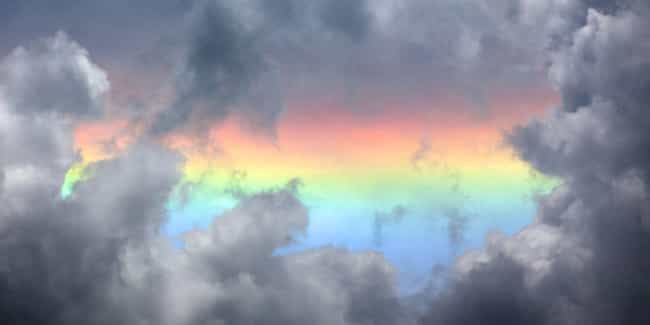 Also called a circumhorizontal arc, a fire rainbow is an optical phenomenon formed by ice crystals in high altitude cirrus clouds. If you are very lucky and live at the right latititude, you might see one, possibly two in your entire lifetime. Cirrus clouds are those spread-out, wispy looking clouds that you see way up past the regular, fluffy ones. They are so wispy because there is very little moisture in the air at that altitude.
Despite the fact that cirrus clouds are common, fire rainbows are not. This is for the same reason that you only see a regular rainbow under certain circumstances. The light from the sun has to hit these particular ice crystals at exactly the right angle or the light will not separate (refract) into its colorful components - at least 58 degrees above the horizon. Because of the absolutely specific height of the sun you will not see a fire rainbow south or north of 55 degrees.