Culture
13 Hilariously Embarrassing Tweets by Politicians

559 votes
130 voters
19.5k views
13 items
List Rules Vote up the most hilarious Twitter mistakes by local and international politicians.
You don't have to search very far to find hilarious political Twitter fails, especially as more and more politicians join the social media bandwagon. Not every legislator can be as cool as Cory Booker or as awesome at selfies as Hilary Clinton. Even the sharpest politicians are destined to send out an embarrassing tweet now and again.
From "accidental" confessions to awkward typos, politicians have made some of the biggest Twitter gaffes in history. Some end in mild embarrassment, others in resignation. All of them are totally hilarious. What are the absolute worst Tweets by politicians?
Vote for your favorite hilariously embarrassing political tweets!
Yvette Clarke Honors Abraham Lincoln

Nope. Sorry, NY rep Yvette Clarke. #Lincoln was, in fact, our 16th president.
(Source
politwhoops.sunlightfoundation.com
)

Is this embarrassing?
Anthony Weiner Gets Hacked

They were the Tweets seen 'round the world. Perhaps the most famous occasion of political Tweeting gone wrong, the Senator's Weiner-photos made headlines in May 2011 when they were made public on his Twitter account. Weiner claimed he had been hacked, but later admitted that he'd been exchanging explicit photos (like the crotch shots he accidentally Tweeted) with six women. The sexting scandal eventually led to his resignation.
(Source
NBC New York
)

Is this embarrassing?
Juan Vargas Has Thoughts About Children

We're pretty sure California rep Juan Vargas was trying to say "exploitation."
(Source
politwhoops.sunlightfoundation.com
)

Is this embarrassing?
Dan Pfeiffer Regrets a Typo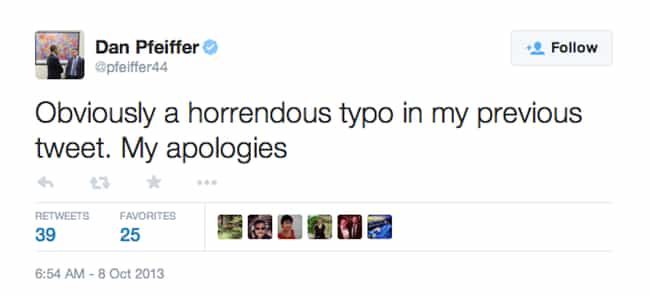 The now-deleted Tweet from White House Senior Advisor Dan Pfeiffer meant to say something along the lines of, "also a much bigger factor on the right," but accidentally included a racial slur that didn't make many followers happy (and prompted this apology).
(Source
@pfeiffer44
)

Is this embarrassing?