Total Nerd
Behind-The-Scenes Stories From '12 Monkeys'

The 1995 cult classic 12 Monkeys demonstrates that the right combination of the most unexpected elements can turn into a great film. With a superstar cast, a celebrated but infamous director, a time-travel plot, and a modest budget, the film grossed over $168 million internationally. "There's a a side of me that's just permanently sick to my stomach," Terry Gilliam said on making a "big Hollywood" movie. "On the other hand, there's a side of me that thinks maybe I'm getting away with [foul play] within the system. Maybe I am making a European art movie within the Hollywood system."
It takes place in 2035, in a future where the world has been ravaged by disease. It tells the story of James Cole (Bruce Willis), a man sent back in time by scientists to discover how the disease was released and what can be done to prevent it from happening. On his journey he meets a madman (Brad Pitt) and a psychiatrist (Madeleine Stowe), as he slowly starts to unravel the secrets of the past and his own future.
The film is known for its peculiar style and outstanding performances, earning Pitt his first career Oscar nomination. These behind-the-scenes stories that only add to the movie's complexity.
Willis Used The Role To Break His 'Tough Guy Image'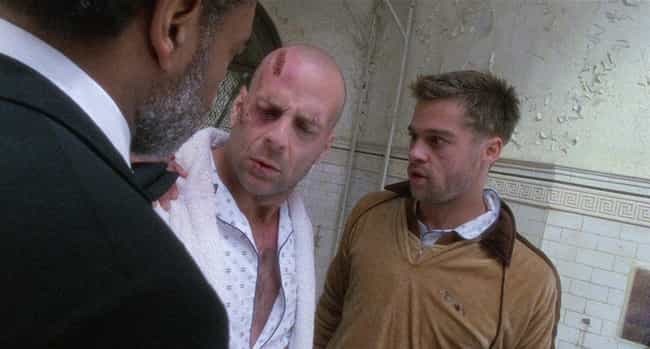 By the time Willis was chosen to play James Cole, he had already become famous as an action hero in films like Die Hard, The Last Boy Scout, and Pulp Fiction, but he was looking to change that image with 12 Monkeys.
In part, he was concerned that the "baggage" of his other blockbusters would leave audiences disappointed when they watched the film, because it wouldn't meet those expectations.
"Both Brad and Bruce were trying to do something they don't normally do," director Gilliam explains in an interview with the Associated Press. "He was desperately feeling he wanted to escape the trap of success."
It Was Inspired By An Experimental French Short Film From The 1960s
Though unique, 12 Monkeys isn't based off an original idea. The writers of the film were inspired by the French experimental short La Jetée (The Pier). Created by filmmaker Chris Marker and released in 1962, the film is made up almost completely of black-and-white still photographs accompanied by voiceover.
Gilliam was drawn to the short film's musical qualities, even though he hadn't seen it before making the movie: "The editing is the most extraordinary editing I've ever seen because it's a rhythm he's setting up, and the voice, the narrator's voice. You're just... dealing with poetry at this point."
12 Monkeys isn't an exact adaptation of La Jetée, but rather an homage to Marker's ideas. Stylistically, 12 Monkeys is built on futurism and technology; the original short incorporates photos from WWII, grounding it in realism even within its hypothetical future.
During Production, A Horse Nearly Took Terry Gilliam's Life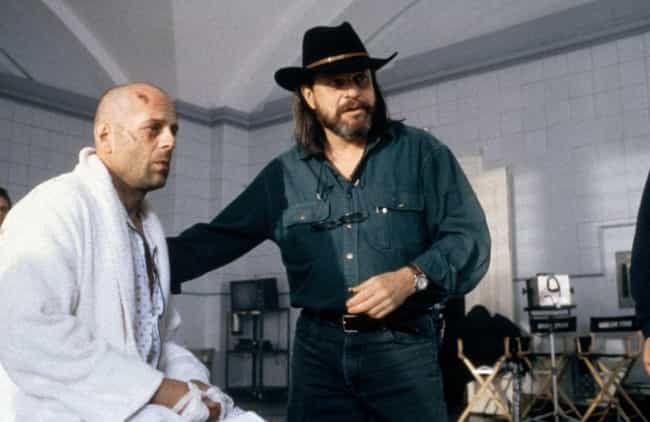 During shooting, the cast and crew faced multiple challenges - typical of a movie set - but nobody expected any of them to be life-threatening. The weather wasn't bad enough, props didn't work, and shooting out of sequence between past and future was a nightmare.
To relax, Gilliam would ride horses. One day, he was thrown from his horse and almost trampled. Luckily, he made it out of the incident safely. Horses are an important part of some of Gilliam's other films, including Monty Python and The Holy Grail and The Man Who Killed Don Quixote.
A Hamster Held Up Production For An Entire Day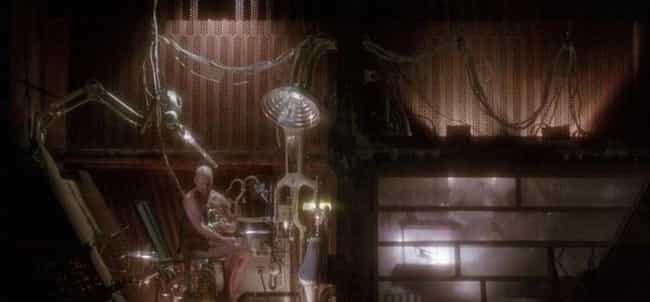 In Hollywood, they say to never work with kids or animals. When one of the scenes in 12 Monkeys required a hamster to run on a wheel, the cast and crew felt the pain of this old saying.
In a scene in which an unclothed Willis is drawing his own blood, a hamster runs on a wheel in the background. Unfortunately for the cast and crew, the hamster wouldn't move. Gilliam insisted on sticking to his vision. Several hours of shooting later, they finally captured the shot he wanted.
A documentary on the making of the film called this, and other incidents like it, "The Hamster Factor," or "The Terry Gilliam Element," which the film describes as the director's need to add detail to every scene.