Entertainment
12 Years a Slave Movie Quotes

83 votes
58 voters
18.5k views
9 items
"12 Years a Slave" movie quotes tell the true story of Solomon Northup, a free man in the 1800s who was kidnapped and sold into slavery. The historical drama film was based on Northup's autobiography of the same name, which was converted into a screenplay by John Ridley. "12 Years a Slave" was directed by Steve McQueen and received critical acclaim when it premiered at the Telluride Film Festival on August 30, 2013.
In "12 Years a Slave," Solomon Northrup (Chiwetel Ejiofor) is a talented violinist and carpenter living in New York with his wife and family. Two men lure him into traveling to Washington, DC, on a touring gig where he is drugged and sold into slavery. Despite knowing that he is in fact a free man, Solomon ends up in New Orleans living a life as a slave named Platt.
Solomon begins working for William Ford (Benedict Cumberbatch) and even is allowed to revisit his musical abilities but soon a confrontation with carpenter John Tibeats (Paul Dano) leads to his sale to Edwin Epps (Michael Fassbender), an abusive master who operates a cotton plantation. Solomon survives at the Epps plantation, much from the help of other slaves like Patsey (Lupita Nyong'o), but longs to return to his life as a free man. After 12 years, Solomon meets Canadian abolitionist Samuel Bass (Brad Pitt) and both of their lives change forever as a result.
"12 Years a Slave" is widely expected to be in the running come awards season but will have competition from other movies showing at the same time such as
"Frozen,"
"Oldboy,"
"The Hunger Games: Catching Fire,"
"Delivery Man,"
"Nebraska,"
"Sunlight Jr.,"
"Last Vegas,"
"Ender's Game,
"The Counselor,"
"Bad Grandpa,"
"Escape Plan,"
"The Fifth Estate,"
"Captain Phillips,"
"Gravity,"
"Machete Kills,"
"Runner Runner,"
"Don Jon,"
"Rush,
"Prisoners,"
,
"Enough Said,"
"The Family,"
and
"Riddick,"
.
Robert: "If you want to survive, do and say as little as possible. Survival's not about certain death, it's about keeping your head down."
Solomon Northup/Platt: "Days ago I was with my family, in my home. Now you tell me all is lost. Don't tell no one who I am? That's the way to survive? Well, I don't want to survive. I want to live."
Fellow slave Robert explains to Solomon how to stay out of trouble under the ownership of Epps. Solomon isn't interested in simply surviving, he wants his life back.
Should this be higher or lower?
Samuel Bass: "The conditions of your laborers, it's all wrong."
Edwin Epps: "They're my property."
Samuel Bass: "You say that with pride."
Edwin Epps: "I say it as fact."
Samuel Bass tries to explain to Edwin Epps that he could have a little compassion towards those working for him. Epps on the other hand doesn't see them as people, simply property, his property.
Should this be higher or lower?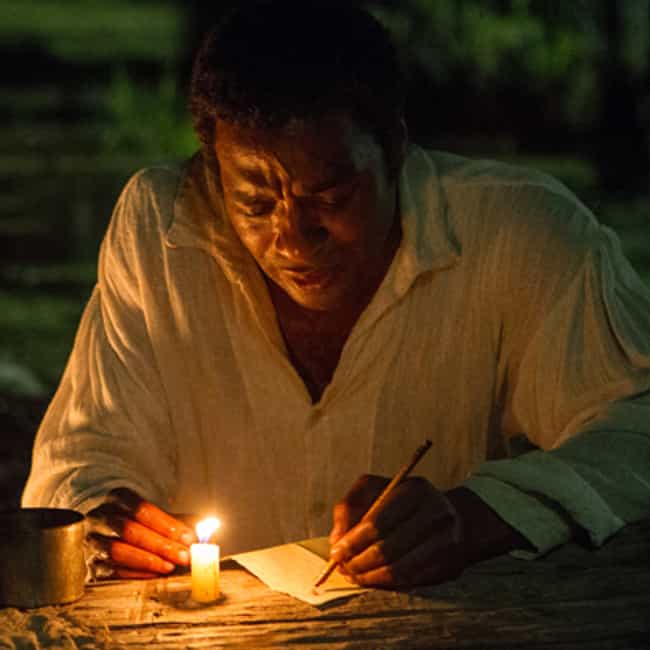 Solomon Northup/Platt: "I will survive! I will not fall into despair. I will keep myself hearty until freedom opportune."
Solomon vows to keep up his fight to go back to the life he once had. He's been a slave for a long time with no end in sight but his determination remains.

Should this be higher or lower?
Solomon Northup/Platt: "I was born a free man, lived with my family from New York, until the day I was deceived, kidnapped, sold into slavery."
Solomon explains his story. He was born free and lived a nice life with his family until he was kidnapped and sold into slavery. Years have passed but he still holds out hope that one day he will return to that life and those he loves.
Should this be higher or lower?