Offbeat
13 Insane Viral Videos Starring Russians (Vol. 1)

169 votes
46 voters
29.4k views
13 items
This is the first in a series of what will probably be dozens of video collections of only the best videos from Russia. The Japanese have the market cornered on the weirdest videos on the internet, Americans have the dumbest and most narcissistic and Russians have what are undoubtedly the most insane, intense, "holy sh*t" videos on the internet.
All of Russia is a Jackie Chan movie. So here's the first serving of thirteen insane viral videos from Russia. Stay tuned!
Man Narrowly Escapes Death, Casually Walks Away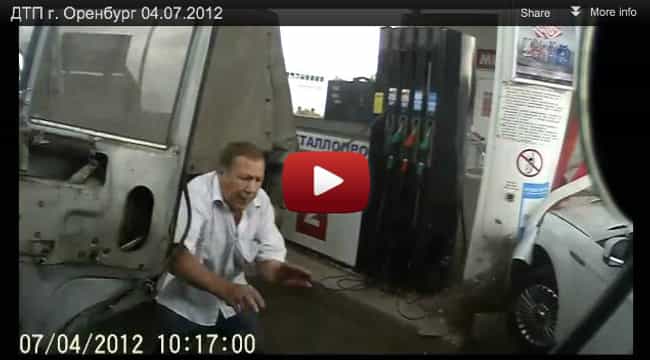 Since apparently every vehicle in Russia has a dashboard camera, we get to see awesome stuff like this every day. Here's a video of a man standing at a gas station waiting for his car to re-fuel as two vehicles collide, sliding almost into the gas tanks.
Not only could the man have exploded along with everything else that might have, but he could've been run over if not for inches, inches, of safety space.
Click here or on the picture to view the video!

Is this insane?
Vladimir Putin Leads Crane Migration in Hang Glider
Click here or on the picture to view the video!

Leave it to Russian Presiden Vladimir Putin (who's done everything from downing Bengal Tigers then measuring their teeth, to flying intense military vehicles, to saving a bunch of puppies) to want to be a part of the natural order of the majestic, beautiful Crane.
Taking a bunch of Cranes kept in captivity out to the world, this "flight of hope" was led by the Russian President himself. Here's the video of this crazily unnecessary yet impressive and absolutely, mind-bogglingly awesome act in its entirety.
Man Ice Fishes with His Bare (Bear?) Hands
Listen. I can barely carry ice cream cups back to the girlfriend I don't deserve when we go to Baskin Robbins. This man is a God and a hero. Because the fish is also HUGE.
Click here or on the picture to view the video!

All Out Sprinting Races in Stilleto Heels
Because who the hell needs working ankles.
Click here or on the picture to view the video!