watchworthy
presents
26 Simpsons Jokes That Actually Came True

Updated March 2, 2020
3.6M views
26 items
One of the most iconic television shows of all time, as well as one of the most quoted properties in pop culture history, The Simpsons has made hundreds of jokes fans and others know, remember, and reference on a daily basis. Often, these jokes revolve around extremely absurd concepts that could only happen in a cartoon or a satire - according to the writers at the time. Sometimes, these jokes underestimate just how low humanity (and often, America) can go. The Simpsons predictions on this list actually all came true.
Here's a collection of hilarious Simpsons jokes that really ended up as true, happened, or were repeated elsewhere. The Simpsons predicted some crazy things.
Data-driven recommendations based on voting from over 40 million monthly visits to Ranker.
Try the free app
Greta Thunberg Delivers An Emotional Speech About Climate Change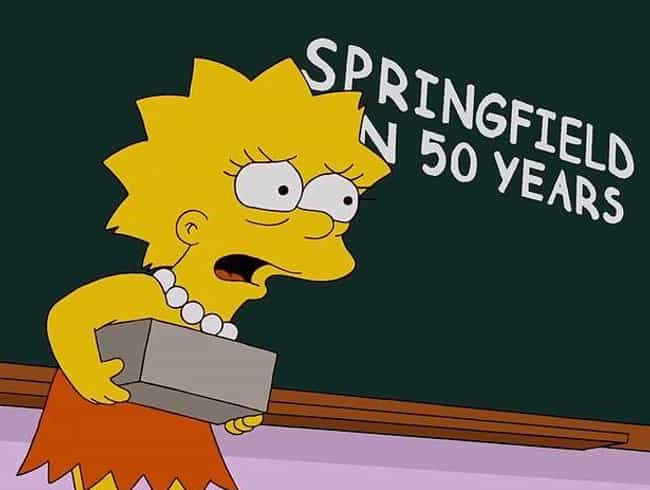 The Joke: In the 2007 Simpsons Movie, Lisa Simpson delivers an emotional speech about climate change to her classmates. She passionately warns= there is no room for optimism, Ralph, because in 50 years the oceans will rise and nothing will be left except hot desert lands that cannot produce quality foods.
What Actually Happened: In September 2019, 16-year-old Swedish student Greta Thunberg stood before the UN and called for those in power to take action against the changing climate. Her passion, knowledge, and composure were remarkably similar to Lisa Simpson's in 2007.
Daenerys Lays Waste To All Of King's Landing In The Penultimate Episode Of 'Game of Thrones'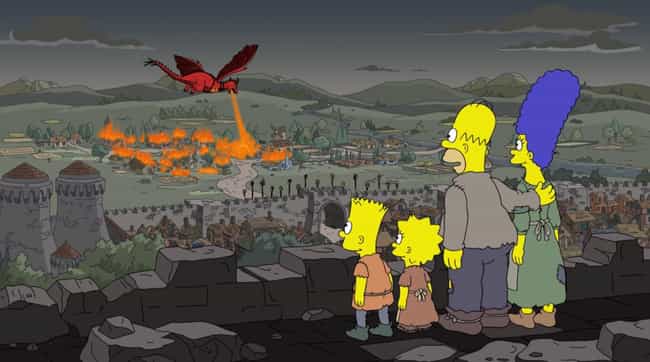 The Joke: In an episode from 2017 called "The Serfsons," the Simpsons find themselves in Springfieldia, an alternate fantasy universe that is demolished when a fire-breathing dragon wreaks havoc.
What Actually Happened: In the penultimate episode of Game of Thrones, Daenerys Targaryen surprises everyone by burning King's Landing in a move against Queen Cersei. Though Dany's attack on Cersei is somewhat expected, her actions take out countless innocent commoners, which goes against her history of benevolence toward innocent people.
Homer Predicts The Mass Of A Particle 14 Years Before It Is Discovered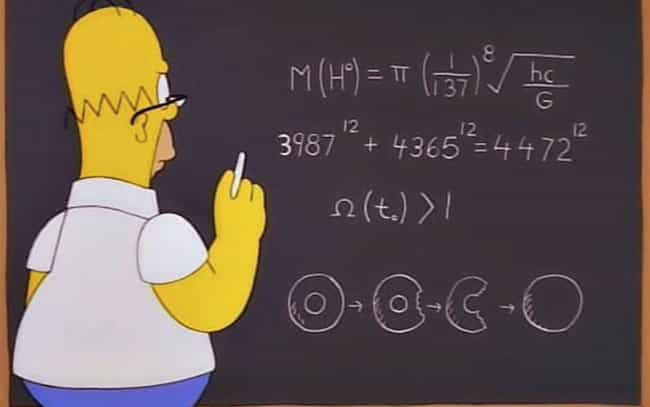 The Joke: In the episode "The Wizard of Evergreen Terrace," which aired in 1998, Homer takes his turn as an inventor and works out an equation to calculate the mass of a new particle.
What Actually Happened: Theoretical and particle physicist Simon Singh told The Independent that the equation Homer works out in "The Wizard of Evergreen Terrace" nearly equals the actual mass of an elementary particle called the Higgs boson, discovered over a decade later.
Canada Legalizes Marijuana
13 years before Canada actually legalized marijuana, Ned Flanders and Homer take a trip to Canada when prescription drugs get too expensive in Springfield in the "Midnight Rx" episode (2005). While on their trip, Ned is offered a puff of some "reeferino" by his Canadian doppelgänger—to which Ned responds, "They warned me Satan would be attractive. Let's go!"