WTF

Criminals Caught By Bragging About Their Crimes Online

People dumb enough to commit crimes are often stupid enough to brag about their crimes and then act surprised when they get caught. These criminals were caught on Facebook and other online outlets when police and/or concerned citizens saw what they had been up to in their free time.
What crimes do people post on Facebook? Just take a look and see.
Florida Man Uses Wanted Poster as FB Profile Pic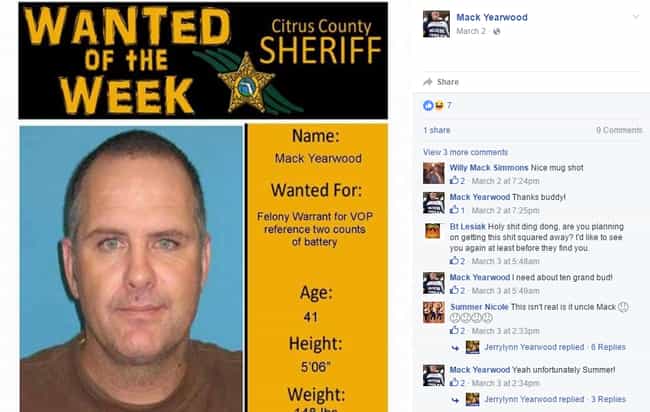 Police had an easy time tracking down Floridian Mack Yearwood, wanted in connection with an assault that took place over Labor Day weekend 2016, after he used his own wanted poster as his Facebook profile picture. One of Yearwood's friends commented "Nice mug shot," to which Yearwood responded "Thanks buddy!" Another friend expressed more concern: "Holy sh*t ding dong, are you planning on getting this sh*t squared away? I'd like to see you again at least before they find you."
Cops in Stuart, FL, north of Miami, used Yearwood's FB to track him to his brother's house, where he was arrested. According to the arresting officers, a bag of weed tumbled out of Yearwood's pocket as he was cuffed, and he politely asked the cops not to charge him for possession.
Writing on the Stuart Police Department Facebook page, Cpl. Brian Bossio noted "Facebook is a great way to communicate and connect with old friends and family... If you are wanted by the police, it's probably not a good idea to use the 'Wanted of the Week' poster of yourself as your profile pic."
Gambling Machine Thieves Celebrate with Selfies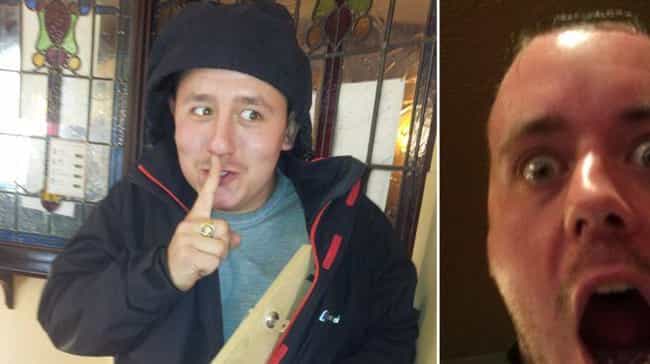 Benjamin Robinson, 30, and Daniel Hutchinson, 24, couldn't rely deny allegations that they had stolen thousands of British pounds from gambling machines. Why? Because the criminal masterminds took tons of selfies with their haul.

North Yorkshire Police originally found more than £3,000 in cash in Robinson and Hutchinson's car when they stopped it in Skipton, UK in June 2014.

The two idiots had remembered to wear disguises while actually carrying out the crimes against the gambling fruit machines. But once they got them home, they couldn't help but snap stupid selfies of themselves with the money. They even posted the shots to social media accounts like Facebook. Not at all shockingly, they were sent to prison.

Bank Robber Tapes Crime and Posts It on Instagram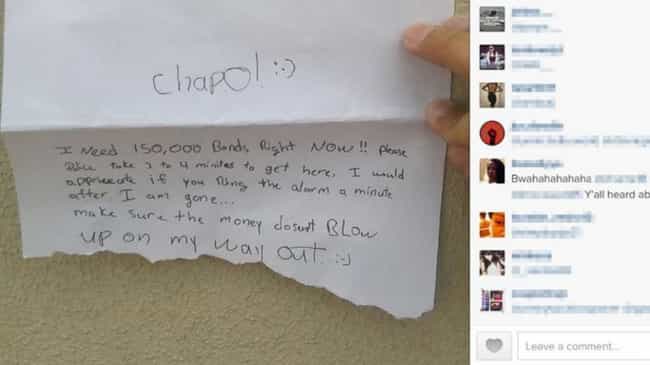 At least he'll always have Instagram videos to remind him of his glory days! Unfortunately, that's about all idiot bank robber Dominyk Antonio Alfonseca will have after being arrested for holding up a bank in Virgina Beach. Alfonseca, 23, was stupid enough to post a picture of the note he passed a bank teller demanding the money. It read, "I need 150,000 Bands Right NOW!! Please Police take 3 to 4 minites to get here, I would appriceate if you Ring the alarm a minute after I am gone... Make sure the money doesn't BLOW UP ON MY WAY OUT:-)"
So... at least he was polite? He also uploaded two videos he took while committing the crime, including one of the bank teller reading his note, another of the teller handing over the cash. He was picked up by police 20 minutes later.
Source:
Yahoo
Michael Baker Siphons Gas From a Cop Car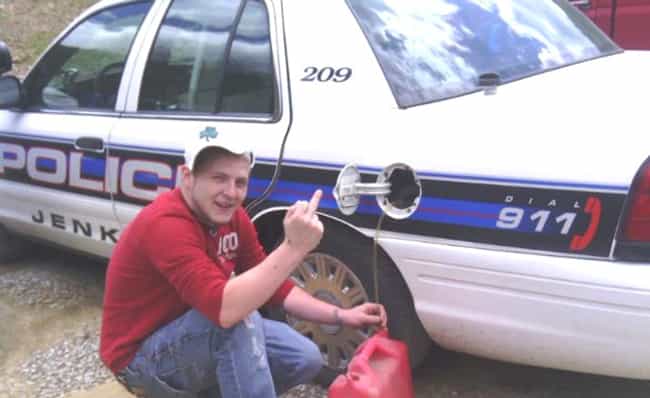 Siphoning gas from a cop car is the perfect crime, because, well, y'know. Check out that protruding middle finger. Man, you are punk rock as s**t.
After being arrested, Michael Baker posted the Facebook comment "yea lol I went to jail over Facebook."
In case Michael is reading -- no, you didn't, dude. You went to jail over stealing from a police officer.