Culture
18th-Century Erotic Novels Way Dirtier Than 'Fifty Shades Of Grey'

Updated October 24, 2019
125.7k views
8 items
The 18th century spawned some of the most scandalous erotic novels in all of literature. These works, spanning from 1700 to 1800, contained graphic scenes that stirred public disbelief and outrage. Given the time period in which they were published, it is no surprise that these novels were received with utter shock and, in some instances, banned altogether. In addition to the graphic images contained within the novels, the characters were often seen as defying social and moral conventions.
It may be surprising to learn that some of the authors on this list also penned some of the most famous and respected works in literature. This list demonstrates their ability to apply their wits to a more unconventional genre. As the novels detailed tales of sexual interactions and libertine attitudes, they challenged the prim and proper behavior that had come to be expected from women during this time. Accompanying the explicit storylines were illustrations, which proved just as bold.
Chapters of these books contain pages of drawings and sketches depicting various acts. Each novel on this list would make even the modern reader blush, and could hold its own against contemporary works in the same genre.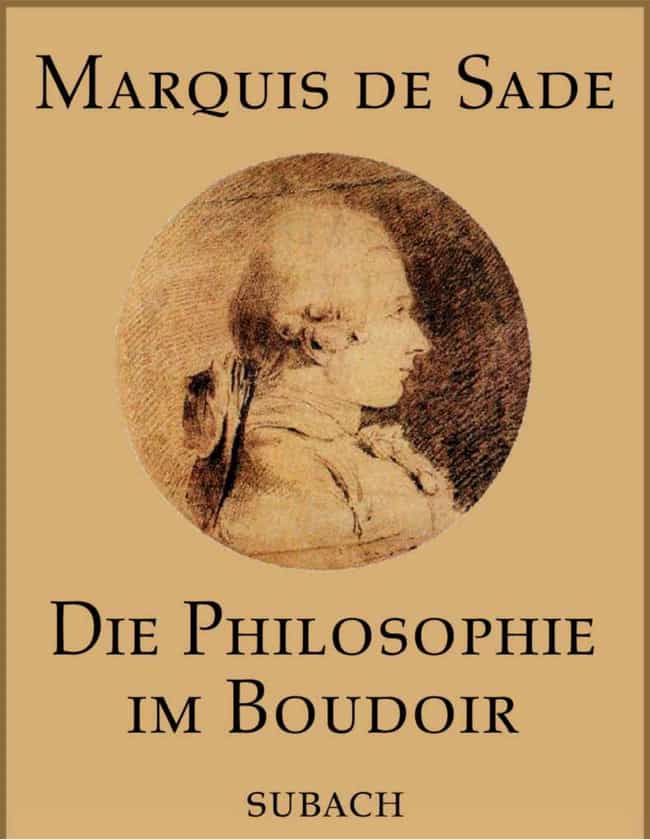 The French novel Philosophy in the Bedroom maintains a darker tone than the more humorous and playful sexual novels published in the 18th century. This hardly comes as a surprise, considering that the words "sadism" and "sadistic" derive from the very name of the author, the Marquis de Sade. The story follows a young girl, Eugenie, as she leaves her life of decency and is introduced to libertine philosophy. Her teachers corrupt her and she engages in countless lewd scenes.
Following in the footsteps of her instructors, she turns to hedonism and refuses to return home to her morally conventional mother, participating in the gruesome assault of her mother in the final section of the book.
Because of the particularly graphic scenes described in several of his books, de Sade was imprisoned many times. His tastes for sexual cruelty and debauchery were not confined solely to the pages of his novels, but filled his personal life as well. In 1801, de Sade was imprisoned for the last time by none other than Napoleon Bonaparte, who found de Sade's Juliette to be "abominable."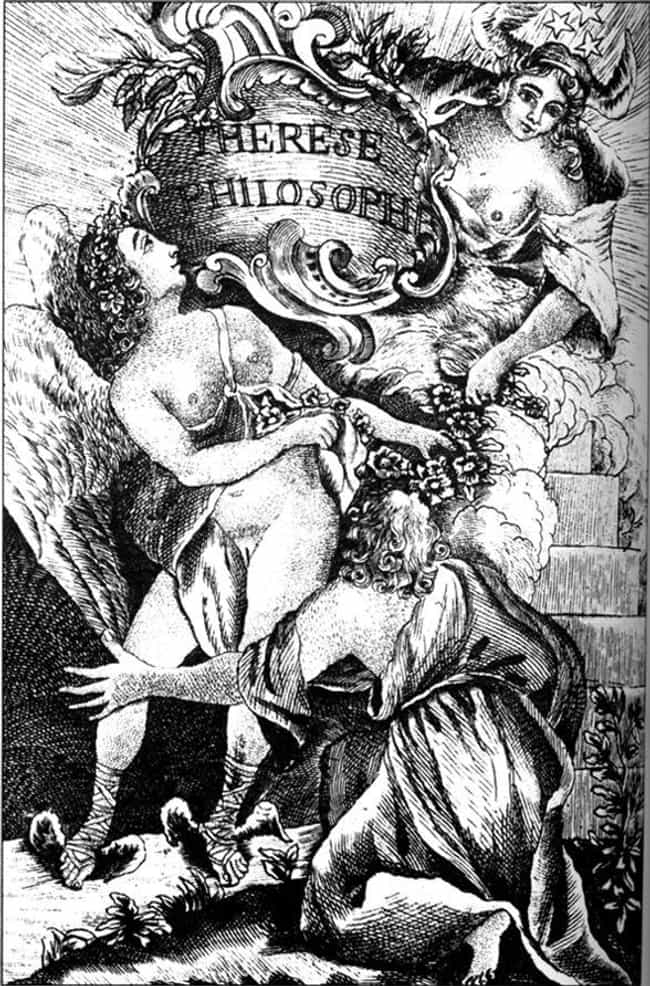 Though Thérèse the Philosopher follows in the vein of the other novels on this list, it also contains extensive explorations of philosophy, Catholic doctrine, and natural law theory. In the book, published in 1748 by Jean-Baptiste de Boyer, the young Thérèse becomes entangled in a relationship with a priest. Her lessons with the priest cause her to abandon her middle-class values and begin anew.
Therese is placed in a nunnery, but cannot overcome her urges. She then escapes with the aid of two like-minded libertines and begins her sexual education. Her education concludes when she becomes the mistress of a count who's been in adamant pursuit of her. This count dares her to last two weeks without pleasuring herself, and when she fails, his prize for winning the bet is to take her as his mistress.
The author published the novel anonymously and, unlike some of the others on this list, managed to avoid a prison sentence. In fact, de Boyer even associated with figures such as Voltaire and Rousseau, counting them among his friends.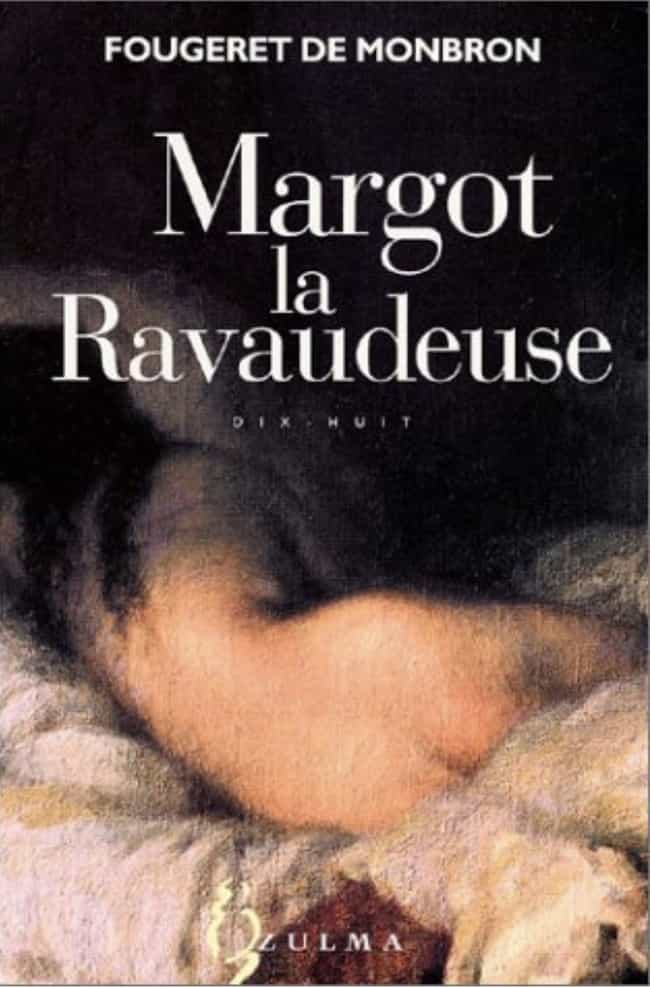 Margot la Ravaudeuse (translated as Margot the Stocking Darner) is a French novel published in 1753. Though it did not receive many English translations, it nevertheless remains the most popular work of writer Louis-Charles Fougeret de Monbron. (Interestingly, it was Monbron who introduced French audiences to Fanny Hill by translating the novel into French.)
Monbron's Margot enjoyed popularity in France, given its detailed account of the titular character and her numerous racy adventures. Armed with beauty and charm, Margot aspires to gain social mobility through her many dalliances with prominent men. She recounts the ways in which she entertained these men using her considerable sexual prowess. With a taste for the good life, Margot does not desist in her efforts until she is well-off enough to enjoy the comfortable life she seeks.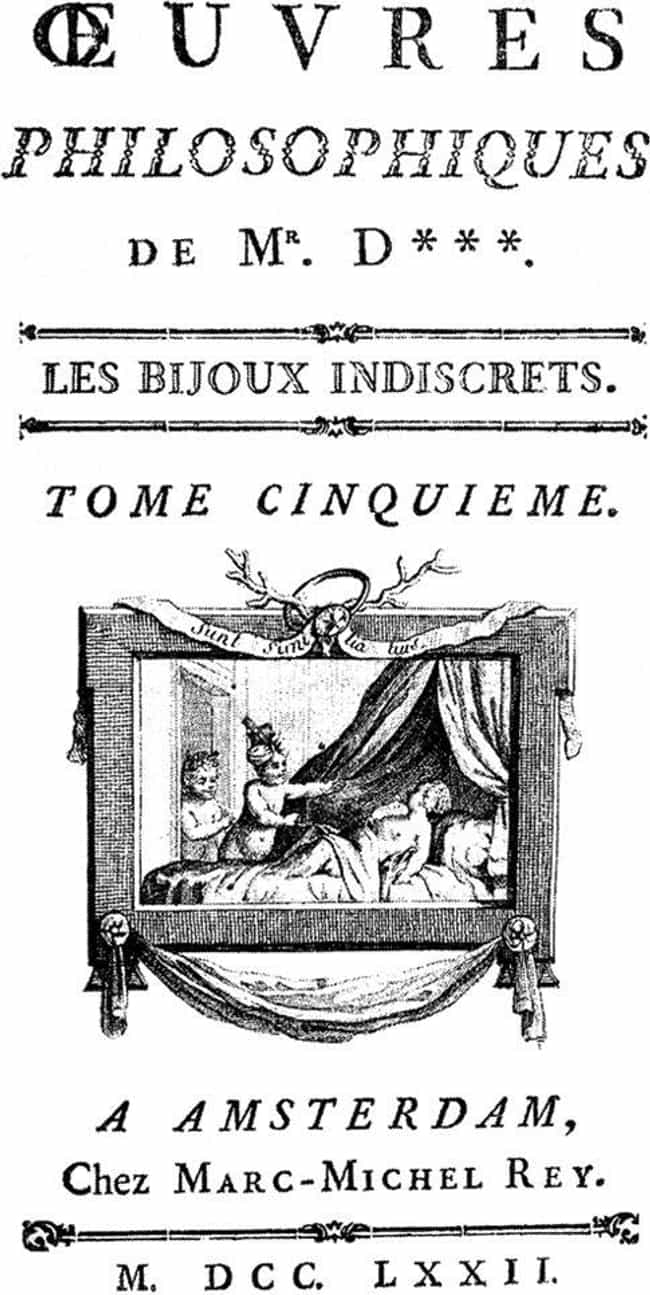 Denis Diderot, another influential writer of the period, continued with the play between sex and politics with Les Bijoux Indiscrets, or The Indiscreet Jewels. Published in France in 1748, this novel has a more playful tone. The story follows a sultan who is given a magic ring by a genie. This ring, when pointed toward the genitals of a woman, gives the genitals the power of speech. The genitals then begin to recount tales of past lovers and experiences, with its owner powerless to stop it.
As the sultan uses this ring about 30 times, it is quite clear he's enjoying its magical properties. In almost all 30 instances (save for one), the ring shows the women have been unfaithful and given in to their lust.
As a result of the plot, and the sexual stories within it, the novel did not fare very well. Diderot has been known to have publicly distanced himself from the work, though in the future he returned to it to add three additional chapters.