Culture
2019 Controversial Tweets That Were Quickly Deleted

Updated May 8, 2019
69 votes
52 voters
2.3k views
4 items
Every year, the public's love for Twitter becomes more and more divided. On one side, it's a great place to get news, follow your favorite comedians, and stay up to date on "meme culture." Unfortunately, it's also a breeding ground for people expressing opinions or making jokes that boil into an outrage. Controversial tweets have led to maligned celebrities, media frenzies, and even everyday people losing their jobs. With a new year, there's a new batch of tweets for people to regret and quickly try to bury – but the Internet never forgets.
This 2019 list of deleted tweets will keep you up to date on all the controversial tweets that were deleted ASAP.
Ben Domenech Deletes Tweets Attacking Seth Meyers 
Meghan McCain, host of The View and daughter to the late Republican presidential candidate John McCain, appeared on Late Night With Seth Meyers Tuesday May 7 and engaged in an uncomfortable discussion regarding her comments that Congresswoman Ilhan Omar's apparent anti-Semitic opinions are dangerous. Meyers pressed McCain to explore her perspective with him and his national audience, causing a cordial tension that did not escalate beyond what the two were willing to open up about. McCain's husband, Ben Domenech, founder and publisher of the conservative website The Federalist, had much more to say, however.
Domenech took to Twitter and in a since deleted 4-part diatribe against Meyers he said: "I see that @sethmeyers, the untalented piece of sh*t who only has his job because he regularly gargled Lorne Michaels' balls, went after my wife tonight with his idiotic anti-Semitic bullsh*t." Domenech continued:
Seth is an awful person who is known within the industry for how terrible he is. He is a monumental a**hole who is utterly unfunny. He deserves the mockery he receives from all the people who laugh at him.

Here is proof that white men get ahead despite their obvious lack of talent. It's @sethmeyers, who would beg for a third of the viewers at @TheView. He's awful, untalented, and a perfect definition of a cuck.

But the best thing is how much all the people around @sethmeyers talk about what a sh*tty person he is. Because oh, it is sad. So terrible. But he deserves all of it.
Domenech told Mediaite that his inappropriate comment regarding "ball-gargling" was not meant to be taken literally and that, "Seth Meyers is trash." He has since apologized, tweeting: "I love my wife. I apologize for rage tweeting about how Seth Meyers treated her. I don't like him, I think he's a hack, but I shouldn't have done that. I'm sorry to anyone I offended."
Joe Carnahan Deletes Tweet Attacking A Film Critic Who Gave 'El Chicano' A Mixed Review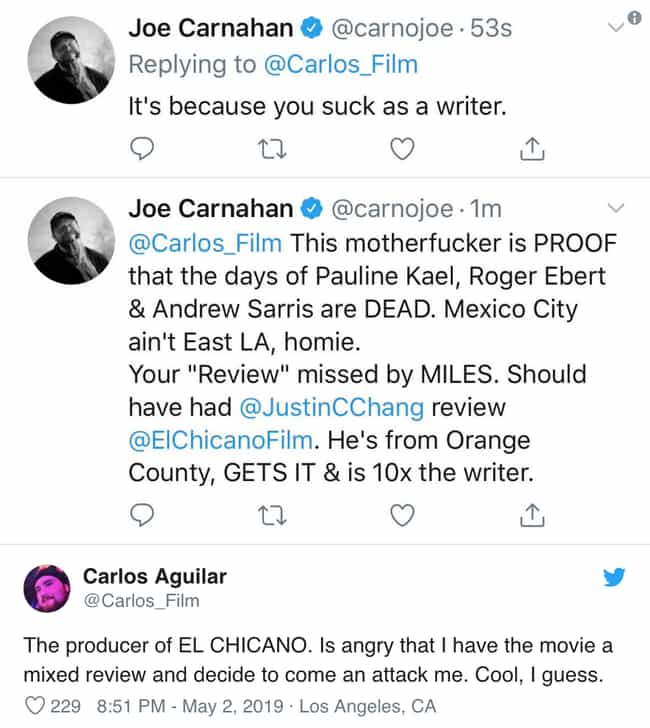 Film critic Carlos Aguilar reviewed Joe Carnahan's 2018 Superhero drama, El Chicano for the Los Angeles Times describing it as, "propelled by the fresh winds of inclusion" and saying it "stands as a solidly acted and technically accomplished spectacle." Though Aguilar notes the film's efforts to spotlight a Mexican-American hero are renowned, he also says there is "a marked separation between Mexican Americans and Mexican nationals, presented only as nationalist invaders" and suggests rather than attemptting to fit into the mainstream American consciousness, the film should have made efforts to defend all oppressed people.
Carnahan didn't appreciate this. In response to Aguilar's review, he tweeted, "you suck as a writer." Carnahan went on to explain, "Mexico City ain't East LA, homie. Your 'review' missed by miles. Should have had [fellow LA Times critic] Justin Chang review 'El Chicano.' He's from Orange County, gets it, and is ten times the writer."
Carnahan received backlash for not being able to take criticism and learn from it. He deleted the tweet, and responded to the situation by posting:
I deleted the 'offensive' tweet but it's fascinating how many of you 'critics' rushed in to defend one of your own, like some tribal council. Maybe look at that. At the fear and loathing you live in because of your reluctance and/or inability to create yourselves.
Rob Lowe Deletes Tweet About Elizabeth Warren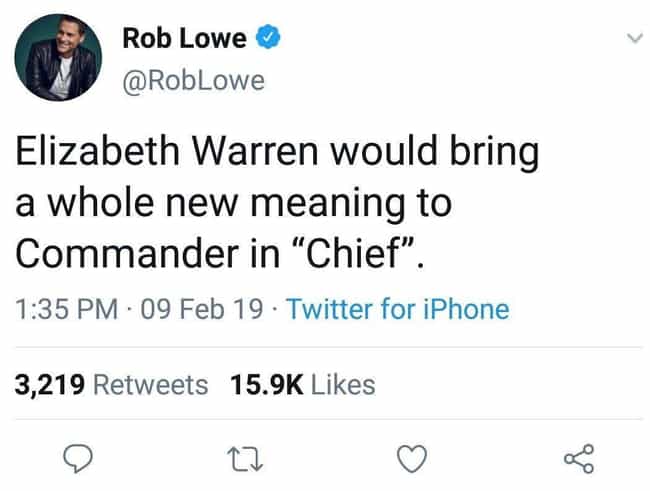 On February 9, 2019, actor Rob Lowe posted on Twitter that Senator Elizabeth Warren would bring "a whole new meaning to 'Commander in 'Chief.'" There was an almost immediate negative reaction to his joke, responding to both his use of "Chief" regarding Warren - who recently apologized to the Cherokee Nation for a recent DNA test - and how Lowe's tweet was echoing a recent presidential tweet that appeared to reference the Trail of Tears.
Lowe deleted his tweet hours later, trying to make light of the whole incident with a new Tweet, saying: "It was a joke and some peeps got upset, and that's never my intention. On the GOOD side: I just got to use the Oxford comma!" This tweet recieved a response from Lowe's former West Wing co-star Bradley Whitford, summarizing the incident. "The house is fine. Your material sucks."
Chase Bank Deletes Tweet Suggesting People Should Stop Spending On Breakfast And Cabs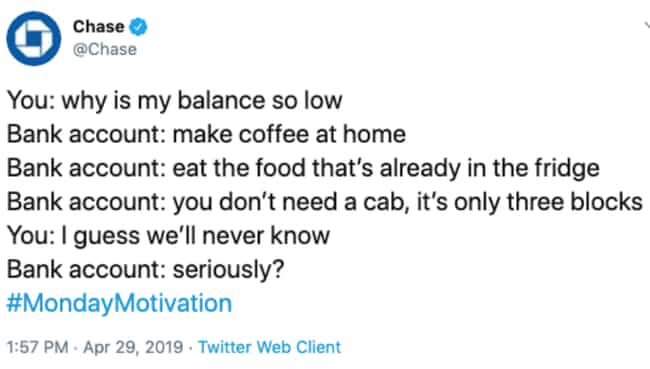 On Monday, April 29, Chase bank tweeted a bit of #MondayMotivation that suggested customers should stop spending money on coffee, breakfast, and cabs. The tweet implies that frivolous spending is the reasons so many people's balance is "so low" as opposed to unreasonable wages and other economical demands. The tweet immediately drew backlash, and Senator Elizabeth Warren even responded with a mocking post that reads:
@Chase: why aren't customers saving money?
Taxpayers: we lost our jobs/homes/savings but gave you a $25b bailout
Workers: employers don't pay living wages
Economists: rising costs + stagnant wages = 0 savings
Chase: guess we'll never know
Everyone: seriously?
#MoneyMotivation
Chase deleted the tweet and instead said, "Our #MondayMotivation is to get better at #MondayMotivation tweets. Thanks for the feedback Twitter world."