Photo: Entertainment Studios
Movie Quotes
47 Meters Down Movie Quotes

Updated July 12, 2017
44 votes
18 voters
1.1k views
List Rules Vote for your favorite 47 Meters Down movie quotes!
47 Meters Down movie quotes bring the suspense as they follow the film about two young women trapped in a shark cage at the bottom of the ocean. The horror movie was directed by Johannes Roberts using a screenplay he co-wrote with Ernest Riera. 47 Meters Down opened in theaters in the United States on June 16, 2017.
In 47 Meters Down, sisters Lisa (Mandy Moore) and Kate (Claire Holt) head out on vacation to Mexico for a girls trip. They meet local guys Louis (Yano Gellman) and Benjamin (Santiago Segura) and over dinner, the guys convince the ladies that diving with sharks the next day is fun, safe and a must-do. So the next morning, the four meet up with boat Captain Taylor (Matthew Modine) to go diving with sharks.
Everything goes well when Louis and Benjamin dive but when Lisa and Kate follow, not so much. The wire holding the steel cage protecting the ladies from the deadly sharks snaps and the women plummet to 47 meters down in the ocean. Too low to contact the boat crew above and low on oxygen, the women are faced with finding a way out and a way to leave the adventure alive through a sea of dangerous marine predators.
47 Meters Down joined theaters in June 2016 alongside other summer movies including All Eyez on Me, Rough Night, Cars 3, and The Hero.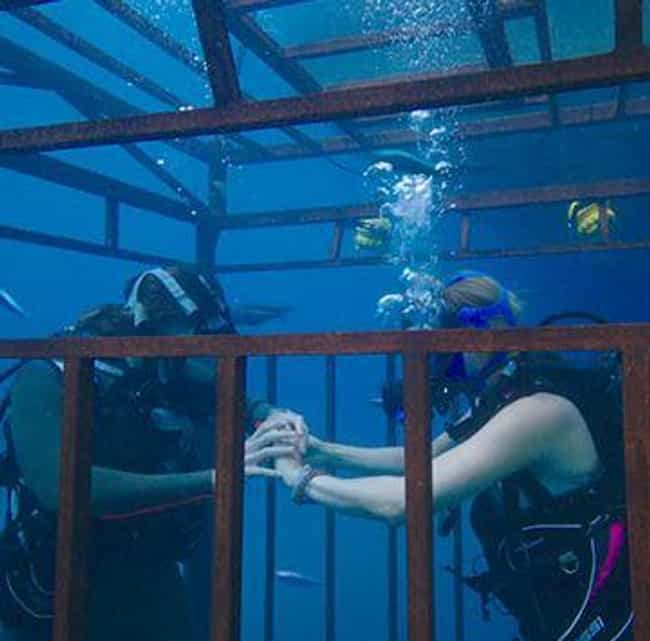 Lisa: We need to conserve our air.
Kate: How deep are we?
Lisa: 47 meters
Kate: Hello, is anyone there? Please, someone answer me!
At first, Lisa and Kate act rationally after the wire holding their shark cage snaps and they fall deep into the ocean. But moments later, that calm rationality turns into a full on freak out.
Should this be higher or lower?
Like You're Going to the Zoo
Javier: It's like you're going to the zoo except you're going in the cage.
Kate: I don't know about this.
Captain Taylor: Welcome aboard.
Prior to heading into the shark cage, the ladies get some words of encouragement from those on the boat. Javier stresses that it's just like going to the zoo but Kate isn't exactly sold.
Should this be higher or lower?
Captain Taylor: Remember, the faster you breathe, the faster you use up your air. Trust me, once you're down there you're not going to want to come back up.
Captain Taylor offers Lisa some advice before she begins her dive. In this 47 Meters Down movie quotes, he reminds her to breathe slow as to not use up her oxygen too fast.
Should this be higher or lower?
Lisa: This is amazing!
Kate: It kind of takes your breath away! Oh my god! Can you take a picture of me?
Lisa: Sorry, sorry!
Initially, Lisa and Kate enjoy their dive with sharks and the fact that they can be up close with the marine life in safety. But when Lisa drops Kate's camera, that's the first bad thing in a line of unfortunate events that changes everything.
Should this be higher or lower?