Feuds
A Complete Timeline Of The Kanye-Drake-Ariana-Pete Twitter Feud

You could say it all started with the ongoing feud between rap/hip-hop legends Kanye West and Drake. Once musical collaborators, the two eventually started drifting as industry competition ramped up the tension. As Drake not-so-subtly pointed out in his 2010 song "Thank Me Now," "Your idols become your rivals." West's ongoing outspokenness about mental health issues - and notorious streams of fever-dreamy consciousness via Twitter - have only served to stoke the celebrity beef.
Meanwhile, back in August 2018, rapper Travis Scott dropped a single featuring Drake. This is contentious because, of course, Scott is partner to West's sister-in-law, Kylie Jenner. Equally as contentious, apparently, was when Ye peeped a photo on social media of Scott sporting Nike attire - the Yeezy brand is Nike's staunchest competitor. No doubt the simultaneous triggers helped set off a fresh crop of Twitter feuding that ended in a celebrity deleting their social media accounts, another celebrity hiring extra home security, and widespread speculation about where this all was going and how this could help inform the conversation around mental health and care - all within the span of about 48 hours.
Here is a complete timeline featuring everything you should know about the December 2018 Kanye-Drake-Ariana-Pete-Everyone Twitter feud.
Kanye West Has A Long-Standing Feud With Drake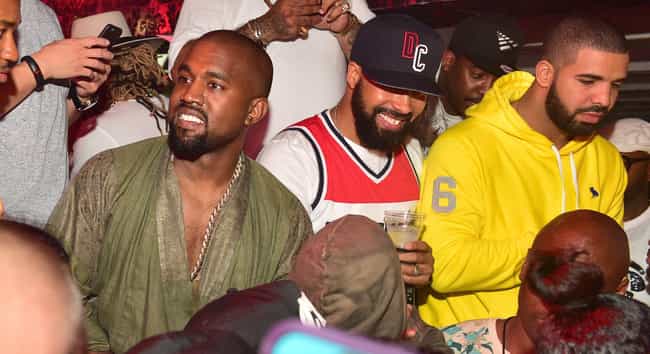 Kanye West and Drake have long-standing public beef, reportedly dating back to at least 2011, when Drake shaded West during an interview with DJ Tim Westwood. Then, during an interview with The Source, the Canadian rapper said, "He is [a] really great competitor... and friend, at the same time... My goal is to surpass everything he's accomplished. I don't want to be as good as Kanye, I want to be better."
But the current beef that's boiled over in the past few years goes back to earlier in 2018, when Drake claimed West tried to manipulate timelines on their collaboration efforts to put himself on top while also stirring strife with Pusha T by feeding him private information about Drake (meanwhile, Pusha T and Drake are in their own feud slinging diss tracks back and forth).
Travis Scott Drops A New Single Featuring Drake
In August 2018, Rapper Travis Scott released "Sicko Mode," a single for his album Astroworld. The track features Drake, and the lyrics are a nod to their "work ethic, showing they're a cut above the competition by going into 'sicko' or 'beast' mode," according to attuned listeners.
Kanye West Demands An Apology From Drake And Refuses To Clear His Music
On December 13, 2018, Kanye West posted a screenshot of a text he'd allegedly received. The screenshot indicated Drake had requested rights to use one of West's tracks. But West claims he hasn't received an apology from Drake for previous beef that involved Pusha T.
"Still need that apology for mentioning the 350s and trying to take food out your idols's kids's mouths," Ye tweeted. "By the way, not cleared," he added with a cry-laughing emoji.
Kanye West Accuses Drake Of Featuring On Travis Scott's Track Just So He Could "Sneak Diss"
I actually like sickomode but I don't like that that is was sneak disses

— ye (@kanyewest) December 14, 2018
As former mentor/mentees and collaborators, Kanye West and Drake have had a long-simmering feud that flairs intermittently. Travis Scott, meanwhile, is the partner of Kylie Jenner, West's sister-in-law, and father to West's nephew, Stormi. West thus considered Scott's featuring of another artist with whom he has beef as a clear slight.
Though Scott dropped the single months earlier, it wasn't until December 2018 that West started tweeting about it. "F*ck that 'Sicko Mode' song. Family first and always," West stated. He went on to say he likes the song, but admitted his real beef with the track was Drake's appearance on it.
"I have a problem with sneak dissing," West continued.