Military

List Of Russian Civil War Battles

List of every major Russian Civil War battle, including photos, images, or maps of the most famous Russian Civil War battles when available. While it is not a comprehensive list of all skirmishes, conflicts, or battles that took place in the Russian Civil War, we have tried to include as many military events and actions as possible. All the battles on this Russian Civil War list are currently listed alphabetically, but if you want to find a specific battle you can search for it by using the "search". Information about these Russian Civil War battles are included below as well, such as their specific locations and who was involved in the fight.
List battles include October Revolution, Soviet westward offensive of 1918–19 and many additional battles as well.
1
1924 Estonian coup d'état attempt
The Attempted coup of 1924 in Estonia conducted by Comintern was a failed coup attempt in Estonia staged by Communists on December 1, 1924. Of the 279 actively participating communists, 125 were killed in action, later more than 500 people were arrested. The government forces lost 26 men. During the Soviet occupation of Estonia from 1940 until the era of Perestroika and Glasnost in the Soviet history of the Estonian SSR the communist coup attempt was referred to as Tallinn Uprising of December 1, 1924 against the Yoke of the National Bourgeoisie Government of Estonia and described as an event in the series of World revolution. ...more on Wikipedia
Locations: Estonia
Part of: Russian Civil War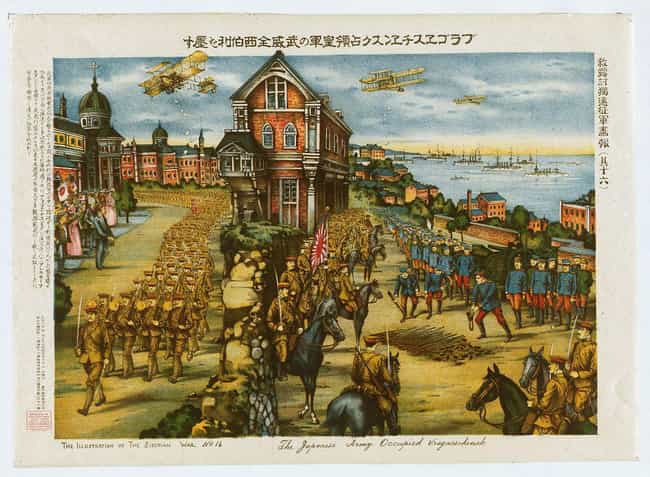 The Allied intervention was a multi-national military expedition launched during the Russian Civil War in 1918. The initial goals were to help the Czechoslovak Legions, secure supplies of munitions and armaments in Russian ports, and re-establish the Eastern Front. After winning World War I, the Allies militarily backed the anti-Bolshevik White forces in Russia. Allied efforts were hampered by divided objectives, war-weariness and a lack of public support. These factors, together with the evacuation of the Czechoslovak Legion compelled the Allies to withdraw from North Russia and Siberia in 1920, though Japanese forces occupied parts of Siberia until 1922 and the northern half of Sakhalin ...more on Wikipedia
Locations: Siberia, Russia
Part of: Russian Civil War
Events: Siberian Intervention
Combatants: Kingdom of Italy, White movement, China, Serbia, British Empire, + more
Commanders: Leon Trotsky, Joseph Stalin, Mikhail Tukhachevsky
see more on Allied intervention in the Russian Civil War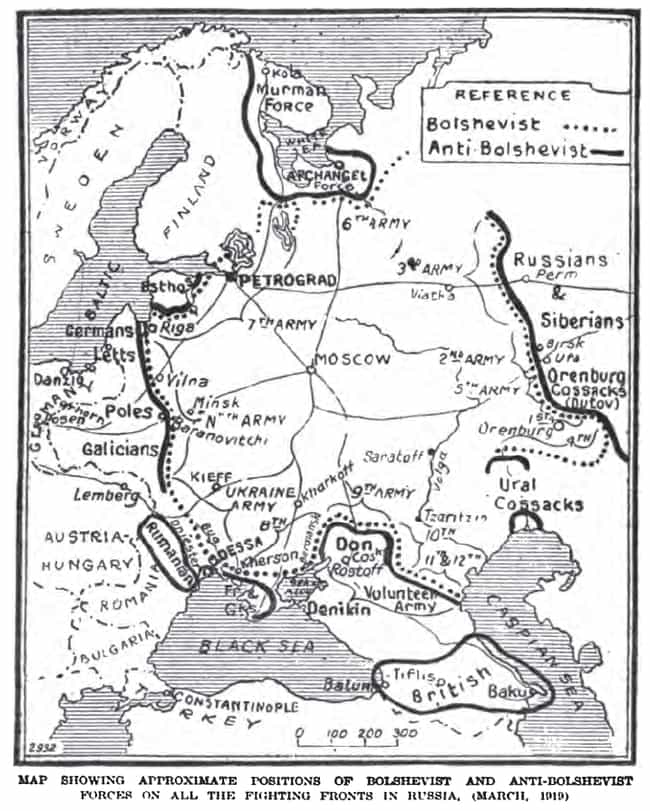 The Armenian–Azerbaijani War, which started after the Russian Revolution, was a series of brutal and hard-to-classify conflicts in 1918, then from 1920 to 1922 that occurred during the brief independence of Armenia and Azerbaijan and afterwards. Most of the conflicts did not have a principal pattern with a standard armed structure. The Ottoman Empire and British Empire were involved in different capacities: the Ottoman Empire left the region after the Armistice of Mudros but British influence continued until Dunsterforce was pulled back in the 1920s. The conflicts involved civilians in the disputed districts of Kazakh-Shamshadin, Zanghezur, Nakhchivan and Karabakh. The use of guerrilla and ...more on Wikipedia
Locations: Azerbaijan Democratic Republic
Part of: World War I, Russian Civil War
Events: Battle of Baku
Combatants: Azerbaijan Democratic Republic, Democratic Republic of Armenia, Russian Soviet Federative Socialist Republic, British Empire, United Kingdom
Commanders: Lionel Dunsterville, Andranik Ozanian
see more on Armenian–Azerbaijani War
The Arsk Uprising was a Tatar peasant rebellion against the Soviet power in Kazan, Layesh, Mamadysh uyezds of Kazan Governorate. It started on October 25, 1918 as a result of prodrazvyorstka policy. On November 10 rebels took the town of Arsk. Red guards with cannons were sent to suppress the rebellion. On November 15 the rebellion was totally smashed, 31 rebels were killed, 11 wounded. The participants of the rebellion repaid a contribution to the Soviet power. ...more on Wikipedia
Locations: Kazan Governorate
Part of: Russian Civil War
Combatants: Bolshevist Russia
see more on Arsk Uprising