Science

About The Bees: A Fascinating Guide to All The Types

When people talk about bees, they are almost always talking about the European Honey Bee. But there are over 20,000 species of bee worldwide, and you might be surprised to learn that only a portion of them make honey and several of them don't even pollinate. Wild bees are extremely important to life on the planet, moreso than just the managed honey bees who are deployed for human agriculture. It is thought that the flowering plant developed in concordance with the pollinating insect, and that this development in Earth's evolution of life literally changed the planet into one that we can inhabit today. Bees, in all their varied forms and behaviors, are super important to the planet -- and, selfishly, to people. Check out all the different types of them that you may have even seen and not realized you were looking at bees all along!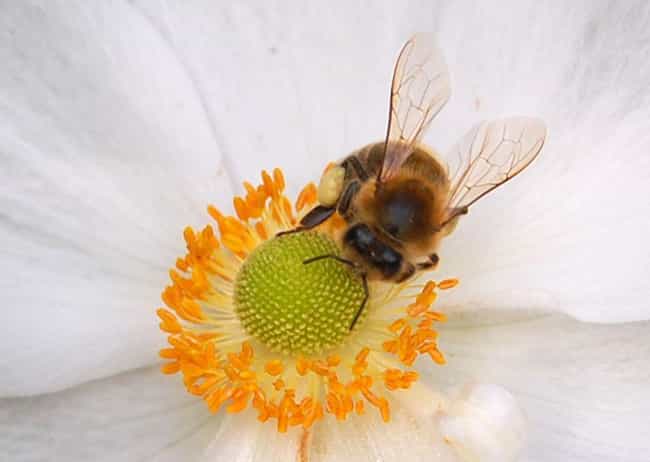 This is the bee that humans like and need, so it follows that this bee is usually the only bee anyone knows about. There are probably about 44 subspecies of honey bee, but we have only identified about 11. Native to Europe, these bees were prized for their gentle nature and honey-making skills. They were put to work by humans a very long time ago - there is evidence that we were managing bees for honey as far back as 15,000 years ago. The honey bee is the only species of bee that dies after stinging -- the barb on their stinger will hook into the threat and pull out of the bee's body along with the poison sac, rupturing the abdomen.
In 2006, managed colonies of honeybees began mysteriously dying off. It was speculated that a combination of varroa mites and pesticide use were to blame, but the evidence is not yet conclusively pointing to any one factor. Managed hives are rebounding as beekeepers actively work to keep their hives healthy and breeding -- but wild bees don't have managers and the mites, habitat loss and possibly pesticides are taking their toll.