Total Nerd
15 Actors Describe What It Takes To Get Fit For Shirtless Scenes

Working in Hollywood is a serious business, and like most jobs, actors need to meet certain qualifications to land a part. Just as a writer needs to know how to spell, an actor needs to know how to tone their body into a Greek statue - a form of perfection. Granted, this isn't always necessary thanks to bodysuits, CGI, and the occasional film without a shirtless scene - but when the director commands an actor to take off his shirt to show off his abs, he better show up camera-ready.
While the men on this list are all in great shape, they aren't always necessarily in the right shape for a shirtless scene. With those scenes comes a lot of anxiety and preparation - and while it's not the same thing as a shirtless scene for an actress, it is nerve-wracking. Actors want to look their best, just like the rest of us.
Granted, most people don't get paid to whip off a shirt and impress an audience, but for the people who do, their preparation is often intense.
This list outlines some of the best abs in the business and what goes on behind shirtless scenes. While many of the men on this list had to get into so-called "superhero shape" for a movie, some had to toss their shirt to the floor for non-superhero action films and dramas.
'The Three Months Before Is Very Specific - And It Finishes With Dehydration'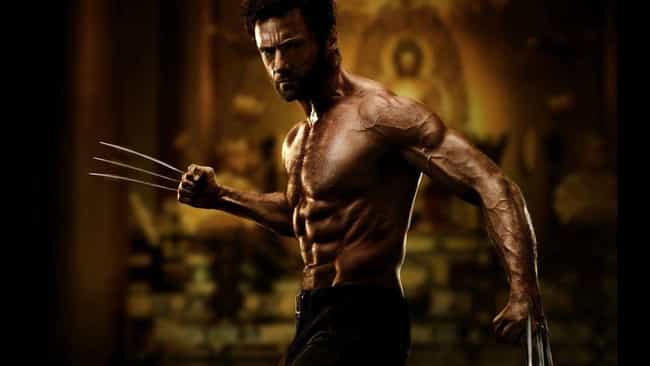 As a fictional character, Wolverine's mutant ability to heal from any cuts or fractures comes in plenty handy. His metabolism is constantly on the move, and as a result, the dude is ripped to perfection - which is why it's tough finding an actor to play him.
When he snagged the role of the muscular mutant in 2000's X-Men, Hugh Jackman thought he could whip himself into shape in just a few weeks. Reality quickly set in, and the production was forced to shift his shirtless scenes to the end of the shooting schedule so he could tone his body to Wolverine-levels of perfection.
Since that first film, Jackman has followed a strict regimen to get his body into shape whenever it's time to reprise his most famous role. As the actor discussed in an interview on The Late Show with Stephen Colbert, he would ask for the exact date he would need to show off his abs, then dehydrate himself just prior to the scene:
I find out the date, which is the shirt-off scene. And it's about a three-month run-up. So you gotta be in good shape, but the three months before is very specific. And it finishes with dehydration. [To the audience] Don't do this at home.
He further explained that he would dehydrate his body for about 36 hours, which resulted in his veins bulging out as his muscles popped. It's not a permanent change, by any means, but it worked for a few hours of shooting.
'If You Strip Away Fat And Get Guys To 3-4% Body Fat, They Look Huge Without Necessarily Being Huge'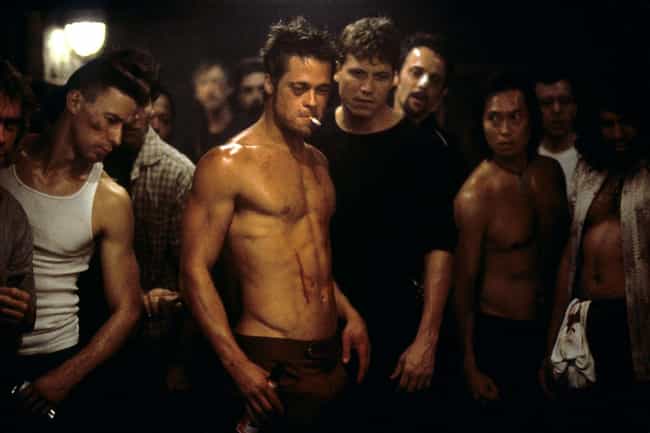 Brad Pitt has never been shy about throwing his shirt onto the floor when a camera is around, but his confidence in his physique is backed up by years of training and exercise. That being said, he still needed to do some serious prep work before he could play a shirtless Tyler Durden in 1999's Fight Club. Not only was he utterly ripped for his shirtless scenes, but his physique has since been a coveted target for personal trainers.
Pitt managed to look like his body was made up of nothing but muscle and bone by dropping a ton of weight and losing most of his body fat. He was only 155 lbs. at the time, which isn't much at all for a nearly six-foot-tall man. Still, it's impossible to tell that he weighed less than an average high school senior when you watch the scenes where he isn't wearing a shirt. As trainer Mark Twight explains, "If you strip away fat and get guys to 3-4% body fat, they look huge without necessarily being huge."
To prepare his body, Pitt worked on a single muscle group each day: Chest on Mondays, back on Tuesdays, shoulders on Wednesdays, biceps and triceps on Thursdays, with the rest of the week reserved for cardio and rest.
If you're inclined to make your body into a Tyler Durden-esque level of physique, you can follow the same workout plan Pitt followed.
'Nobody Wanted To Be Remembered As The Spartan With The Muffin Top'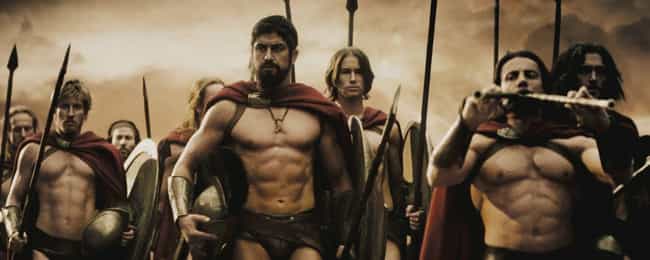 In terms of fitness, the movie 300 is the stuff of legend. The actors who played the Spartans in the movie were accused of sporting CGI abs since it was highly unlikely that anyone could get their body looking as perfect as theirs. As it happens, the movie was loaded with CGI, but none was needed to enhance the actors. The bodies seen in the movie are the real deal, and it was only possible thanks to an intensely savage workout.
The workout the actors put themselves through has been dubbed the "Spartan Workout," or simply the "300 Workout." It was dreamed up by Mark Twight, a self-taught exercise guru and mountain climber. Twight was somewhat miffed at the suggestion his "creations" used CGI, but he assures his followers that a strict 10-week workout (12 weeks for Gerard Butler) will get you Spartan-ready - should you need to repel a Persian incursion anytime soon.
As part of the fitness regimen, Twight made the actors train with each other to motivate their "male vanity." As the trainer put it, there's "nothing more powerful [than] thirty guys in a room, all vying to be alphas. Everyone had on leather underpants and a cape. Nobody wanted to be remembered as the Spartan with the muffin top."
Here's all you need to do to stand beside the 300:
25 pull-ups
50 deadlifts at 135 pounds
50 push-ups
50 box jumps with a 24-inch box
50 "floor wipers" (a core and shoulders exercise at 135 pounds)
50 "clean and press" at 36 pounds (a weight-lifting exercise)
25 more pull-ups - for a total of 300 reps
The exercises need to be done in rapid succession with no rest between movements. The goal is to complete it in as short an amount of time as possible.
'We've Done That! Don't Make Me Do It Again!'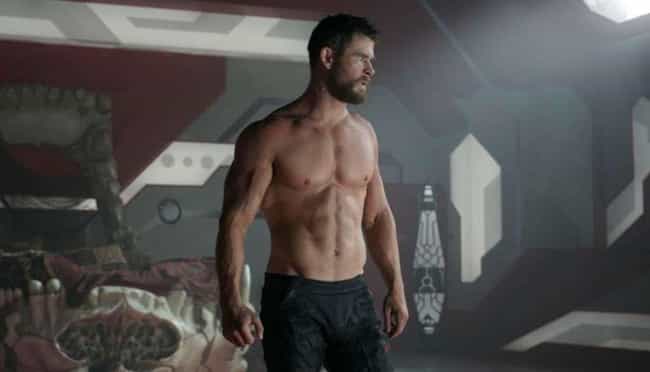 When Chris Hemsworth landed the role of Thor in the MCU, he basically signed up to be completely ripped for over a decade. While he was toned beyond belief in the first Thor film, he really beefed himself up for Thor: Ragnarok's pictured scene.
Hemsworth discussed his workout regimen in an interview with TRAIN Magazine:
For Thor, my workouts alternate between heavy weightlifting, bodybuilding work to lighter timed fitness, and more resistance and functional type stuff. With the bodybuilding, for each exercise, we usually do four sets, and ranges are anywhere from eight to 12 reps. We train six days a week for about an hour, but never much over an hour, but we go hard during that time frame. I do train when I'm not playing Thor, but I'm less bulky because I eat less, and my workouts are more rounded and less centered around being muscular. I usually put on about 20 lbs. of muscle to play Thor.
Hemsworth has said that, for the first Thor film, he was fine showing himself off because he'd put in the hard work. However, when it came time to go shirtless for the thunder god's third outing, the actor balked. Originally, there was no shirtless scene in the Ragnarok script, and Hemsworth was happy to be less objectified, but then director Taika Waititi said they should throw one in.
Hemsworth's reaction: "Ugh, no, we've done that! Don't make me do it again!"