Entertainment
Actors' And Actresses' Signature On-Screen Moves

Updated July 29, 2019
922 votes
197 voters
14k views
16 items
List Rules Vote up the moves you always expect from the stars.
Becoming a movie star is a strange, mysterious process, achieved through equal parts talent, luck, and hard work. So, when an actor discovers success in their careers, it's not too surprising that they often do whatever they can to replicate that success. Sometimes, that means integrating particular quirks into their performances, and other times, that means adding entire scenes that allow them to showcase their particular talents.
Whether it's Tom Cruise running through New York City, and then Dubai, and then Moscow, and then Rome, and then every other city in every movie for the rest of his career, or it's Brad Pitt stuffing his face with ice cream and French fries and sandwiches to give his character a vulnerable relatability film after film, it's surprising how many stars have recurring quirks and habits that pop up so frequently they become their trademark. Here's a look at some actors' signature moves that they seem to repeat in a truly surprising number of movies.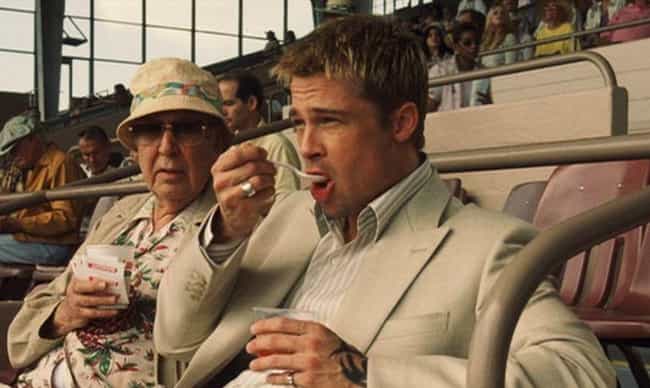 Possibly in an attempt to make his characters more human and relatable, or possibly because he doesn't know what to do with his hands otherwise, Brad Pitt seems to always be chowing down in some of his most iconic scenes. Apples, corndogs, bowls of soup, popcorn; it doesn't matter if it's a snack or a meal, Pitt has turned eating while delivering dialog into its own niche acting style.
In Moneyball, Pitt devours a plate of fries while talking game strategy with other coaches. Throughout all of the Ocean's trilogy, he's scarfing down ice cream and other snacks right in the middle of figuring out heist plans. In fact, at the end of Ocean's Eleven, he's consuming a full sandwich while picking his best friend up from jail. Se7en, Mr. & Mrs. Smith, Kalifornia, Meet Joe Black, and The Curious Case of Benjamin Button are just a few of the many movies where he makes a real meal out of eating a meal.
Age: 55
Birthplace: Shawnee, Oklahoma, United States of America

Is this their go-to move?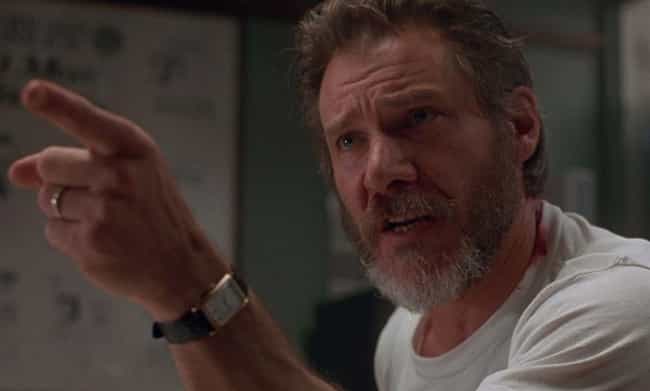 A forceful, authoritative finger point can command anyone's attention, and no one knows this better than Harrison Ford. Looking back over his career, Ford has repeatedly used the power of his accusatorial index finger to wither his scene partners by aggressively pointing in their direction to make sure they know he means business.
Indiana Jones points at his father, Henry (Sean Connery), while lecturing him in Indiana Jones and the Last Crusade, Han Solo points threateningly at Jabba the Hutt in Star Wars: Episode IV - A New Hope, Dr. Richard Kimble angrily points at his interrogators after getting detained in The Fugitive. Truly, his finger seems to pop up in nearly every movie. The gesture even earned its own nickname among Ford's fans: the "Finger of Doom!"
Age: 73
Birthplace: Chicago, Illinois, USA

Is this their go-to move?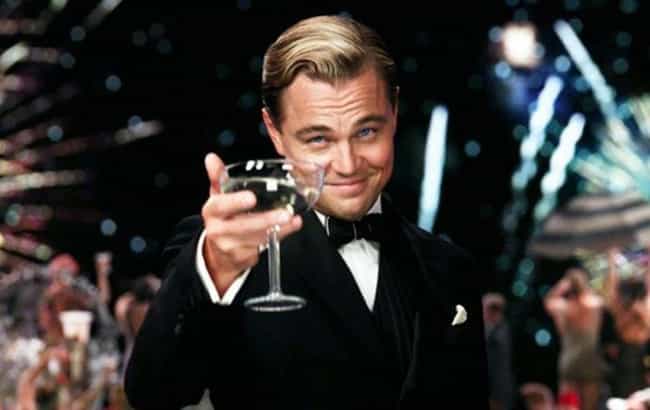 If there's one actor who looks the most at home while raising a glass and toasting to a situation, it's Leonardo DiCaprio. It seems that he has a definite propensity for taking on roles that require him to elegantly lift a cocktail glass, and he's found a way to express a wide range of emotions while doing so.
Whether he's gleefully embracing the decadence of excess while toasting with champagne in The Great Gatsby to menacingly toasting as the slave-owning psychopath in Django Unchained to condescendingly raising a glass to antagonize an FBI agent in The Wolf of Wall Street, he's got the whole gesture down to an art. It all started with his iconic toast as Jack Dawson in Titanic, and they only got better from there.
Age: 44
Birthplace: Los Angeles, California

Is this their go-to move?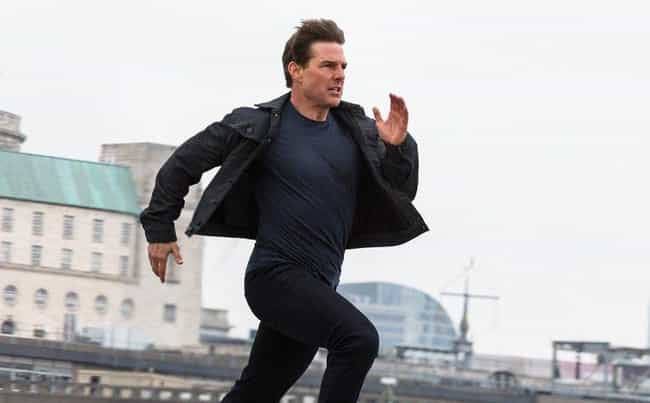 At some point in his career, Tom Cruise apparently saw himself running, realized how awesome he looks and how fast he can go without getting tired, and decided to show off his speed and stamina by sprinting in nearly every movie that can reasonably include a running scene. It's obvious why he runs so much in his action movies - such as every installment in the Mission: Impossible franchise, Knight and Day, and Jack Reacher, to name a few - but he also finds ways to sprint through scenes in dramas like The Firm and Jerry Maguire.
In fact, one of the most expensive scenes in film history comes from the critically panned 2001 drama Vanilla Sky, when filmmakers emptied out Times Square for a shot of a panicked, confused Cruise running top speed through the abandoned New York landmark.
Age: 56
Birthplace: Syracuse, New York, United States of America

Is this their go-to move?