Actors
Actors Known for Roles Most Similar to Who They Are in Real Life

5k votes
781 voters
372.9k views
19 items
List Rules Vote up the actors who seem most similar IRL to the characters they play.
Sure, it's cool if an actor transcends their own identity and become someone else. It's amazing to witness. But sometimes, you just want Bill Murray to show up and be Bill Murray. He doesn't need to sleep inside a bear and keep himself up for days to please an audience, because he's one of those actors who are the same as their characters, or at least pretty darn close.
Some actors disappear into a role. Actors who are a lot like their characters prefer to lay a foundation from a familiar place. Larry David usually performs a slightly demented spin on his real life self. Robert Downey Jr. could probably morph into a whole other guy (Tropic Thunder, anyone?), but who doesn't like RDJ just as he is?
No one is saying these actors don't have chops. It's just that audiences want to see Morgan Freeman doing Morgan Freeman. Let Walken be Walken. Jared Leto may have the time to live as his character for months on end, but Bruce Willis has sh*t to do. He ain't got no time for that. Or for memorizing lines, apparently.
Who are some of those actors known for roles similar to their real personalities? Matthew McConaughey, Zach Galifianakis, Bruce Willis...keep reading, if you really wanna know.
back to page 1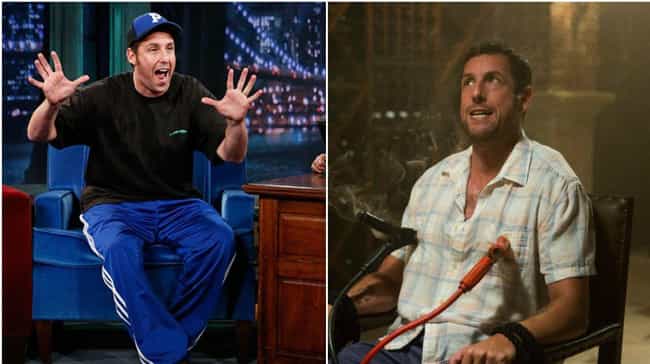 In real life: Adam Sandler has made a career playing a regular, uncomplicated guy, because he's never forgotten his roots. He came from a working class family and set his sights on being a comedian. Once he achieved his goals, he's been content with maintaining a career playing regular Joes. He just wants to make people laugh.

In film and TV roles: Uncomplicated and not impressed with the trappings of fame, Sandler is just fine making one silly film after the other. Audiences love them. The box office proves it at a collective revenue of $2 billion and counting. He's had his moments of playing opposite of his usual lovable schlubs in Reign Over Me and Punch Drunk Love, but it seems as though he's still just playing a more existentially fraught version of himself. Exhibit A: Funny People.

Notable quote: "My name is Adam Sandler. I'm not particularly talented. I'm not particularly good-looking. And yet I'm a multi-millionaire."

Does this seem similar?
see more on Adam Sandler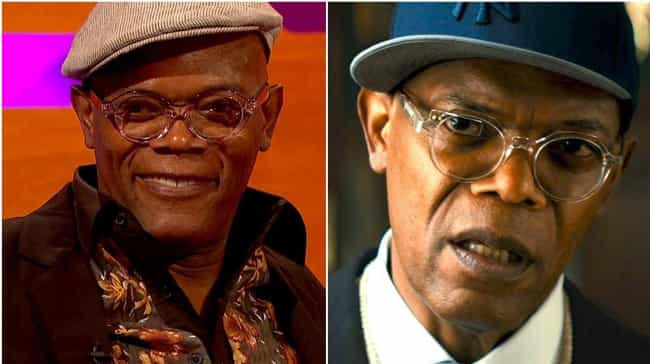 In real life: Samuel L Jackson tells it like it is. He'll never be accused of taking the back seat or riding b*tch.

In film and TV roles: Jackson seems exactly like he is on screen, sans the violence. He's the reason audiences buy the ticket. No need to hide that.

Notable quote: "I'm a good son, a good father, a good husband - I've been married to the same woman for 30 years. I'm a good friend. I finished college, I have my education, I donate money anonymously. So when people criticize the kind of characters that I play on screen, I go, 'You know, that's part of history.'"

Does this seem similar?
see more on Samuel L. Jackson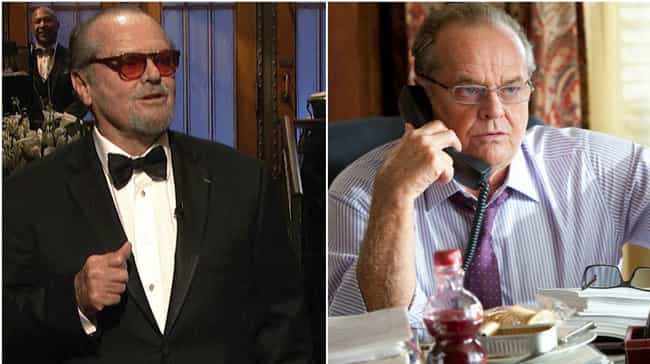 In real life: Born to a showgirl, raised by his grandparents while his real mother had to pretend to be his sister, and blessed with movie star good looks, Jack Nicholson was made for the silver screen. Until he was cast in Easy Rider, Nicholson struggled to find his place as an actor and writer. The role of George Hanson was the beginning of a long career playing iconic anti-heroes.

In film and TV roles: No matter the role, Jack is still Jack. Whether he's busting out of an asylum or hacking down a door with an axe, Nicholson can be counted on for that oh- so-Nicholson essence. He has skittered off the path with some surprising performances, such as About Schmidt, but the Jackness is strong with this one.

Notable quote: "When I come up against a director who has a concept that I don't agree with, or maybe I just haven't thought of it or whatever, I'd be more prone to go with them than my own because I want to be out of control as an actor, I want them to have the control, otherwise it's going to become predictably my work, and that's not fun."

Does this seem similar?
see more on Jack Nicholson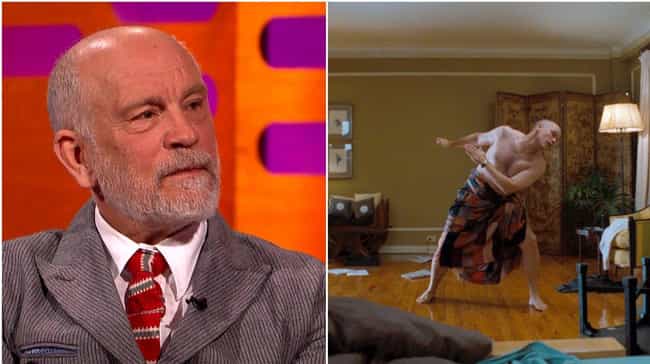 In real life: Learned, sharp, wry, and dry, John Malkovich is a serious man who is not afraid to lay down some serious comedy on the way to a point.

In film and TV roles: Malkovich is so Malkovich it's difficult for him not to be Malkovich. Case in point, Being John Malkovich, an entire movie based on the premise that Malkovich basically is in real life who he is in movies. As much as he delves into a character, there's no getting away from his Malkovichness.

Notable quote: "Some directors expect you to do everything; write, be producer, psychiatrist. Some just want you to die in a tragic accident during the shooting so they can get the insurance."

Does this seem similar?
see more on John Malkovich