Entertainment
Adult Beginners Movie Quotes

13 votes
13 voters
8 items
Adult Beginners movie quotes follow one man who loses everything then goes to live with his sister, brother-in-law and nephew. The comedy film was written by Nick Kroll, Jeff Cox and Liz Flahire. Ross Katz directed the movie, which opened in theaters on April 24, 2015.
In Adult Beginners, Jake (Nick Kroll) is putting his life back together after his business failed leaving him penniless. He decides to move in with his estranged sister Justine (Rose Byrne), brother-in-law Danny (Bobby Cannavale) and nephew Teddy (Caleb and Matthew Paddock).
Part of the agreement of staying with his sister's family involves Jake watching Teddy, something that Jake knows nothing about. He makes the best of it and he and Teddy have fun but it does't take long for Jake to overstay his welcome. With little of his former life available to return to, Jake has to decide the next step in his journey, one that might involve finally becoming a real adult.
Adult Beginners
brings some laughter to theaters already filled with movies such as
The Water Diviner
,
The Age of Adaline
True Story,
Ex Machina
and
The Longest Ride
.
The Last Three Years of My Life
Paul: So what are you up to now. Come on, man, give me the rundown. Make me jealous.Jake: Um... You can basically take the last three years of my life and light them on fire. I lost all of my money and a lot of other people's money. So, my sister's pregnant so I'm like helping her out a little bit.
Paul: Kids
Jake: Yeah, they're the future.
Paul: We'll see, but...
Jake: Mmmhmm, no, they are. They will be.
Paul: We'll see.
Jake: Not it's undoubted that children are the future.
Jake runs into an old classmate in a retail store and despite trying to blow him off, Jake explains what he's been doing recently. In turn, he also introduces the premise of the film.
Should this be higher or lower?
Need to Stay Here a Few Months
Justine: How long do you need to stay?
Jake: Three months
Justine: Three months?! I have to talk to Danny.
Jake: Like asking permission?
Justine: Like having a conversation because he's my husband.
...
Jake: I need to stay here for a few months.
Danny: Oh, sure.
Justine: I didn't get a chance to talk to him yet.
Siblings Jake and Justine talk about the idea of Jake staying with Justine and her family. She remarks that she needs to talk to husband Danny first, something Jake takes upon himself to handle.
Should this be higher or lower?
You Don't Really Live Here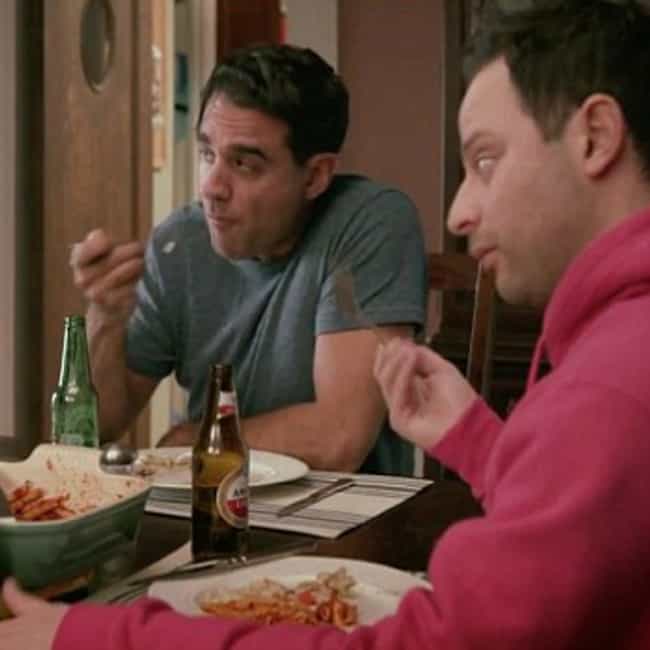 Danny: You think you've got it all worked out now, huh, after three months? You don't really live here.
...
Justine: The only reason you really stick around is when you need something.
Danny and Justine both confront Jake about having him in the house and in the family. It seems Jake is outstaying his welcome, and fast.

Should this be higher or lower?
Never Seen a Kid in a Suitcase Before
Jake: Good afternoon, ladies. What, you've never seen a kid in a suitcase before? Who's the stud, Teddy?
Teddy: Me!
Taking Teddy to the park, Jake gets some strange looks from the ladies there, mainly due to him using a suitcase as a stroller. This doesn't seem to bother Jake or Teddy as they are having fun regardless.
Should this be higher or lower?