Culture
Adult Hey Arnold Jokes That Probably Went Over Your Head

13.8k votes
3.7k voters
2.6M views
13 items
You may remember

Hey Arnold

for Stoop Kid,

Helga's unrequited love

, or, of course, the main character's unforgettable football head. You laughed along as the gang navigated the sticky situations that come up in middle school. But you probably didn't catch all of the adult jokes in the show. Maybe you noticed your parents giggling mysteriously at certain moments while you obliviously smiled along with Harold or Grandpa. Well, they were probably laughing at one of the many dirty jokes in the cartoon. Check out these list of adult jokes in

Hey Arnold

to find out what you were missing the whole time. You'll never look at cartoons the same way again.

back to page 1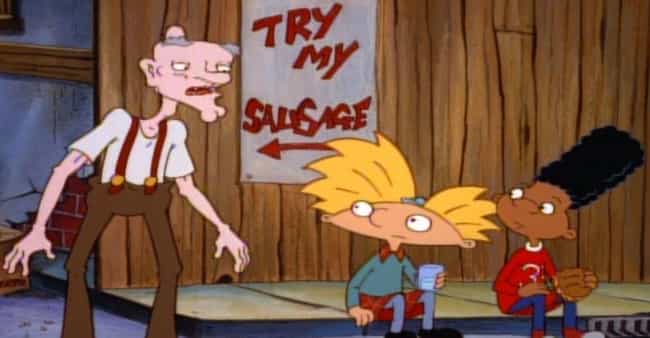 In the season six episode called "The Eating Contest," there was a sign that said "try my sausage," and pointed to an alley. This adult joke manages to be bold and subtle at the same time, but surely the writers knew what they were doing.
In the season five episode "Timberly Loves Arnold," Lila invites Gerald's little sister Timberly along on her outing with Arnold... as long as he doesn't mind "making it a threesome." Innocent or offensive? It certainly seems like the writers were giving a little nod to

ménage à trois

, since Arnold blushes when the joke is made.
Grandpa Gave Hitler a Wedgie
On season four's "Veterans Day," Nazi soldiers were portrayed. But instead of a swastika on their arm bands, we saw sad faces. More notably, there was a scene in which Grandpa Phil beat up Adolph Hitler, poking him in the eyes and giving giving him a noogie and a wedgie.
Grandpa Almost Read Arnold an Inappropriate Story
Grandpa was reading to Arnold from a book, when he began to tell a story of "the hottest night the jungle ever had." After a minute, he realized it was going to an inappropriate place, and stopped.