Entertainment
All The Adult Jokes You Missed From The Toy Story Movies When You Were A Kid

12.2k votes
2.5k voters
159.1k views
16 items
List Rules Vote up the funniest adult jokes you never noticed in Toy Story 1, 2, and 3
Between the three Toy Story movies that have been released, there were more than a few adult jokes you may have missed. It's not unusual for kid's films to contain some humor for the grown-ups who may be forced to watch along with their children, so this type of thing should be expected. Let's take a look back at some adult jokes in Toy Story, whether they were made in 1995 or 2010.
Toy Story is one of Disney/Pixar's most popular and profitable properties, probably because it contains a lot of humor for both children and adults. This list focuses on the adult side of things. Vote up the best jokes you never realized were in
Toy Story
.
You Know What Big Wings Mean
When Buster needs to get out of the room, Jessie hops on a toy car and rides it like a skateboard, launching herself on the door handle to help Buster escape. A wide-eyed Buzz is clearly awestruck and his wings shoot up, fully erect.
Is this amusing?
Bo Peep and Woody's Night Plans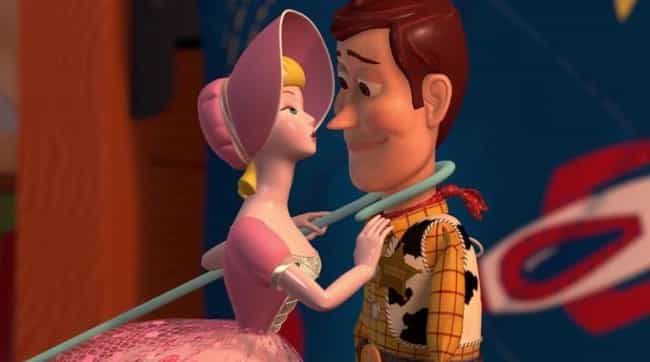 There's a scene in which Bo Peep uses her shepherd's crook to pull Woody's face close to hers and she flirtatiously asks, "What do you say I get someone else to watch the sheep tonight?" They're definitely going to get together and hook up later.

Is this amusing?
Mr. Potato Head Does Not Appreciate Suck-Ups
In one scene, Slinky comes to Woody's defense and Mr. Potato Head mockingly removes his lips and presses them against his butt, insinuating that Slinky is kissing Woody's butt.
Is this amusing?
Woody Doesn't Want to Corrupt the Young Toys
When Buzz first comes on the scene, the other toys are super impressed by him, and when Woody is searching for a way to describe him, Buzz offers assistance, saying, "I think the word you're searching for is 'Space Ranger.'" Woody replies, "The word I'm searching for I can't say because there's preschool toys present."
Is this amusing?