Total Nerd
Stories About Alan Rickman From Behind The Scenes Of 'Harry Potter'

35.2k votes
6.9k voters
298.9k views
13 items
List Rules Vote up the stories that make you miss Alan Rickman the most.
Whether Snape was ultimately a good or bad guy is a matter of eternal debate, but one thing is for certain: the actor who played him was definitely a good guy, as these stories about Severus Snape behind the scenes prove. Well, not Snape, exactly, but acclaimed British actor Alan Rickman. On the set of Harry Potter, he brought his professional A-game, as well as an undeniable sense of fun and generosity. As the actors who worked with Alan Rickman have attested, he left a memorable and lasting impression on all fortunate enough to share the lens with him.
Rickman was already an award-winning, Royal Academy of Dramatic Art-trained stage and screen actor when he landed the role of Snape. By all accounts, he embraced the epic importance the role had for Harry Potter fans, but he also had a sense of humor and kindness about the whole thing. At his memorial service, actress Juliet Stevenson remembered, "Whenever Al would go out to supper, and anyone else would try and pay, he would somehow have phoned ahead or slipped his credit card ahead of the meal, so no one even got a look at the check. He'd just say, 'I've got two words for you: Harry Potter.' And he became known for doing that."
Rickman passed in January 2016 after battling pancreatic cancer. Let's revisit some behind-the-scenes stories of Alan Rickman on Harry Potter as a way to commemorate everyone's favorite potions master.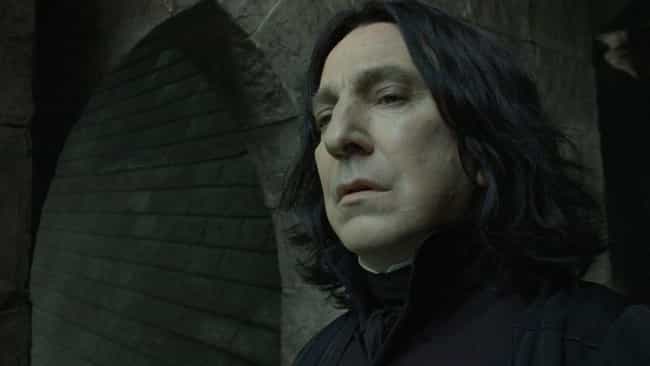 His Method Acting Intimidated - And Impressed - The Kid Actors On Set
Evanna Lynch, who played Luna Lovegood, remembered with a laugh that Rickman "was a method actor, so we were all pretty much terrified of him on set. I just remember him being creepy around the corridors. He didn't smile, and everyone talked about him in a reverent tone." Tom Felton, who portrayed Draco Malfoy, concurred:
I remember my first scene with Alan Rickman and I was anxious because he is a slight "method" actor; as soon as he is in his cloak, he walks and talks like Snape - it is quite terrifying...

After I plucked up the courage, we chatted for about half an hour, and he told me where he got his inspiration from and how he thinks of approaching his lines. It is fascinating for a young actor to be able to talk to your heroes like that. It is priceless.

Does this make you miss him?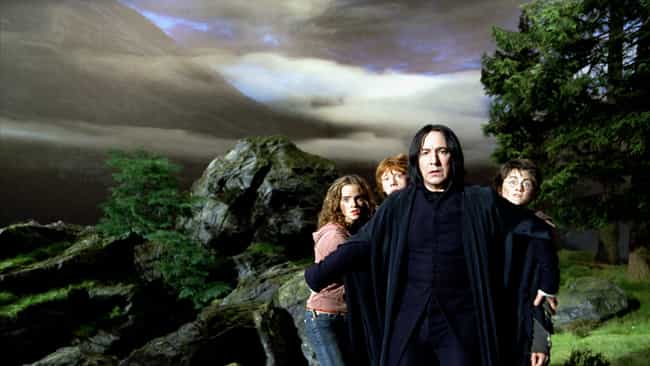 He Kept A Funny Sketch Of Himself Drawn By Rupert Grint During Filming
Rupert Grint (Ron Weasley in Harry Potter) was doodling caricatures while on set one day. As he was working on one of Rickman, Grint had no idea that Snape himself was looking over his shoulder. "I was so scared," Grint said, because in the sketch he had "exaggerated a few of his features." But Rickman was not upset in the slightest - the exact opposite, in fact.
"I made him sign it, and I have it in my possession," Rickman said proudly. "I'm very fond of it."

Does this make you miss him?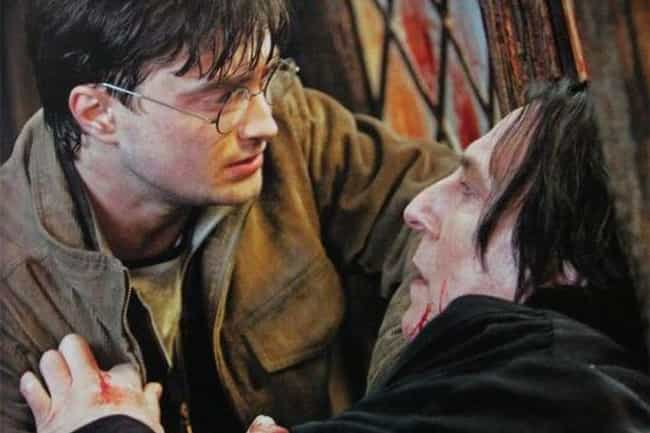 He Treated Daniel Radcliffe Like A Peer, Not A Child
After Rickman's passing, many of his co-stars from Harry Potter and beyond came out to pay homage. Daniel Radcliffe, AKA Harry Potter himself, penned a powerful tribute in which he hailed Rickman as "undoubtedly one of the greatest actors I will ever work with" and "one of the loyalest and most supportive people I've ever met in the film industry." He went on:
As an actor he was one of the first of the adults on Potter to treat me like a peer rather than a child. Working with him at such a formative age was incredibly important, and I will carry the lessons he taught me for the rest of my life and career. Film sets and theater stages are all far poorer for the loss of this great actor and man.

Does this make you miss him?
He Listened To His iPod In Some Of The Great Hall Scenes
During some of the Great Hall scenes where Snape was seated at the head of the table, Rickman would sneak an iPod into his voluminous cape and listen to music during filming. "I could just see, sneaking behind his wig and down into his robes, the white wire of some iPod headphones," recalled actor Warwick Davis, who played Professor Flitwick.
He was just quietly listening to something, and I started to wonder, what does Alan Rickman as Professor Snape listen to on his iPod? An audiobook? Some Shakespeare? Some classical music? Europop? Some techno beats? I don't know. I never did ask him, and I wish I had. I'd love to have known.

Does this make you miss him?