Entertainment
Albert Nobbs Movie Quotes

29 votes
16 voters
8.4k views
8 items
The best 'Albert Nobbs' movie quotes include clever lines uttered by the film's star, Glenn Close, who disguises herself as a man in order to make a living in 19th Century Ireland. Her decision has far-reaching ramifications, of course. 'Albert Nobbs,' directed by Rodrigo Garcia, is based on the George Moore short story 'The Singular Life of Albert Nobbs.' Do you have a favorite 'Albert Nobbs' quote that isn't on this list? Add it! And if you do see your favorite quote from the movie listed, by all means, vote it up.
Glenn Close's performance in the title role of Albert Nobbs won heavy praise from critics. On January 24, 2012, Close was nominated for a Best Actress Academy Award for the portrayal. In addition, co-star Janet McTeer was also nominated for a Best Supporting Actress Oscar for her portrayal of Hubert Page, another woman living disguised as a man. 'Albert Nobbs' also stars Mia Wasikowska, Aaron Johnson, Brendan Gleeson and Jonathan Rhys Meyers, among others.
Looking for more great movie quotes? Check out these lists for the best lines from
'The Rum Diary,'
'War Horse,'
'The Girl With the Dragon Tattoo,'
'Hugo,'
'The Iron Lady,'
'The Muppets,'
'One for the Money,'
'Arthur Christmas,'
'Happy Feet 2,'
'Tower Heist,'
'Puss in Boots,'
'The Smurfs' movie,
'Cars 2'
and
'Jack and Jill.'

Dr. Holloran: "Why aren't you in fancy dress?"
Albert: "I'm a waiter."
Dr. Holloran: "Well I'm a doctor. We are both disguised as ourselves."
Dr. Holloran (Brendan Gleeson) is one of the more kind residents of Dublin's Morrison's Hotel. Little does he know just how disguised Albert really is...
Should this be higher or lower?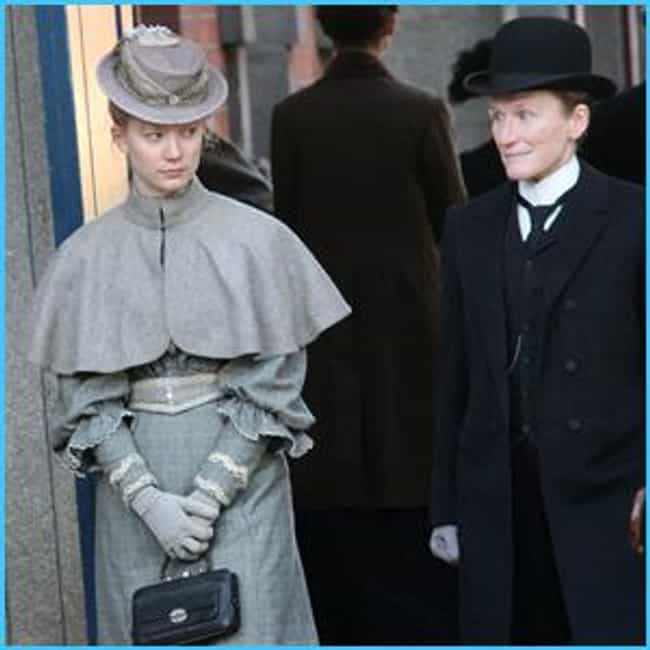 Helen (to Albert): "I think you are the strangest man I have ever met."
Helen works as a housemaid at the Morrison Hotel in Dublin, and works alongside Albert. Albert decides "he" wants to marry and have a semi-normal life, but Helen knows something isn't quite right about Albert.

Should this be higher or lower?

Hubert: "You don't have to be anything but who you are. Look at how you've survived all these years. You've worked hard - you've saved your money..."
Hubert Page's false persona has allowed "him" to work successfully and, thanks to his happy marriage, to avoid becoming lonely and isolated. Albert sees what Hubert has and wants the same - thus begins his pursuit of Helen (Mia Wasikowska).

Should this be higher or lower?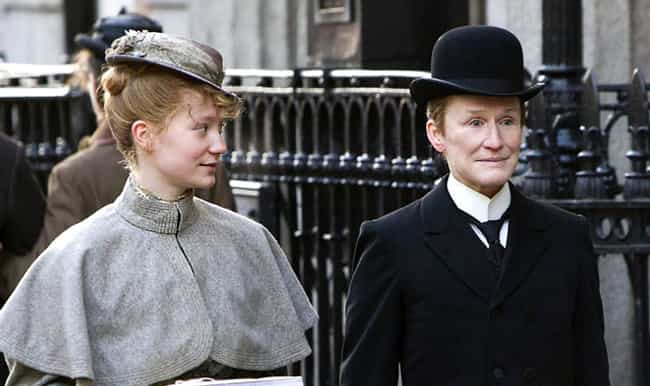 Albert: "I was wondering if you would come out for a walk."
Helen: "Are you asking me to walk out with you?"
After living an extremely isolated life for decades, Albert Nobbs decides it's time to let others in. "He" decides that young housemaid Helen is the person to help. If he can win her affections and marry her, they can live happily in America together.

Should this be higher or lower?