Games
All The Monopoly Properties, Ranked

Updated September 12, 2019
3.1k votes
733 voters
44.1k views
28 items
List Rules Vote up the most desirable and profitable properties in Monopoly.
Monopoly is one of the most loved board games in the world. By way of proof, look at how many versions of the game there are - more than 1200 editions of Monopoly exist, and it has been printed in dozens of languages, because the core mechanics of collecting, trading, and money management are universal. This list is focused on the original version of Monopoly, set in Atlantic City, NJ, and contains all the properties.
Everyone has their own strategy for Monopoly. Some buy any and everything early, others wait and buy only what they consider the best spaces. What makes the game fun is the perception and strategy of each player. The more you learn, the better at the game you become; familiarizing yourself with all the Monopoly properties, and understanding which are the best properties in Monopoly, is the place to start. Let this list of all Monopoly properties be your guide, and may you learn to own the board.
This list considers not just the cost of a property, but also the frequency with which players land on them and expected return on investment. For extremely detailed information on the actual value of all Monopoly properties, check out this calculator.
NOTE: Frequency ranks are
based on long-term game play
, not a single run through the board, and differ depending on whether a player visits, or gets sent to, jail while moving around the board. The term "short" refers to visiting jail; "long" refers to being stuck in jail.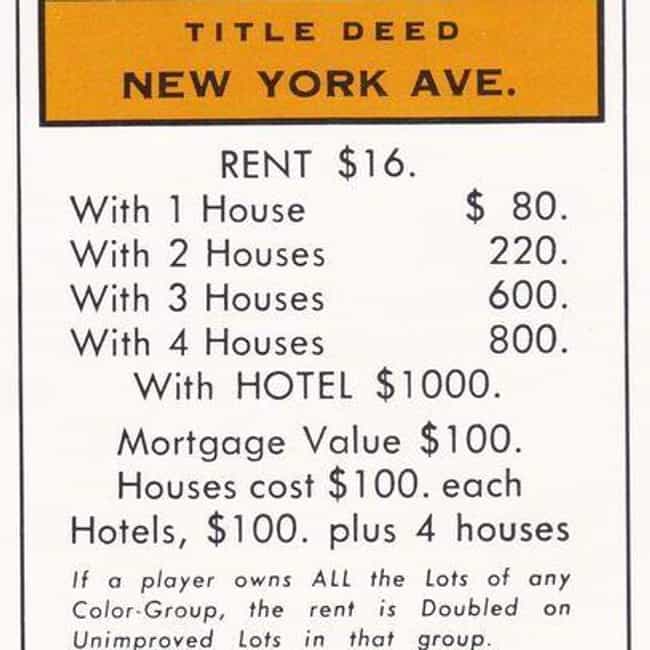 Real Life Equivalent: Not the best street in Atlantic City. New York Avenue was once lined with innovative architecture, but in 2016 is an extremely nondescript street filled with parking lots, vacant lots, and warehouse-type buildings.
Pros to Owning: Rolling a nine coming out of jail will land a player here. Also, drawing a "Go Back Three Spaces" card from Chance will land a player here. As a result, New York Avenue sees heavy traffic.
Cons to Owning: None. It is part of the must buy orange set.
Frequency Rank:
4 short, 7 long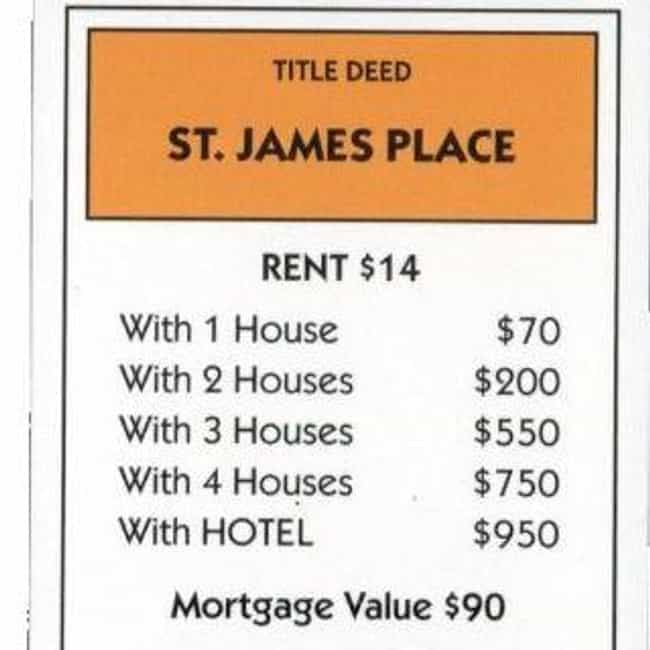 Real Life Equivalent: St. James Place is a lot of history in a small space. While it only runs for a few blocks, there are countless classic buildings on the property.
Pros to Owning: This is one of the most valuable properties in the game as, statistically, the orange spaces are the most landed on group.
Cons to Owning: Zero cons. Always buy orange properties.
Frequency Rank:
12 short, 9 long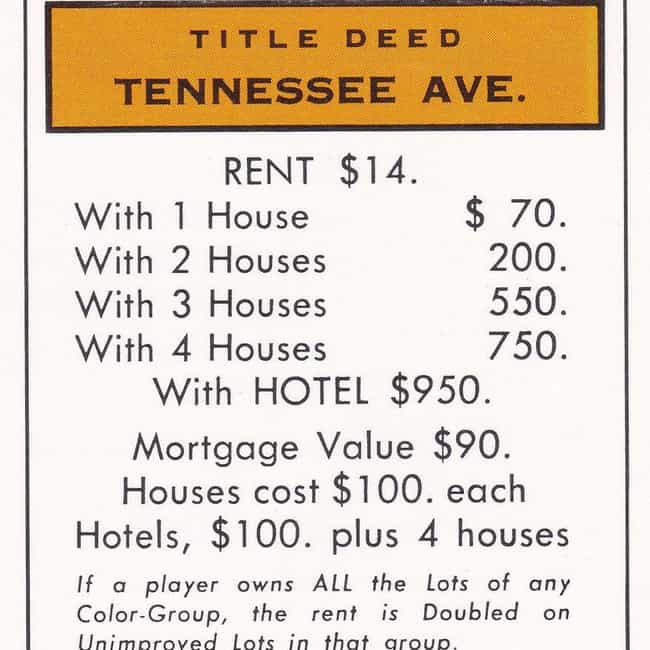 Real Life Equivalent: Tennessee Avenue is a long street that takes in plenty of Atlantic City. Among other things, the street is home to the New Jersey Casino Control Commission.
Pros to Owning: A must-buy property. Any roll of eight when leaving jail will land a player here.
Cons to Owning: None. This is the best space in the game.
Frequency Rank:
7 short, 6 long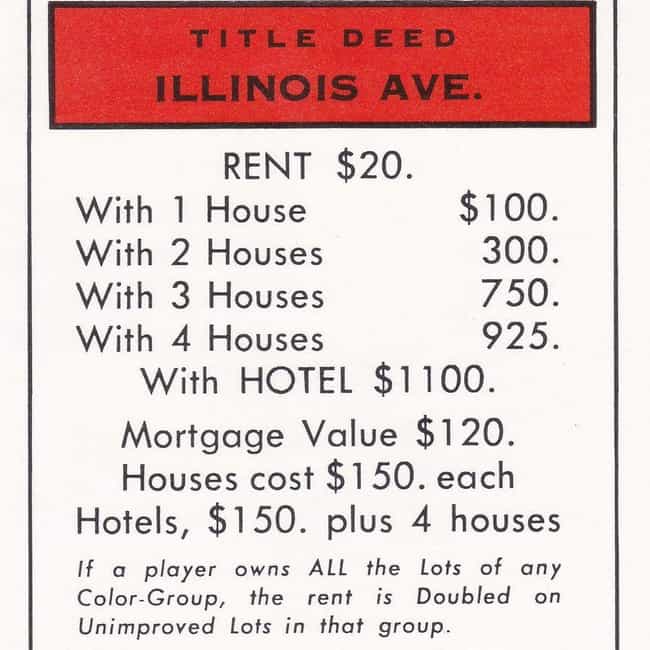 Real Life Equivalent: Now named Martin Luther King Jr. Blvd, the deed to this property includes the old Carnegie Library.
Pros to Owning: This is the most frequently landed-on space on the board, and the $1100 rent is a big deal.
Cons to Owning: Like all red spaces, this is a high risk/high reward property due to building costs.
Frequency Rank:
2 short and long