Entertainment
A Complete Timeline Of Each Of The Relationships Ariana Grande Name-Drops In 'Thank U, Next'

Updated June 14, 2019
21.1k views
4 items
The opening lyrics to Ariana Grande's "thank u, next" call out each of her most prominent exes: Big Sean, Ricky Alvarez, Pete Davidson, and Mac Miller. In verse, she says a little something about what each guy means to her. The song's chorus then reveals that through these four relationships, Grande has learned to love herself, which makes the whole song the sweetest clapback ever recorded.
Grande's verse is good, but it doesn't provide any of the juicy details fans want to know about each of these guys. Sure, Sean "wasn't a match," but why? And why is she laughing about songs she wrote about Ricky Alvarez? The stories are too tantalizing to brush aside in the name of poetic license, so we're diving into the backstories behind each of the exes mentioned in "thank u, next." Which one of these exes taught Ari love? Who showed her patience? And who prepared her how to handle pain?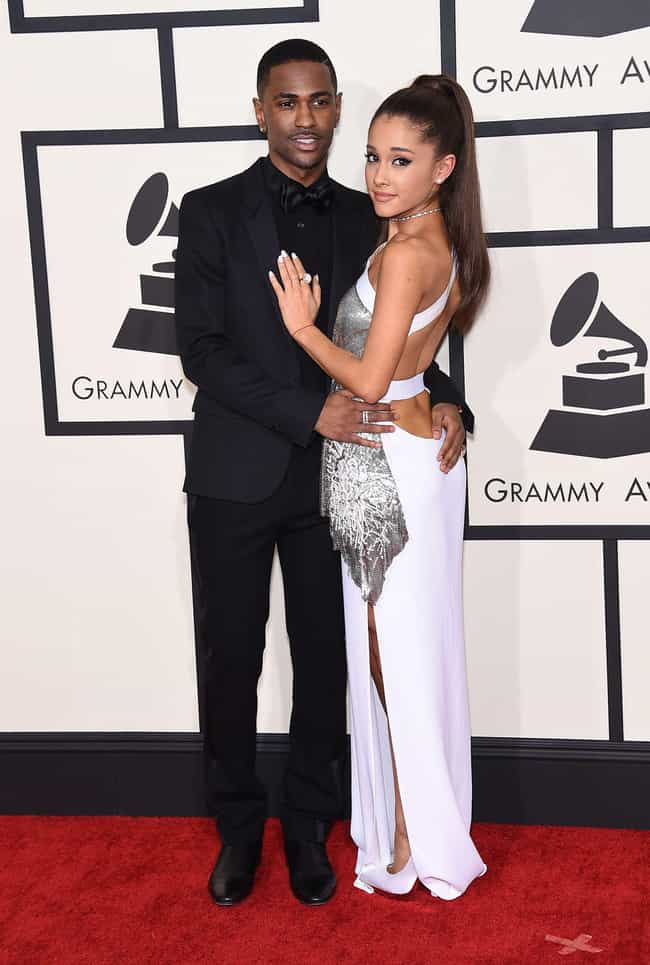 The Lyric: "Thought I'd end up with Sean/But he wasn't a match"
The Relationship: Grande and Big Sean started dating in 2014, but they kept it under wraps for a while. The two met when Sean contributed two verses to "Right There" on Grande's debut album, Yours Truly. For her second album, My Everything, the rapper featured on "Best Mistake" and even added some whispering to "Problem." While on tour in 2014, Grande and Sean got hot and heavy during their performances of "Best Mistake" and "Right There."
The Breakup: Big Sean and Grande amicably called things quits in 2015 because they were both too busy. At the time, a representative for the two released a statement saying, "They both care deeply for each other and remain close friends. We kindly ask that the media respect their wish for privacy regarding this personal matter at this time."
An unnamed source close to both artists told E! News, "This was really difficult for them to publicly call it quits, but they thought it would be better this way, so people know there is no bad blood between them at all."
How He Responded To The Song: According to Grande, Big Sean heard "thank u, next" before it was released. When a fan made a joke about Sean and another one of her exes, Ricky Alvarez, hearing the track, she responded, "They heard it before it came out." Sean hasn't publicly said anything about the track.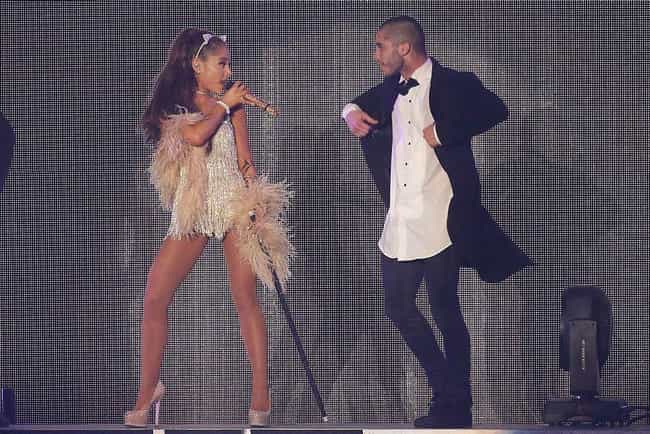 The Lyric: "Wrote some songs about Ricky/Now I listen and laugh"
The Relationship: Ricky Alvarez appeared in the music video for "Problems" and worked as a backup dancer for Grande in her live shows. Once the singer split with Big Sean, she and Alvarez began seeing each other. It's unclear when in 2015 they started dating, but once they were spotted making out in Wolfee Donuts in Lake Elsinore, CA, the cat was out of the bag.
The Breakup: The duo split in 2016. While there wasn't a press release this time around, fans figured out what had happened when the singer began tweeting things like "change is f*cking fantastic."
How He Responded To The Song: According to Grande, Alvarez heard the song before it was released, and he was cool with the whole thing. On her Instagram story, Grande admitted Alvarez got the "worst line" in the song, but he was chill about the whole thing and posted his own Instagram story saying he had "nothing but gratitude" for the singer.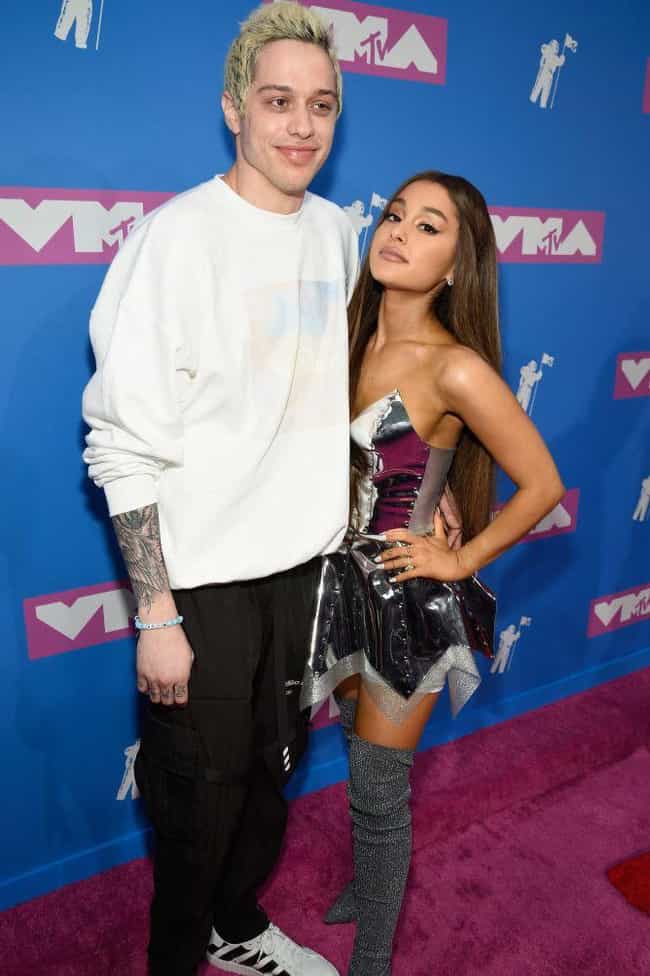 The Lyric: "Even almost got married/And for Pete, I'm so thankful"
The Relationship: Pete Davidson and Grande first met when Grande appeared on Saturday Night Live in March 2016. They did some bits together, but at the time it just seemed like these two were goofing around. Some gossip sites said the two were seeing each other casually, but that changed in May 2018 when Davidson posted a pic of the two on Instagram dressed in Gryffindor robes along with the caption, "The chamber of secrets has been opened." For the next few weeks, the two basically existed only in each others' Instagram accounts.
By June 11, 2018, the two were engaged. Nick Cannon later said Davidson called him before popping the question.
The Breakup: On October 14, 2018, Davidson and Grande officially announced their separation, but all the signs were there: Davidson covered up his bunny ears neck tattoo and even joked about the two breaking up on SNL a few weeks earlier.
From the outside, the breakup looked to be a mutual thing, with a friend saying, "It was way too much too soon." Then Davidson joked about their failed engagement in an SNL promo, and it definitely upset the singer. She wrote, "for somebody who claims to hate relevancy u sure love clinging to it huh" on Twitter before quickly deleting the tweet.
How He Responded To The Song: Davidson was pretty cool about the whole thing, and rather than get too snarky on SNL again, he quickly addressed the breakup via "Weekend Update." He told viewers, "I know some of you are curious about the breakup, but the truth is it's nobody's business. Sometimes things just don't work out, and that's OK. She's a wonderful, strong person, and I genuinely wish her all the happiness in the world."
As Michael Che signed off, Davidson added, "I'm still a great song though."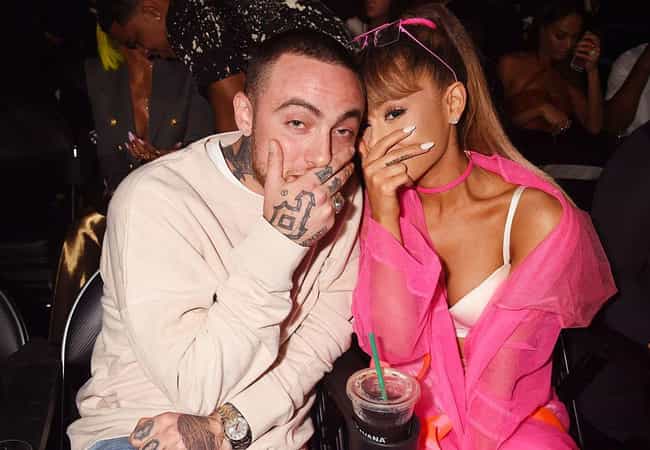 The Lyric: "Wish I could say, 'Thank you' to Malcolm/'Cause he was an angel"
The Relationship: Mac Miller and Grande's romance goes back to her 2013 video for "The Way" where the two kissed vigorously. Miller insisted she was just a friend, however, and not a romantic partner. Three years later Miller leveled up to full-on boyfriend when an Instagram post from September 6 announced their couple status with a post of the pair simply captioned "baabyyy."
The Breakup: Grande ended her relationship with Miller in 2018 after his admitted use of substances began to spiral out of control. According to a friend close to Miller, Grande was a rock for the rapper, and they were "very much in love." They continued, "She was incredible when he was first sobering up. She was a f*cking G to him. There could not have been anybody more supportive of him being sober than Ariana."
After their breakup, Miller was hauled in for a DUI, and a fan blamed Grande for the incident, specifically because Miller recorded an album about her. The singer responded to the fans, saying, "How absurd you minimize female self-respect and self-worth by saying someone should stay in a [bad] relationship because he wrote an album about them, which by the way isn't the case (just 'Cinderella' is ab me)."
In 2018, Miller appeared on Zane Lowe's Beats 1 show and discussed Grande and the overwhelming amount of coverage she and her boyfriend Pete Davidson were getting. He told Lowe he "kind of knew, but not really." He continued saying he was happy she was moving on with her life.
How He Responded To The Song: Sadly, Miller passed in September 2018, two months before the release of Grande's track.