America
America's Coolest Ghost Towns

4.3k votes
945 voters
91.4k views
38 items
List Rules Vote up the ghost towns you want to visit.
"Ghost Town" is a slang term for a town or city that has, for one reason or another, been abandoned by people. Typical reasons for cities to be evacuated and abandoned by humans include an economic collapse, armed conflicts and wars, changes in the transportation grid, natural disasters such as floods and earthquakes or - in some cases - specific acts of local governments. Sometimes, the term "ghost town" is also applied to places that are sparsely populated, or from where a once-large population scattered, but this list will largely focus on abandoned, empty ghost towns.
American academics have attempted to get even more specific about the definition of "ghost town." Professor T. Lindsay Baker of Tarleton State University in Texas has issued two defining characteristics of ghost towns: (1) there is no more reason for this town to exist and (2) there are tangible remnants of the town for visitors to see.
In America, the notion of a "ghost town" became popularized largely following the
California Gold Rush
, when a variety of mining towns and camps sprung up across the Western and even parts of the Southern US that were later abandoned when the local resources were used up. Some of these ghost towns entered the popular culture, including Deadwood, South Dakota (which inspired the HBO TV series of the same name) and Cripple Creek, Colorado. Many of these ghost towns have been preserved and serve as state parks, while other former ghost towns have been slowly repopulated over time (such as Aspen, Colorado).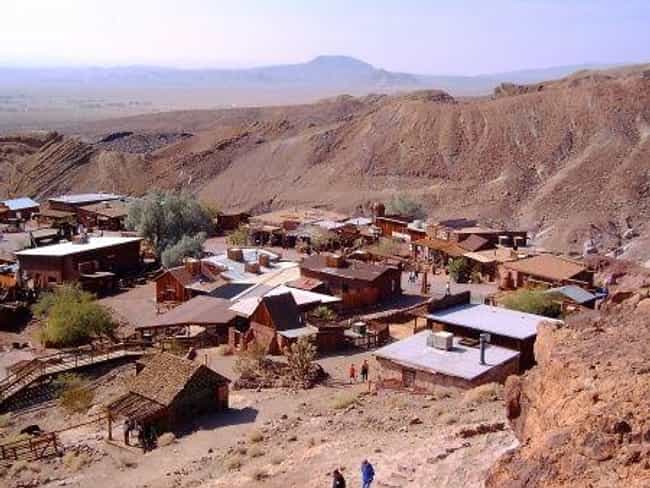 Calico is a ghost town and former mining town in San Bernardino County, California, United States. Located in the Calico Mountains of the Mojave Desert region of Southern California, it was founded in 1881 as a silver mining town, and today has been converted into a county park named Calico Ghost Town. Located off Interstate 15, it lies 3 miles from Barstow and 3 miles from Yermo. Giant letters spelling CALICO can be seen on the Calico Peaks behind the ghost town from the freeway. Walter Knott purchased Calico in the 1950s, architecturally restoring all but the five remaining original buildings to look as they did in the 1880s. Calico received California Historical Landmark #782, and in 2005 ...more on Wikipedia

Is this cool?
see more on Calico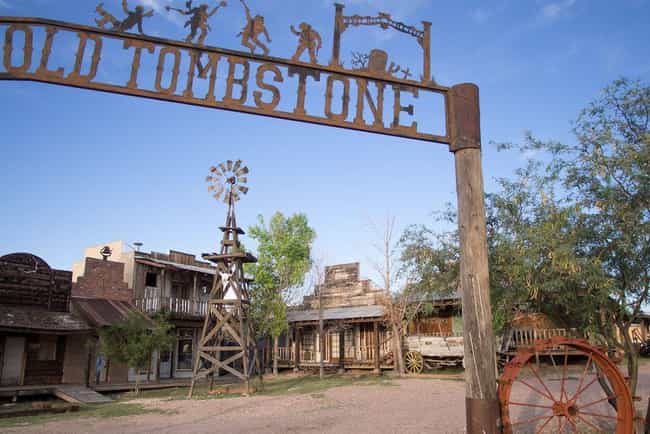 Tombstone Historic District
Tombstone is a historic western city in Cochise County, Arizona, United States, founded in 1879 by Ed Schieffelin in what was then Pima County, Arizona Territory. It was one of the last wide-open frontier boomtowns in the American Old West. The town prospered from about 1877 to 1890, during which time the town's mines produced US$40 to $85 million in silver bullion, the largest productive silver district in Arizona. Its population grew from 100 to around 14,000 in less than seven years. It is best known as the site of the Gunfight at the O.K. Corral and draws most of its revenue from tourism. The town was established on a mesa above the Tough Nut Mine. Within two years of its founding, ...more on Wikipedia

Is this cool?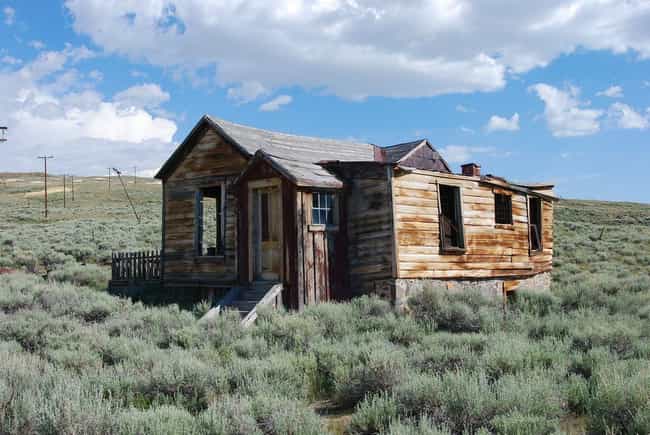 Bodie is a ghost town in the Bodie Hills east of the Sierra Nevada mountain range in Mono County, California, United States, about 75 miles southeast of Lake Tahoe. It is located 12 mi east-southeast of Bridgeport, at an elevation of 8379 feet. As Bodie Historic District, the U.S. Department of the Interior recognizes it as a National Historic Landmark. Also registered as a California Historical Landmark, the ghost town officially became Bodie State Historic Park in 1962, and receives about 200,000 visitors yearly. Starting in 2012, Bodie is administered by the Bodie Foundation, which uses the tagline Protecting Bodie's Future by Preserving Its Past. ...more on Wikipedia

Is this cool?
see more on Bodie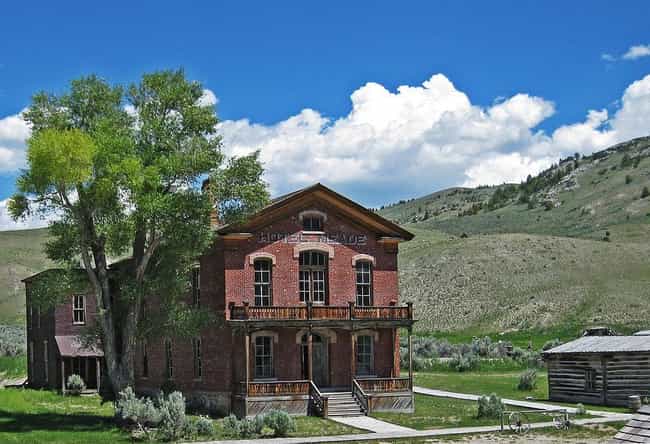 Bannack is a ghost town in Beaverhead County, Montana, United States, located on Grasshopper Creek, approximately 11 miles upstream from where Grasshopper Creek joins with the Beaverhead River south of Dillon. ...more on Wikipedia

Is this cool?