Criminals
Nine Of America's Most Wanted's "Dirty Dozen" Are Still At Large

As surprising as it may sound, over 1,200 criminals have been caught with the help of America's Most Wanted, a long-running television show dedicated to profiling suspected criminals and their crimes, and then asking the public to call in with any information they may have about a criminal's whereabouts. The show was an instant success after it first aired on the Fox Network in February of 1988, and one of its investigative profiles even lead to the capture of a fugitive on the FBI's Most Wanted List within four days of its broadcast.
In each episode, host John Walsh - whose own son had been a victim of kidnapping and murder - presented photos, crime reenactments, and key suspects from most wanted lists around the country. As a result, Walsh eventually ended up creating his very own most wanted list: America's Most Wanted's Dirty Dozen. The criminals that made it onto this list had already been profiled on the show, but somehow continued to elude police. And of the original dozen, nine still remain at large.
These facts about America's Most Wanted's Dirty Dozen include everything from the crimes they committed to their last known whereabouts - and four of them have even earned themselves a spot on the FBI's Most Wanted list, too.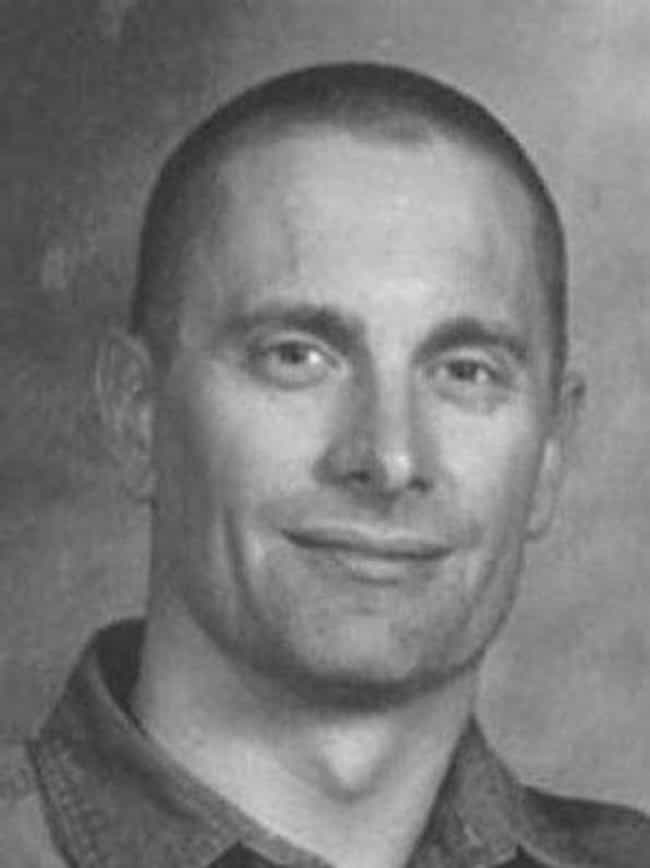 Robert Fisher Allegedly Blew Up His House With His Family Inside
Robert William Fisher is believed to have killed his wife and two children in Scottsdale, Arizona, on April 10, 2001. Marital troubles stemming from Fisher's cruel and controlling nature had been plaguing the couple for some time, leading Fisher to allegedly begin seeing a prostitute, all the while fearing that his wife, Mary, would find out.
Having been from a divorced family himself, Fisher would frequently tell his friends that he "could not live without his family"; however, it turned out that Mary had already been making plans to divorce him. Apparently unable to bear the idea of losing his family, Fisher allegedly shot his wife in the back of the head before slitting the throats of their two children. He then pulled the gas line out of their home so it would leak, lit a candle, and took off with a ten-hour head start on law enforcement while his home exploded into ruin behind him.
The FBI had reason to believe that Fisher had been living in Payson, Arizona, in 2012; however, he has not been sighted in years.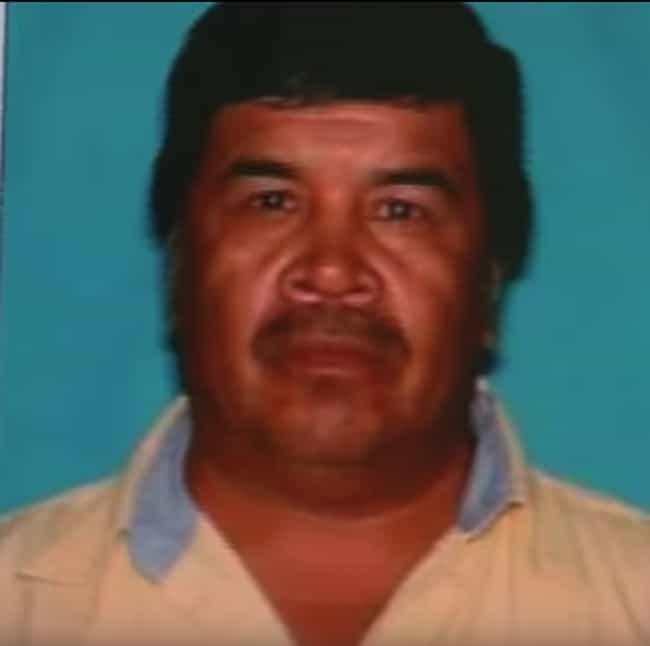 Jose Fernando Corona Is Accused Of Murdering His Wife With A Chainsaw
In Lewisville, Texas, law enforcement officers were absolutely shocked by the brutality of Maria Corona's murder on April 26, 2010. When arriving on the scene, they found two chainsaws covered in blood and tissue sitting on the back of a pickup truck, one of them still running. Officers also located Maria's decapitated body lying the street.
However, her husband, Jose Fernando Corona, with whom she had six children and alleged marital problems, was no where to be found. Police believe that Jose had a nervous breakdown after which he murdered his wife and told his son-in-law that he "had done it, he had killed her and was going to drag her body next door."
Corona is then believed to have stolen a gold 1991 Ford Ranger from a local dealership and fled the area. Police believe that he may be staying with friends in Friona, Texas.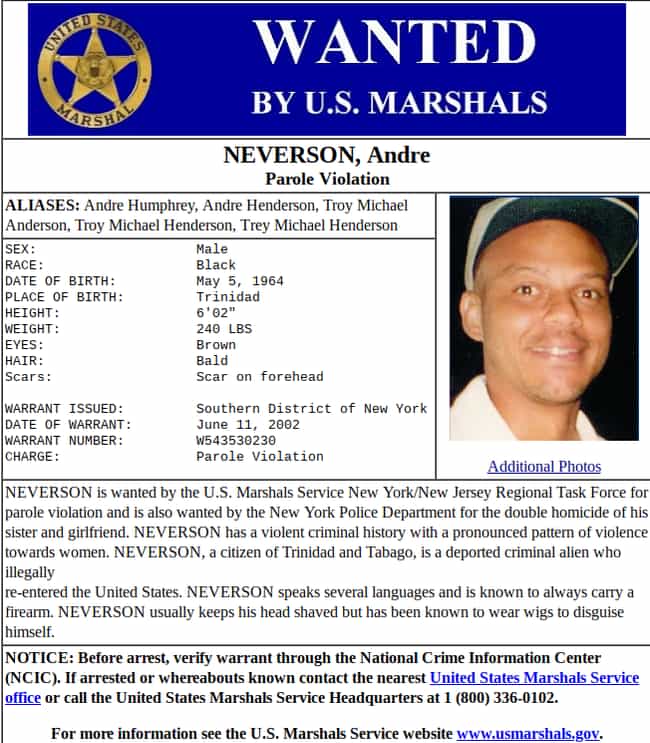 Andre Neverson Is Wanted On Two Counts Of Murder
Upon being released from prison after serving time for the murder of a former girlfriend's uncle, Neverson moved into a house with his sister, Patricia, in a suburb of Brooklyn, New York. Though Patricia had stood by his side throughout his imprisonment, the two began fighting soon after he moved into her home, as she had apparently been too slow to pay him back the money he lent her to purchase it. As a result, Neverson had begun demanding full ownership of the house.
Then, in July 2002, Neverson called his father and told him that he had killed Patricia, prompting a frantic call to 911. Soon after, Neverson's father found Patricia in a pool of blood in the home she shared with her brother. Meanwhile, Neverson had left the crime scene to go see his girlfriend, Donna Davis. After an argument erupted while they were in a car, Neverson is alleged to have killed Davis as well.
Neverson had never been apprehended for either crime, but has been spotted in both Brooklyn and Jamaica in years since.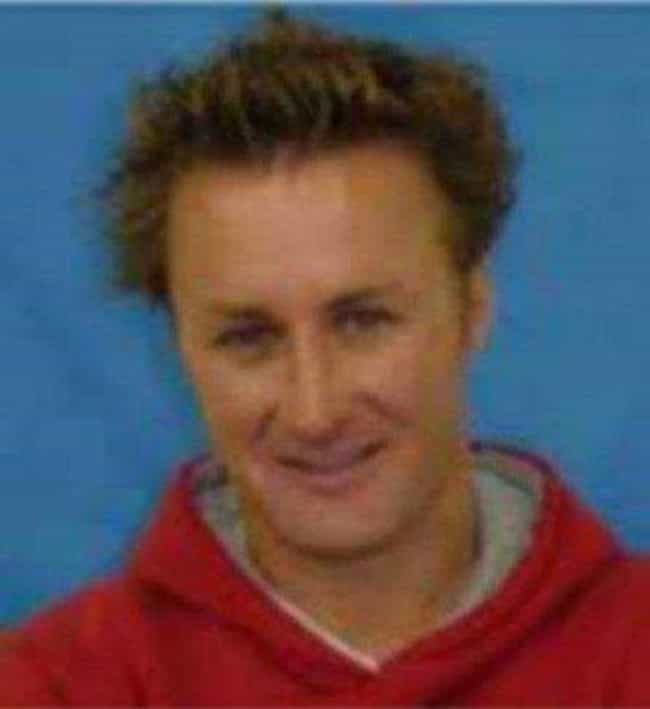 Jason Derek Brown Is Wanted For Murder And Armed Robbery
On November 29, 2004, 24-year-old Robert Keith Palomares had been working as an armored car driver picking up weekend box-office deposits from a movie theater in Phoenix, Arizona, when he was attacked from behind and shot six times point blank in an armed robbery. The assailant, who promptly escaped on a bicycle, was later identified as Jason Derek Brown thanks to a fingerprint smudge he left on the getaway bike. After murdering Palomares, Brown is alleged to have stolen $56,000 from the armored car before making his escape.
Brown was last seen in August 2008, when he was recognized by an acquaintance while stopped at a red light in Salt Lake City, Utah. Brown drove through the red light and the witness alerted police.