Making mummies in ancient Egypt wasn't for the faint of heart. Mummification was developed thousands of years ago but didn't become standard practice in Egypt until the Old Kingdom (c. 2600-2150 BCE). Embalmers were sacred individuals tasked with making sure the bodies of loved ones were appropriately prepared to make the journey to the afterlife. Ancient Egyptians approached mummification according to a detailed process tied up in myth, preservation techniques, and religious offerings. The body and soul were inextricably linked: For an individual to continue to the afterlife, he or she had to be identifiable in the underworld for final judgment.
How bodies were handled in ancient Egypt wasn't determined strictly by spiritual beliefs, however. Economics, social class, and politics were all critical factors, and the embalming trade depended as much on the client as anything else. Ancient Egyptian embalming involved specific materials, but embalmers didn't uniformly apply them, nor were all embalmers created equal. Here's what it was like to be an Egyptian embalmer. 
Photo: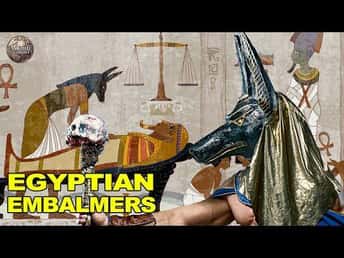 Photo: Daniel Mayer / WIkimedia Commons / CC BY-SA 4.0

Water, Oil, And Salt Were At The Core Of Any Good Embalming

The process changed over time, but cleaning, drying, and purifying the body were fundamental to the procedure. Water was used to wash the body and was mixed with natron to eat away the flesh. The process was potentially harmful to the embalmers, as well - natron could be hard on the skin, eyes, and lungs.

Natron, a naturally occurring mineral salt made of sodium carbonate, was used to dehydrate the body. Once all the organs were removed from the torso, it was covered with natron and set aside for roughly 40 days. They were placed on tilted tables, so fluid would drain into awaiting containers. Evidence indicates workers used sodium chloride, or common salt, as well. During the earliest days of mummification, bodies were also covered in sand to dry naturally.

According to Diodorus Siculus, writing in the 1st century BCE, "When [embalmers] gathered for the treatment... one of them reaches with his hand through the incision into the thoracic cavity and removes everything but the kidneys and the heart. Another cleans every single piece of viscera by rinsing it with palm wine and fragrant water." Afterward, "The whole body is carefully anointed, first with cedar oil and the like."

No one knows how much of these items embalmers used; however, thanks to the find at Saqqara, archaeologists now "have oils and measuring cups - all of them are labeled... from this we can find the chemical composition of the oils and discover what they are."