Timeline
A Complete Timeline Of Angelina Jolie And Brad Pitt's Relationship

Updated September 16, 2019
3.5k views
14 items
The romance between Angelina Jolie and Brad Pitt was one fraught with controversy but full of real love, and it ultimately ended in divorce. Their time together was impressive, but the series of events that went into bringing the two stellar actors together - as well as the ones that broke them apart - is interesting, to say the least.
Both stars have had incredible careers, and neither has kept much of their life away from the limelight, which is why there is so much information about their romance. It began with a successful affair, and if some of the stories about their divorce are true, it may have ended with one as well. Whatever ultimately broke these two incredibly talented people up may stay between them, but despite a lack of confirmations in that area, the timeline of their romance is still pretty easy to follow.
2004: Jolie And Pitt Meet While Filming 'Mr. & Mrs. Smith'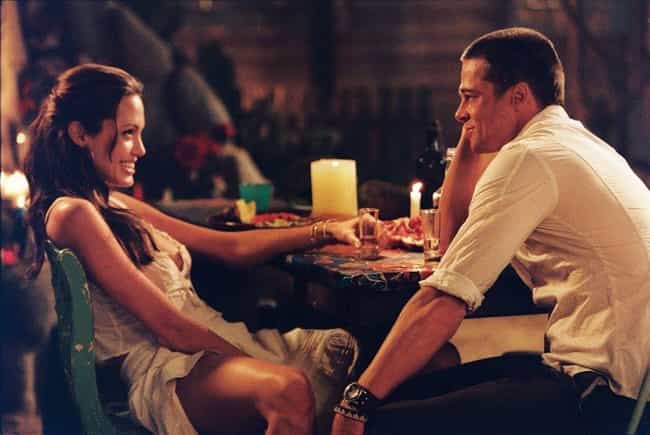 If you watched Mr. & Mrs. Smith in theaters and thought to yourself, "Pitt and Jolie have real chemistry on screen," you may have been on to something. The couple first met while filming the movie in the summer of 2004, and rumors of their relationship began flying all over the internet and within gossip rags.
Though they initially denied any relationship while they were working on the film together, the pair eventually admitted they "fell in love" during production. Jolie noted she showed the film to her children thinking it was special because "not a lot of people get to see a movie where their parents fell in love." This didn't paint Pitt in the best light seeing as he was still married to Jennifer Aniston at the time. By January 2005, however, Aniston and Pitt announced they had separated after five years of marriage.
2005: Pitt And Jennifer Aniston Divorce; Jolie And Pitt Appear In A 'W' Magazine Spread Called 'Domestic Bliss'
The dust had barely settled on the divorce between Pitt and Jennifer Aniston when a magazine article came out in W titled "Domestic Bliss: Angelina Jolie and Brad Pitt at Home." The piece consisted of 32 pictures of the happy couple in various poses and outfits.
Shortly after the magazine publication, Jolie adopted her second child, Zahara Marley, a 6-month-old Ethiopian orphan. Her first child, Maddox, was adopted in 2002 with her then-husband, Billy Bob Thorton.
2006: Pitt Legally Adopts Jolie's Children, Maddox And Zahara; The Couple Announces Their First Pregnancy
Long before the couple formally tied the knot, their relationship was as grounded as any married couple. In January 2006, Pitt formally adopted both of Jolie's children, Maddox and Zahara, with their surnames being changed to Jolie-Pitt. As luck would have it, those weren't the only children in the mix.
That same month, the couple announced they were expecting a third child, but this one wouldn't be adopted as Jolie was pregnant. Later that year, Jolie gave birth to Shiloh Nouvel in Namibia. Photographs of the baby were sold to People and Hello! magazine for more than $4.1 million, all of which was donated to charity.
2006: Pitt Says He And Jolie Won't Marry Until Everyone In America Can Legally Do So
In 2006, the couple decided to take a stand against the prohibition on marriage equality for LGBTQ+ couples in the United States by declaring they wouldn't wed until everyone else in the country could do the same. They were not the only celebrities to take such a stand, but they were among the highest-profile stars to do so.
It wasn't easy for the couple, seeing as they wanted to finalize their union and marry one another. In 2012, Pitt spoke about the delay with more than a little impatience in his voice: "We made this declaration some time ago that we weren't going to do it till everyone can. But I don't think we'll be able to hold out."
Marriage equality wasn't made legal in the United States until 2015 thanks to a landmark Supreme Court case, Obergefell v. Hodges. As Pitt predicted, however, the couple didn't wait that long.