Entertainment
Angelina Jolie's Loves & Hookups

Who is Angelina Jolie dating? Who Angelina Jolie dated; list of Angelina Jolie loves, ex boyfriends; breakup rumors. Fans will also enjoy these photos of Angelina Jolie's tattoos, lesser known Angelina Jolie facts, and hot photos of Angelina Jolie from her younger days. The loves, exes and relationships of Angelina Jolie, listed by most recent. I think it's safe to say that Angelina has really dated across the board and is quite lucky that she hasn't ended up in a celeb "tape" with one of these men. Or maybe there is an Angelina-starring tape floating around that we don't know about yet.
Who were Angelina Jolie's boyfriends (plus a spouse or two) before Brad Pitt? There have been plenty of rumors that she and Brad liked to get a little crazy, so maybe what once was Brangelina will end up on the list of 'tapes" sooner than later...
In September 2016, Angelina Jolie filed for divorce from husband Brad Pitt, while requesting physical custody of their six children.
Enjoy this list of Angelina Jolie's ex-girlfriends, ex-boyfriends, former flings and current loves!
Angelina Jolie and Brad Pitt first started dating when they met on the set of the 2005 film Mr. and Mrs. Smith. They went on to get married in 2014. In September 2016, "Brangelina" separated. They have six children together.
William Bradley Pitt (born December 18, 1963) is an American actor and film producer. He has received multiple awards and nominations including an Academy Award as producer under his own company, Plan B Entertainment. Pitt first gained recognition as a cowboy hitchhiker in the road movie Thelma & Louise (1991). His first leading roles in big-budget productions came with the drama films A River Runs Through It (1992) and Legends of the Fall (1994) and horror film Interview with the Vampire (1994). He gave critically acclaimed performances in the crime thriller Seven and the science fiction film 12 Monkeys (both 1995), the latter earning him a Golden Globe Award for Best Supporting Actor and ...more on Wikipedia
Age: 52
Birthplace: Shawnee, Oklahoma, USA
see more on Brad Pitt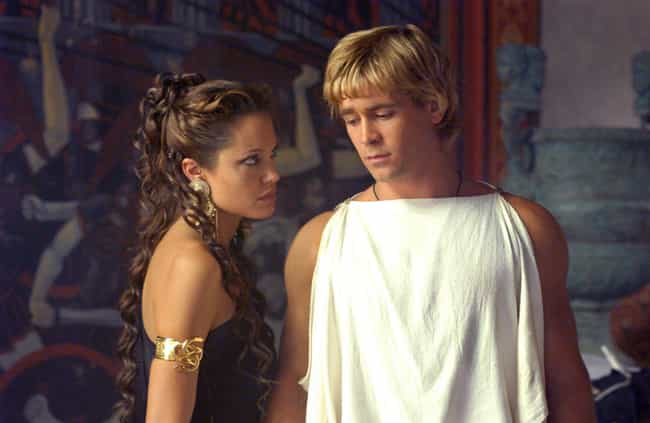 Angelina Jolie was rumored to have had a fling with her Alexander co-star Colin Farrell in 2003.
Colin Farrell (; born 31 May 1976) is an Irish actor. Farrell appeared in the BBC drama Ballykissangel in 1998, made his film debut in the Tim Roth-directed drama The War Zone in 1999, and was discovered by Hollywood when Joel Schumacher cast him as the lead in the war drama Tigerland in 2000. He then starred in Schumacher's psychological thriller Phone Booth (2003) where he plays a hostage in a New York city phone booth, and the American thrillers S.W.A.T. (2003) and The Recruit (2003), establishing his international box-office appeal. During that time, he also appeared in Steven Spielberg's science fiction thriller Minority Report (2002) and as the villain Bullseye in the superhero film ...more on Wikipedia
Age: 42
Birthplace: Castleknock, Republic of Ireland
see more on Colin Farrell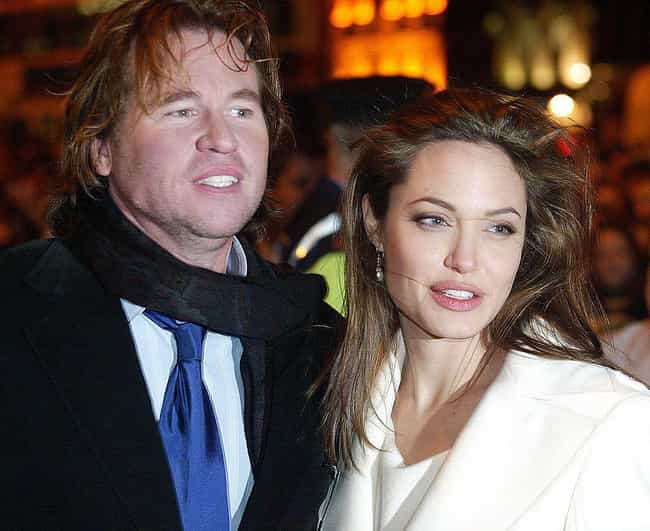 After appearing together in the 2004 film Alexander, Val Kilmer and Angelina Jolie were rumored to have been in a relationship.
Val Edward Kilmer (born December 31, 1959) is an American actor. Originally a stage actor, Kilmer became popular in the mid-1980s after a string of appearances in comedy films, starting with Top Secret! (1984) and Real Genius (1985), as well as the military action film Top Gun (1986), the fantasy film Willow (1988), and the western Tombstone (1993). Some of his other notable film roles include Jim Morrison in The Doors (1991), armed robber Chris Shiherlis in Heat (1995), Bruce Wayne / Batman in Batman Forever (1995), Simon Templar in The Saint (1997), and Moses in The Prince of Egypt (1998). ...more on Wikipedia
Age: 56
Birthplace: Los Angeles, California, United States of America
see more on Val Kilmer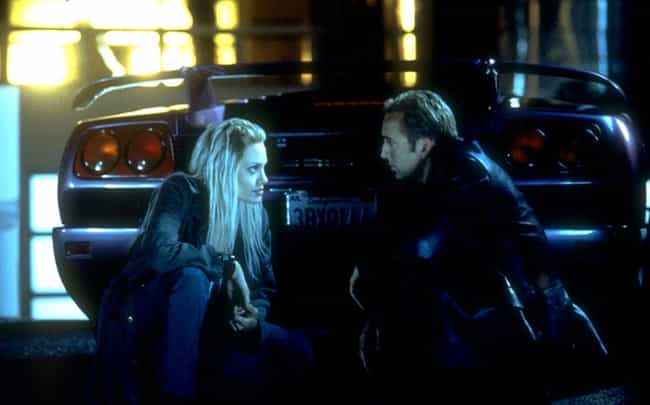 Angelina Jolie was reportedly spotted kissing her Gone in 60 Seconds co-star Nicolas Cage at a black tie event in 2003, sparking rumors of a possible fling.
Nicolas Kim Coppola (born January 7, 1964), known professionally as Nicolas Cage, is an American actor and filmmaker. During his early career, Cage starred in a variety of films such as Valley Girl (1983), Racing with the Moon (1984), Birdy (1984), Peggy Sue Got Married (1986), Raising Arizona (1987), Moonstruck (1987), Vampire's Kiss (1989), Wild at Heart (1990), Fire Birds (1990), Honeymoon in Vegas (1992), and Red Rock West (1993). Cage received an Academy Award, a Golden Globe, and Screen Actors Guild Award for his performance as an alcoholic Hollywood writer in Leaving Las Vegas (1995) before coming to the attention of wider audiences with mainstream films, such as The Rock (1996), ...more on Wikipedia
Age: 55
Birthplace: Long Beach, California, United States of America
see more on Nicolas Cage