animals

Animals Seeing Themselves in the Mirror for the First Time

213 votes
210 voters
27 items
Follow
As tied up as many of us are in our own lives, it can be easy to forget that many other creatures around the world aren't familiar with things that many of us take for granted each and every day, including their own reflections. Much to the joy of those of us who'd never take for granted something as marvelous as a collection of adorable gifs involving animals and mirrors however, we happened to have composed one and it happens to be right below.
What kinds of animals in mirrors will you find below, you ask? We've got everything from wild gorillas who aren't so wild about their own reflections to adorable cats discovering the beautiful creatures looking back at themselves for the very first time. While some of these adorable little dudes seem to make fast friends with their animal reflections, others tend to remain a wee bit skeptical of the mirror animals staring nervously back at them. Others among these poor little guys may not be sure of exactly what the mirrors they keep banging into are, only that their sorcery is unparalleled and must be overcome for the good of all creature kind.
So the next time you're looking for a laugh, look no further than the adorable antics below as these animals react to mirrors for the very first time. We dare you to keep a smile off your face as you watch these super cute animals mirror, mimic, challenge, and greet themselves in one of the most adorable collections of gifs the Internet has to offer.
"Just Strolling Along, Minding My... OMG, WTF?!"
"Oh Hell No! It's On... Right After I Randomly Paw This Floor..."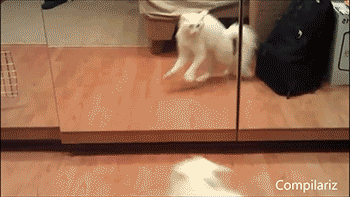 "Alas! Who Goes There?! Surrender! Surrender I Say, Sir!"