Anime Underground
12 Anime Episodes About Halloween To Get You Feeling Spooky

478 votes
169 voters
5k views
12 items
List Rules Vote up the Halloween episodes that best get you in the mood of the holiday.
It may come as a surprise to western anime fans, but Halloween is also celebrated in Japan - albeit a little differently. Because pumpkins, ghosts, and witches are just as popular in the east as they are in the west, Japanese media reflects this - which is why there are some awesome anime with Halloween episodes to enjoy during the spookiest season of the year.
Halloween anime can be scary, like it is in Blood: The Last Vampire or The Cowboy Bebop Movie, but it usually isn't. More often than not, anime about Halloween are episodes in a longer series that bring in a version of the Halloween aesthetic that's adorable rather than scary. For instance, no one is going to be terrified by the girls in Soul Eater NOT! singing the Pumpkin Song.
No matter what mood these anime are trying to get across, all of them have the power to get viewers excited about the holiday. So break out the candy, put on your costume, and watch a few!
Ouran High School Host Club manages to combine Halloween festivities with some powerful emotional realizations. In the Halloween episode, entitled "Until the Day it Becomes a Pumpkin!", Class 1-A has divided up into teams whose goal is to scare one another in a Halloween-themed haunted house. In the midst of the wacky hijinks, there's a moment when they're talking about the Cinderella story, where a carriage turns into a pumpkin. To Kaoru, this story has symbolic value - he sees the carriage having to eventually become a pumpkin as analogous to the friendships that the members of the Host Club share having to eventually end, too.

Does this get you hyped for Halloween?
see more on Ouran High School Host Club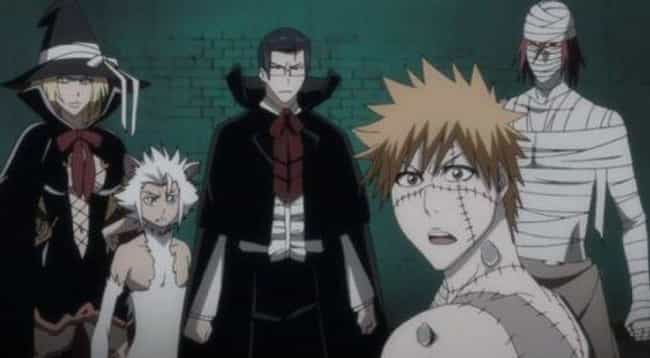 When an anime is hundreds of episodes long, sometimes it's important to take a break and have some fun. Episode 304, "Gaiden Again! This Time's Enemy Is A Monster?" is a Halloween-themed dream from Ichigo's mind. Rukia, who is dressed as a succubus, drags Ichigo to a Soul Society meeting where he finds Orihime dressed as a pumpkin ghost, Uryū dressed as a vampire who can't drink blood, Hitsugaya dressed as a wolf, and more. From there, they have to defeat a group of monster hunters. It's a fun episode that isn't hugely consequential to the rest of the plot, but is still worth watching for all the great costumes.

Does this get you hyped for Halloween?
see more on Bleach
Most anime about Halloween are cute instead of terrifying, but Cowboy Bebop doesn't really do adorable. Instead, the movie is about a biological weapon that's about to be unleashed via a Halloween parade on Mars. Vincent is the last survivor of a brutal experiment involving a deadly pathogen that's actually a series of nanobots. Desperate for revenge, Vincent tries to spread the pathogen to as many people as possible, and plans to kills everyone at the parade and beyond by exploding pumpkin balloons filled with it. Meanwhile, Spike and company are trying to get ahold of the vaccine and save the population.

Does this get you hyped for Halloween?
see more on Cowboy Bebop: The Movie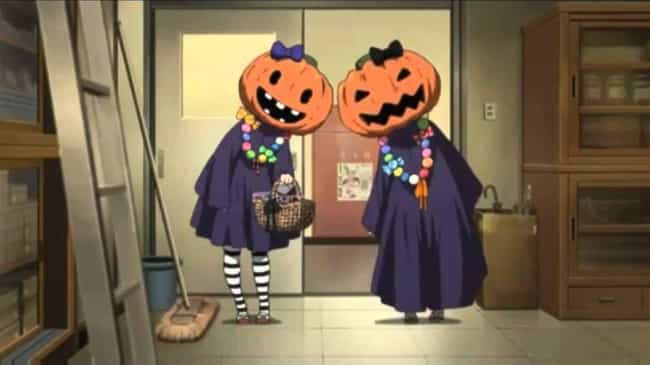 Episode 14 of Hyouka isn't totally focused on Halloween - it just happens to be Halloween when the action occurs. As the Classics Club tries to win a cooking competition, they're surrounded by trick-or-treaters and people in costume - including somebody in Hatsune Miku cosplay. It's a cute and fun way to showcase the passage of time without stalling on the actual story.

Does this get you hyped for Halloween?