Anime Underground
The 13 Best Anime Like Aggretsuko

248 votes
113 voters
5.4k views
13 items
Aggretsuko, a Netflix exclusive anime made by Sanrio, is a wildly popular anime about an anthropomorphic red panda named Retsuko who is always nice and obliging to everyone at work, no matter how badly they treat her. But when she goes to karaoke, she belts out her frustrations through the angriest metal music imaginable. Combining comedy with the problems of work, romance, and life as a millennial, this is one amazing show.
With an anime this good, it might seem like there's no other anime like Aggretsuko out there - but thankfully, that's not the case. In fact, there is plenty of awesome anime that are similar to Aggretsuko out there. Which one you should choose depends on what appealed to you about the show in the first place. If you're looking for an anime that combines love and office life but can take or leave the whole talking animals thing, you should try out Wotakoi: Love Is Hard For Otaku, or Hataraki Man. If adorable talking animals are the selling point as far as you're concerned, you may want to try out Working Buddies! or Damekko Dōbutsu. Want another anime with an appreciation for the metal genre? You might like Detroit Metal City.
Not all of these shows will appeal to all Aggretsuko fans, but you're sure to find at least one that you like.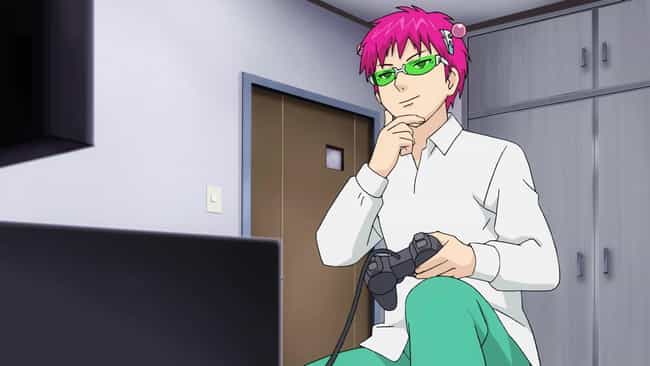 Both Retsuko and Saiki are hiding something. In Retsuko's case, it's her frustration with her job, and her talent for heavy metal vocals. In Saiki's case, it's his incredible psychic powers. The reason that they're hiding these things is because they'd rather lead a peaceful life, undisturbed by the people around them. Unfortunately for both Retsuko and Saiki, the people around them show a lot more interest in their secrets than they'd like. While the consequences for Saiki's secrets being revealed are rather more severe, the two of them are going through some of the same issues.
Besides the protagonists' struggle, both of these shows are utterly hilarious.

Is this a good next watch?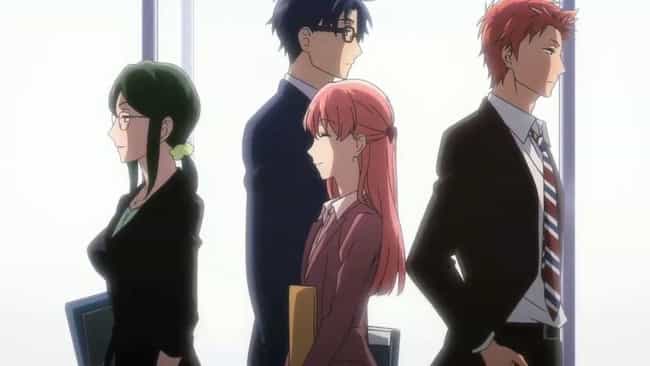 When Narumi Momose starts working at her new office, she hopes that no one would find out about her interests in anime, manga and video games - particularly those in the Boy's Love genre. Her secret is revealed when she finds out that Hirotaka Nifuji, her childhood friend, is working there too. Luckily, she finds out that her workplace isn't particularly judgemental, and actually starts dating Nifuji. Of course, none of that means that her work life - or her romantic life - are conflict-free. Actually, the drama is just beginning. Just like Aggretsuko, Wotakoi: Love is Hard for Otaku expertly blends office life with romantic entanglements, all with a healthy dose of humor.

Is this a good next watch?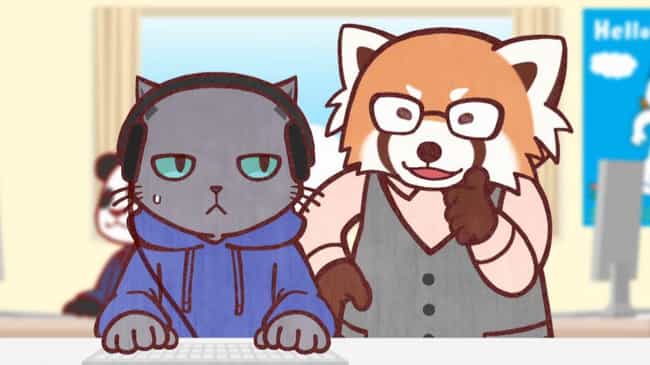 Working Buddies! is the show that you watch when you love what Aggretsuko did with the whole adorable animals working human jobs thing, but you don't want to watch another show that's going to rip out your heart and stomp on it, or make you question your very existence like Aggretsuko does. It follows two college pals who are working a variety of odd jobs to try and get by. The two protagonists are represented by cats, and the people they meet are a variety of other animals - there's even a red panda or two.

Is this a good next watch?
It is entirely possible that the only reason you picked up Aggretsuko is because you're a massive Sanrio fan. If so, you will most likely enjoy Sanrio Boys. The series follows a group of high school boys who are fans of the franchise, but feel like they can't be open about their interests because they'll be mocked for being too feminine. Is this an obvious ploy to market Sanrio toys to a new audience. Yes - but it also raises some good points about gender expression. It's well worth your time if you're a fan of all things Sanrio.

Is this a good next watch?