Airplanes
Antoinette Airplanes and Aircrafts

List of all Antoinette airplanes and aircraft types, with images, specs, and other information. These active and retired Antoinette planes are listed in alphabetical order, but if you're looking for a particular aircraft you can look for it using the "search" bar. The Antoinette aircrafts on this list include all planes, jets, helicopters, and other flying vehicles ever made by Antoinette. Unless you're an aviation expert you probably can't think of every aircraft made by Antoinette, so use this list to find a few popular Antoinette planes and helicopters that have been used a lot in the course of history.
List contains aircraft like Antoinette VII, Ferber IX.
This list answers the question, "What aircrafts are made by Antoinette?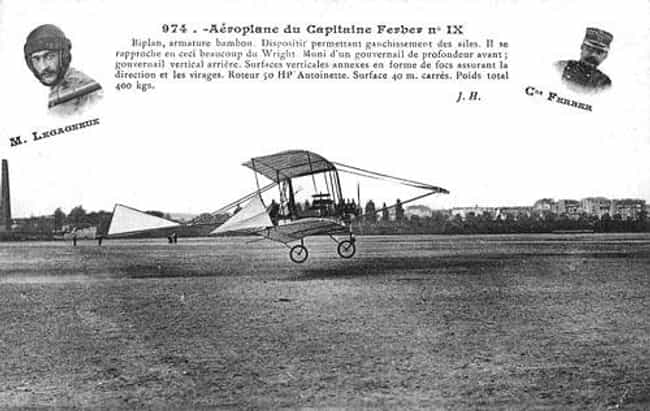 The Antoinette III, originally called the Ferber IX, was an early experimental aircraft flown in France. It was based on Ferdinand Ferber's previous design the Ferber VIII, and was quite unlike other Antoinette aircraft. It was renamed when Ferber became a director of the Antoinette company. The Antoinette III was a two-bay biplane without a fuselage or any other enclosure for the pilot. A single elevator was carried on outriggers ahead of the aircraft, and a fixed fin and horizontal stabiliser behind. The undercarriage was of bicycle configuration and included small outriggers near the wingtips. Power was provided by an Antoinette 8V water cooled V-8 engine driving a tractor ...more on Wikipedia
Manufacturer: Antoinette
Maiden Flight: Jan 01 1908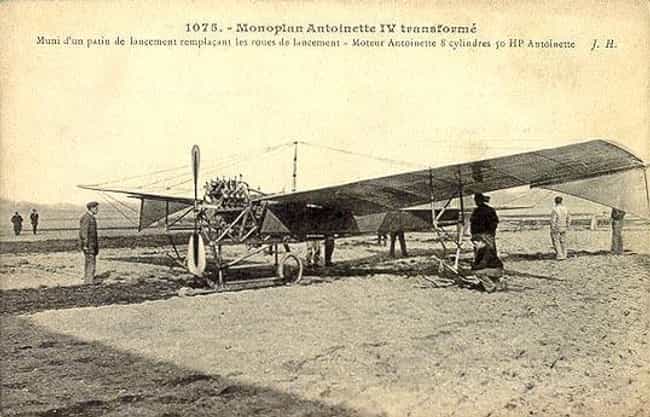 The Antoinette IV was an early French monoplane. It was a high-wing aircraft with a fuselage of extremely narrow triangular cross-section and a cruciform tail. Power was provided by a V8 engine of Léon Levavasseur's own design driving a paddle-bladed tractor propeller. Lateral control was at first effected with large triangular, and shortly afterwards trapezoidal, ailerons hinged to the trailing edge of the wings, although wing-warping was substituted at an early stage in flight trials, and in this type proved more effective. On 19 February 1909, the Antoinette IV flew 5 km at Mourmelon-le-Grand, and on 19 July, Hubert Latham attempted to cross the English Channel in it, covering 11 km out ...more on Wikipedia
Manufacturer: Antoinette
Maiden Flight: Jan 01 1908

3
Antoinette military monoplane
The Antoinette military monoplane, sometimes known as the Antoinette-Latham or the Antoinette Monobloc was an early monoplane built in France in the hope of attracting orders from the French military. It was a substantially redesigned member of the family that began with the Gastambide-Mengin I in 1908, featuring a number of aerodynamic refinements. It had cantilever wings, without any bracing wires, and the aircraft featured spats to enclose the landing gear struts. However, these refinements made the aircraft too heavy to fly with its 37 kW engine. Nevertheless, it was exhibited at the 1911 Concours Militaire at Reims, where it failed to attract any orders. ...more on Wikipedia
Manufacturer: Antoinette
The Antoinette V was an early French aircraft, first flown on 20 December 1908. ...more on Wikipedia
Manufacturer: Antoinette
Maiden Flight: Jan 01 1908