Food
Best Applebee's Menu Recipes

697 votes
465 voters
95.4k views
10 items
Provided here is a list of the best Applebee's menu recipes, serving as a helpful guide to preparing your favorite dishes from the Applebee's menu at home. These copycat Applebee's recipes are typically not based on the exact method used at the popular restaurant chain, but are modeled closely on the flavor and texture of Applebee's food, making it easier than ever to bring these great tastes to your house for cheap.
From the cheesy biscuits at Red Lobster to the amazing sauces at Buffalo Wild Wings, it's always tempting to go out for a delicious treat at one of the numerous chain and franchise restaurants dotting the landscape. However, eating out at restaurants all the time can be a costly proposition. Not to mention the fact that, at restaurants, you have no portion control, and can't alter the recipes, ingredients or style of cooking to suit your own taste.
Making recipes from the Applebee's menu in your home gives you all of these options, while saving you money and providing the same great diversity and taste that you'd find at your favorite casual dining spot.
Applebee's was founded in 1980 in Decatur, GA, and has since become known for its staple "Americana"-inspired food, including salads, baked chicken, steaks and the restaurant's signature dish, "riblets." In states where this is permissible, each Applebee's location also features a full bar and a variety of appetizers and other bar-appropriate finger foods. In 2007, Applebee's restaurants were purchased by DineEquity Inc., the parent company that also owns IHOP.
What are the best Applebee's menu recipes? This list collects the best copycat Applebee's recipes from around the web that will have your friends wondering if you're a chef.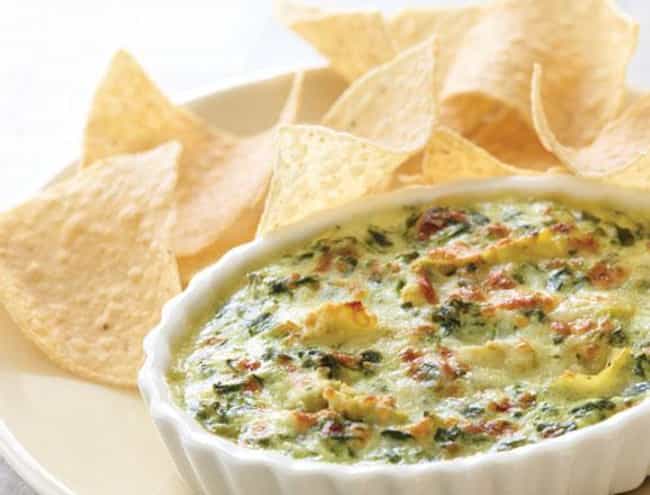 4 cloves garic
1 (10 oz) package frozen chopped spinach, thawed and drained
1 (14 oz) can artichoke hearts, drained and chopped
1 (10 oz) container Alfredo-style pasta sauce
1 cup shredded mozzarella cheese
1/3 cup grated Parmesan cheese
1/2 (8 oz) package cream cheese, softened
-
Preheat oven to 350 degrees F (175 degrees C)
-Place garlic in a small baking dish
-Bake in the preheated oven 20 to 30 minutes, until soft
-Remove from heat
-When cool enough to touch, squeeze softened garlic from skins
-In an 8x8 inch baking dish, spread the roasted garlic, spinach, artichoke hearts, Alfredo-style pasta sauce, mozzarella cheese, Parmesan cheese, and cream cheese
-Bake in the preheated oven 30 minutes, or until cheeses are melted and bubbly
-Serve warm


Would you try this?
see more on Spinach and Artichoke Dip
Applebee's Honey Barbecue Riblets
Barbecue Sauce
1 cup ketchup
1/4 cup water
1/2 cup honey
1/2 cup corn syrup
1/4 cup apple cider vinegar
2 teaspoons garlic powder
1 teaspoon onion powder
2 tablespoons molasses
2 teaspoons dry mustard
1 teaspoon chili powder
1/4 teaspoon liquid smoke flavor
- Combine all ingredients in a saucepan
- Simmer for 20 minutes
- Season ribs with salt, pepper and garlic
- Sear the ribs on the grill until both sides are mahogany in color at 155 degrees
- Place ribs on a roaster
- Cover bottom of pan with water and liquid smoke flavor
- Seal with two layers of foil wrap
- Slow cook in 275 degrees or until meat is tender
- Cover ribs with chopped onions,peppers and tomatoes
- When ribs are cooked and tender brush with Honey Barbecue Sauce

Would you try this?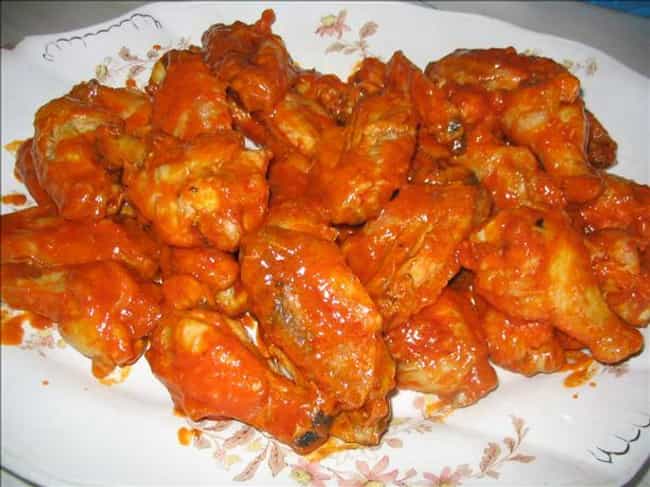 About 35 wings pieces
12 ounces Louisiana Hot Sauce
6 tablespoons margarine
3 tablespoons white vinegar
1 tablespoon Worcestershire sauce
1 1/4 teaspoons cayenne pepper
1/4 teaspoon garlic powder
1 1/2 tablespoons flour
- Cook wings until done, bake or deep-fry
- Mix all ingredients, in a saucepan, except flour, in medium heat
- Add flour, stir constantly
- When sauce is thick, cover the 9 x 13 inch baking dish with sauce
- In a dish pan, mix rest of sauce with wings
- Bake at 300 degrees until warm
- Serve with celery sticks and blue-cheese dressing

Would you try this?
Applebee's Chicken Quesadilla Grande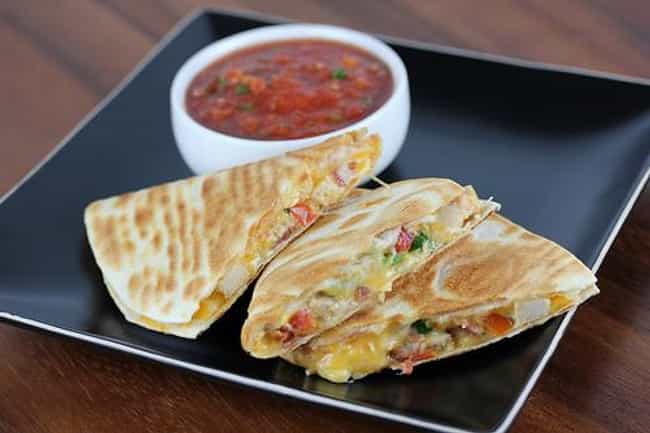 1/2 ounce shortening
2 (12-inch) flour tortillas
2 tablespoons chipotle sauce (optional)
4 ounces grilled chicken (spicy seasoning optional)
6 ounces Quesa Filling
1 cup shredded lettuce
Sour cream
Green onion
Salsa
Quesa Filling
Jack and Cheddar cheeses
Jalapeno pepper, diced
Tomato, diced
Onion, diced
Cilantro, minced
Bacon, fried and crumbled
- Brush one side of tortilla with shortening
- Spread chipotle sauce evenly on one tortilla
- Microwave chicken for 45 minutes
- Distribute Quesa Filling on top of chicken
- Cover with other tortilla
- Brown on griddle until Quesa Filling is melted
- Add shredded lettuce,sour cream, green onion and salsa

Would you try this?